Effects of the Venus transit in Scorpio on Libra Individuals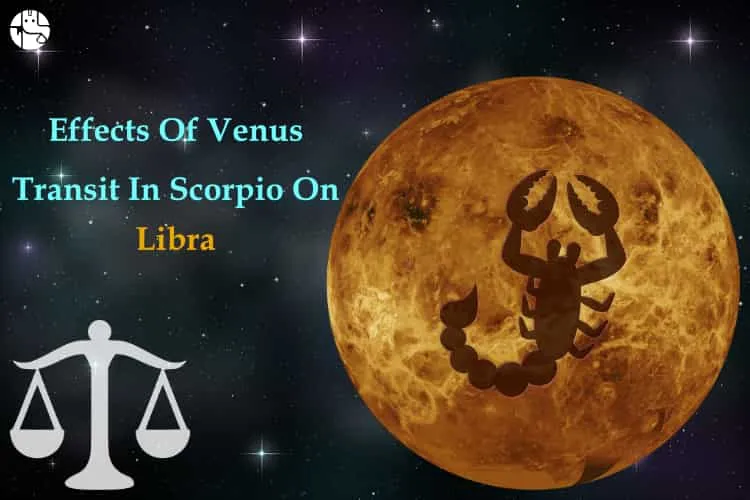 The glowy planet is associated with beauty, love, marriage, wealth, luxury, harmony and beauty. The lucid planet Venus is transiting in passionate water sign Scorpio on October 28, 2019. The planet is personified as a feminine planet and key significator of marriage and love life.
The planet is transiting to the second house in your birth chart of Janampatri. The house is a significator of wealth, family, speech, monetary resources, ambition, imagination and power of observation. The transitory motion of Venus in Scorpio is considered to be auspicious for Libra individuals and would get gains in business. You would crack new deals and new career opportunities are foreseen.
---
Effects of Venus Transit in Scorpio on Libra individuals
You are likely to get gains from your family. Your family would be supportive of you during the transitory motion. You would take help from them to accomplish your task effectively.
You would be highly creative and your speech would be poetic. Your inner feelings would come out in the form of a poem.
You may be attracted to music and entertainment. You may plan to watch movies with your family or friends. You may attain some musical shows or orchestra events.
You might be inclined towards shopping during this period. You are likely to buy new clothes and change things in the wardrobe.
You would have a craving for delicious fo106691od. You may plan to dine out with your closed ones or order spicy and delicious food at home. You may demand to prepare delicious dishes at home. However, you should take care of your health and avoid overeating. Try to keep away from too much junk food for maintaining good health in the future. Overall, your health would remain good and no major health ailments are foreseen in the transitory motion of Venus in Scorpio. You should exercise and workout regularly to stay fit and healthy.
(Also Read: Effects of the Sun transit in Libra on Libra Individuals)
The transit would bless you with new opportunities. You are likely to get new opportunities in your career. You may change your job and the new job would give a good hike on current salary with extra responsibilities. The individuals who are doing business are likely to sign new business deals during this period.
Your presentation and communication skills would be enhanced during this period. You would give an effective presentation and it would create a strong impact on the audience. Your innovative ideas would be transferred effectively to the audience.
You are likely to crack deals with customers, suppliers, and distributors. Your client would accept the quotation of the project and give you the responsibility of handling and completing the project. The deal that you crack now would be beneficial for future business growth and expansion.
The financial gains would be high. The projects that you handle or the deals that you accomplish during the transitory motion of the planet would be profitable. Your profit margin and market share are likely to increase. Your personal savings would increase due to an increase in the source of income.
The individuals who are in love relationships would take their relationship to the next level. You are likely to get married to your soul mate. Married couples may welcome a new member during the transitory motion of the planet. The females of Libra moon sign foresee a good chance of getting pregnant.
You are likely to buy precious gems or metal during this period. You are inclined to spend money on precious metals and gems.
The period overall foresees success in career and business during the transit period. Your health would remain good and there are chances of the addition of a new member to your family.
To Get Your Personalized Solutions, Talk To An Astrologer Now!
With Ganesha's Grace,
GaneshaSpeaks.com
---
---
Get 100% Cashback On First Consultation