Effects of the Sun transit in Libra on Cancer Individuals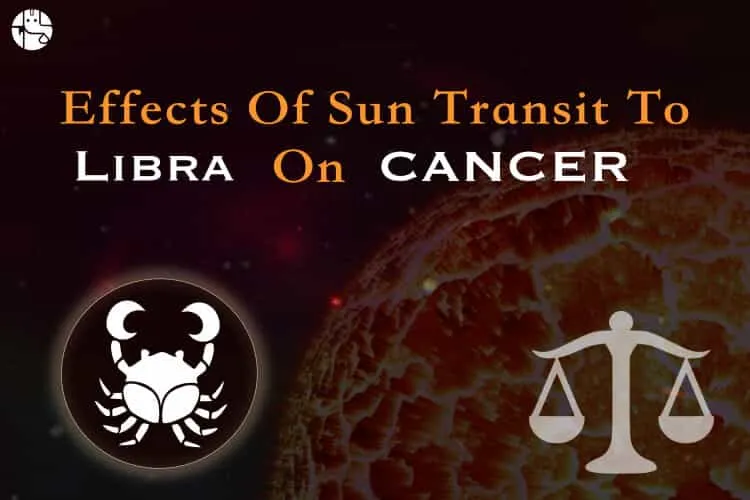 The brightening Sun is going to transit in Libra sign from Virgo sign on October 18, 2019. The transit happens once a month and so overall there are twelve transits in a year which is known as Sankranti. The people offer water to the Sun who is the almighty and king of nine planets in Hinduism. The transit is going to happen in Libra which calls your attention on your relationship at personal and professional front.
For Cancer individuals, the sun is transiting to the fourth house of your Janampatri and it is ruled by Moon. The house would get active during this phase and it is a significator of mother, relatives, house, property, conveyance and treasure. The sun in the air sign, Libra is posited in malefic sign and it would have adverse effects on your and your mother's health. Some misunderstandings may pop up for married couples and there are chances of straining relationships at a professional front.
The almighty Sun would bring a strong impact on Cancer individuals. Let us see how favorable or unfavorable will the transit of Sun in Libra sign be for Cancer individuals.
---
Effects of the Sun Transit in Libra on Cancer Individuals
You will have to be sincere and work in strict discipline at your workplace. There are chances you would feel distracted from your work which affects your progress and slows it down.
You should try to maintain a cordial relationship with your subordinates, colleagues, and superiors. Your sincere efforts are required to maintain your professional relations as there are chances of straining relationships with them.
You should think before you speak. You should try to speak less and control your words and dialogues while communicating with senior officials. It is better to avoid communication with them as much as you can and be a listener instead of being a talker.
Individuals who are married may see some disputes or differences with their life partner. You are advised to avoid arguments with your spouse. The differences in opinions and arguments would affect your professional life also. So, in the course of transit of the Sun in Libra sign, you should organize your personal life well and avoid debates and discussions with your spouse. You should ignore your family or avoid issues prevalent in family life as it may turn harmful for you.
You should pay attention to your mother's health as the transit is going to give an adverse impact on it. You should take her to your family doctor for a routine check-up. You should spend quality time with your mother which would help to improve her health.
You should not take hasty decisions while investing in property. Utmost care needs to be taken before investing in property or any long term investment. Before taking any kind of decisions related to finance you need to do research regarding this or take advice from experts before doing it. A wrong hasty decision related to finance would hamper your progress. You are likely to sell your old house or vehicle for the money.
The students' academic performance will get enhanced. They need to put sincere efforts to get their progress noticed by teachers and professors. So the overall transit period is beneficial for the students. They may score well in their examination with their sincere and genuine efforts in studies.
Overall your health condition would be above average. No major health ailments are foreseen during this transit period.
You would be comparatively more relaxed in this transit period. You would feel mental peace as stress levels would be average. Your mental peace would be hampered due to financial aspects and decisions.
To Get Your Personalized Solutions, Talk To An Astrologer Now!
With Ganesha's Grace,
GaneshaSpeaks.com
---
---
Get 100% Cashback On First Consultation