Effects of Solar Eclipse taking place on August 1, 2008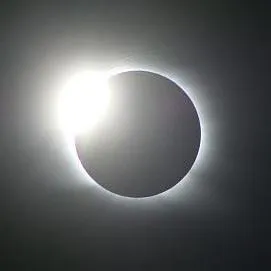 Introduction:
As per Western Astrology System, Solar Eclipse will take place in Leo at 9 degree 32 minutes on August 1, 2008. This is a 'Total Eclipse' so it will be more effective. Solar Eclipse always mark a new beginning in everyone's life. Ganesha is explaining effects of the Eclipse on various Sun Signs. Effect of this Eclipse may last till the next solar Eclipse occurs.
---
Aries
You will be very creative and enthusiastic under the influence of this Eclipse. This is the right time to hone your personal and professional skills by beginning study of a new subject. Those planning for family have luck in favour. If you have a kid, he/she may bring pride to the family. It is the right time to evaluate your investments in the speculative markets, says Ganesha. Read more about Aries….
---
Taurus
You may shift to a new house or may change the interior of your house. You may also have 'Deja vu' experiences under the effect of this eclipse. You may begin a new personal activity which may give you a lot of pleasure. Attention will be shifted to domestic matters, home and family. Right time to add furniture in the house, as per Ganesha's view. Read more about Taurus.
---
Gemini
You may begin intense study with the effect of this Eclipse. Those willing to buy a car or any other vehicle for short distance trips can go ahead. Need for communication seems to increase so Ganesha foresees you giving a call to people or writing letters. It is the right time to purchase a new computer or any other electronic equipments. Read more about Gemini.
---
Cancer
Ganesha foresees positive changes in the pattern of your financial income. You may be drawn to luxurious things. You will plan your finances and investments in a better manner. Your desire to acquire asset increases with the effect of this Eclipse. Your drive for money matters is getting stronger. You will become more possessive about personal possessions. Read more about Cancer.
---
Leo
You will change your style and appearance by buying new clothes or changing your apparels under the influence of this Eclipse. Effect of this Eclipse may boost your ego hence differences or ego clashes with others are most likely. You will become more impressive and confident under the influence of this Eclipse. You have scope of becoming self-indulgent and some of you with very strong Sun in the birth chart may suffer from Narcissistic complex with the effect of this Eclipse. Read more about Leo.
---
Virgo
If you are having a love relationship, it may become platonic with this Eclipse. You will become more compassionate and empathetic towards those in your environment. Ganesha feels that this is the time to begin Yoga classes or begin new spiritual practices in seclusion. You might have to visit someone at the hospital. Frustration is approaching which you will have to guard against. This is the right time for self-introspection. Desire to set yourself free from duties will be very high but hasty decisions should be avoided. Read more about Virgo.
---
Libra
It's the time to form new friendships. You may also join some online (internet) communities or participate in group activities. Those searching partner for second marriage are likely to come across a suitable match. You may receive a lot of social invitations and may also be busy meeting your friends, relatives and associates. Ganesha foresees you setting new professional goals with the effect of this Solar Eclipse. Read more about Libra.
---
Scorpio
It's all about your standing in the community and reputation, says Ganesha. Your social status may uplift with the effect of this Solar Eclipse. Your professional horizon may widen up. You may think of starting a new business, provided your Natal planets support. You may be offered more authoritative position. You may come to terms with your father or superior. Read more about Scorpio.
---
Sagittarius
Philosophy and religion may attract you. A foreign trip may also be planned. You may meet people from different culture and try to understand their way of life. This Eclipse is favouring those who wish to apply for higher education. This is the best time to learn new languages or to hone your professional skills by studying something that helps your vocation. Travel to distant places is also favoured, says Ganesha. Read more about Sagittarius.
---
Capricorn
This is the right time to re-evaluate investments you have done in the past. You may receive some gift in the form of money or inheritance. Sexual desires may become stronger hence need for the physical companionship may also be higher. Occultism and spirituality may attract you. Health must be taken care of. You may review your joint bank accounts and do the necessary for the same. Read more about Capricorn.
---
Aquarius
Relationship will be under the spotlight during the days to come. You may begin new personal relationship or may take a firm decision regarding your ongoing relationship. Ganesha finds you becoming more 'public' in this period. If you are self-employed or a businessman, you may have increased clientele. Get to know more about Aquarius.
---
Pisces
You might have to watch your health around the time of this Solar Eclipse and till next Solar Eclipse too! Your day to day life may undergo sea-change. If you were not very busy, you may not find time for personal life and if you were very busy, you may decide to schedule your routine activities. Improvement in terms of eating habits is required. You may become more productive at the workplace. Employers may face issues related to employees but if you are an employee yourself, you may gain a lot by the Grace of Ganesha. Get to know more about Pisces.
Finally, Ganesha finds that this Eclipse may bring many changes in everyone's life. Make the best use of this time. Counsult Our Astrologer
With Ganesha's Grace,
Dharmeshh Joshi,
www.GaneshaSpeaks.com
---
---
Get 100% Cashback On First Consultation