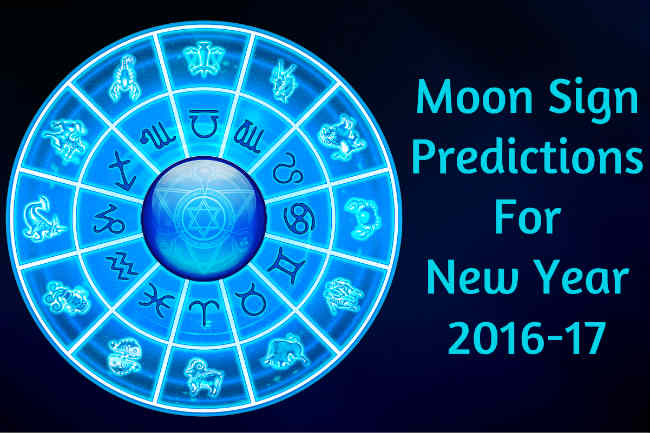 The grand and glorious festival of Diwali may be over, but our aspirations, hopes and desires are here to stay. The new year has begun and we would all be looking forward to various new happenings and events in our life. But, what do the stars indicate? What kind of changes will you witness in the coming year – positive or negative? What are the likely life trends that await you till the next grand festive season? Get the answers in Ganesha's exclusive Moon Sign based predictions.
Aries
Ganesha's Astro Snippet for the Rams:
"You are likely to be indecisive about your career and profession, but you will get support from people around you."
You may not be happy in your current job and may think of changing it in the new year. If you firmly believe that the new job offer will financially boost your life, go ahead. In case, you are not sure about your job switch, you can always
ask a question
. Professional life will keep you very busy this year. If you are planning for higher studies or small business, this year will be safe as well as beneficial to apply for loans. However, if you are married, you may experience stressful times in managing your joint finances and kids. To manage your health and finance together effectively, you are advised to get your
wealth report
.
Taurus
Ganesha's Astro Snippet for the Bulls:
"You will get plenty of opportunities this year, but it will all depend on your timing."
Dear Taurian you will have to be alert and seize the opportunities at the right time. Also, it will be good if you move ahead in life. Saturn will make you understand the importance of practicality. Though the year may not fetch profitable results in business, some new opportunities are foreseen. Ganesha says that you will stand to benefit if you learn new things and hone your professional skills. Your skills will produce the best results only when you analyze your
business report
.
Gemini
Ganesha's Astro Snippet for the Twins:
"Lucky times for your love, relationship and family matters, but uncertainty in business foreseen."
The year will start with some positive news for you. Are you planning to buy a new house? Go ahead, says Ganesha. You will surely enjoy a good time with your spouse and family members. The time will also be favourable for investing in new movable or immovable assets. But Ganesha warns you that it's not a good time to start a new business as you may have a chance to lose money. In today's competitive business world, intelligent
partner selection
is extremely crucial to get half the job done.
Cancer
Ganesha's Astro Snippet for the Crabs:
"Unwise financial plans are likely to cause troubles. But, happy short trips are in the offing."
You are likely to have some amazing short distance travels frequently. You seriously need financial adjustments this year, suggests Ganesha. Try to pay your loans in time as there may be a dispute regarding
property inheritance
or joint finances.
Leo
Ganesha's Astro Snippet for the Lions:
"Your finances are likely to provide the much required relief and new avenues may open up."
Boss, handle the relationship with near and dear ones carefully as you may disagree with your spouse or loved ones. Are you and your
partner really compatible
to stay together forever? Listen to your partner's needs to bond well. Don't need to worry as you will remain stable and strong financially. However, you are likely to overspend on personal and family matters. You will have to safeguard your reputation. Moreover, try to be alert as your rivals may try to create troubles.
Virgo
Ganesha's Astro Snippet for the Virgo Perfectionists:
"A golden phase lies ahead and you are likely to experience a smooth ride in almost all spheres of your life."
Ganesha says that you can fulfill all your wishes this year. Expanding your personal and professional sphere will attract a plethora of opportunities for you. You will be able to guide others very well and keep learning new things. Also, Ganesha feels that you will be able to achieve your long desired foreign travel dreams. Plus, you may discover your perfect
match for marriage
. Overall, a lot of activity seems to be in the offing.
Libra
Ganesha's Astro Snippet for the Scales:
"Your financial strategies are likely to face the test this year. Gains from foreign contacts likely."
Be cautious, Librans! Expenses are likely to increase as you tend to indulge in buying stylish accessories. Inadequate financial resources may keep you under pressure this year. However, you will be able to save money if you really work on your finances properly. If you experience any difference with your loved one or spouse, sort out immediately. If you still face any difficulties in love life, talk to astrologer today and solve any doubt related to love.
Ganesha's Astro Snippet for the Scorpios:
"Career will require great attention. Support from friends will help you to tackle situations better."
This year, take good care of your health in order to stay fit and disease-free. Do not quit your job or take sudden drastic decisions related to your business. You will have to be careful in your dealings with seniors at the workplace. You are likely to face various difficulties this year, but do not worry. As they say, it all happens for the good. Your friends are likely to be quite supportive in important matters. Get your horoscope this new year to work on your strengths and weaknesses. Never retreat and never give up, encourages Ganesha.
Sagittarius
Ganesha's Astro Snippet for the Archers:
"New avenues of income and foreign travels may excite you, but do not lose track of your basic commitments."
Dear Sagittarians, though there may be some financially testing situations, some smart moves can save the day for you. Though you can attract more than one source of income and even grab an exciting foreign trip, you need to stay completely focussed on your primary targets and responsibilities, suggests Ganesha. Capitalize on your
strengths
to produce the best results.
Capricorn
Ganesha's Astro Snippet for the Goats:
"Your luck will be in your favour, but do not give into laziness or complacency."
You may be fortunate to go abroad and utilize the right opportunities at the right time. Foreign connections will fetch profitable results especially if you are in the fields like politics, business or entertainment or even in higher education. It's a good time to learn something new, fresh and challenging in life. This year, your business sense will see its best height and you will be able to make good decisions regarding business. For the Capricorn moon sign natives, this is a very auspicious period to plan for your
long-term business strategies
to drive your organization to the number one position.
Aquarius
Aquarius New Year's Astro Snippet:
"A challenging year ahead. You will be presented with the opportunities to self-introspect."
This year, dear Aquarians, you will experience differences with your near and dear ones. You should avoid
arguments with your boss
and reckless decisions if you are in the senior management in your career or in business, advises Ganesha. However, partnership business may be a smart choice that enhances your strategic alliance and boosts your fortune. Remember, if you work hard, you will achieve long-lasting professional stability.
Pisces
Pisces New Year's Astro Snippet:
"Professional contacts may increase. A good time for those wanting to tie the nuptial knot."
Cheers, dear Piscean friends! Your social reputation is likely to get enhanced this year. This can be a good year, if you want to change your current job profile, designation, company or even an industry, or apply for an internal transfer, foresees Ganesha. Those of you are looking for a life partner, may find a suitable match to build a romantic relationship. If you are a businessperson, you will experience stable partnership and enjoy smooth profitability. Do you want to get some important tips to avoid incurring losses in business? Then avail the
Remedial Solutions For Business
.
Ganesha wishes all a happy and prosperous New Year to everyone.
With Ganesha's Grace,
Subscribe Our Newsletters