Benefits and Significance of Online Rudrabhishek Puja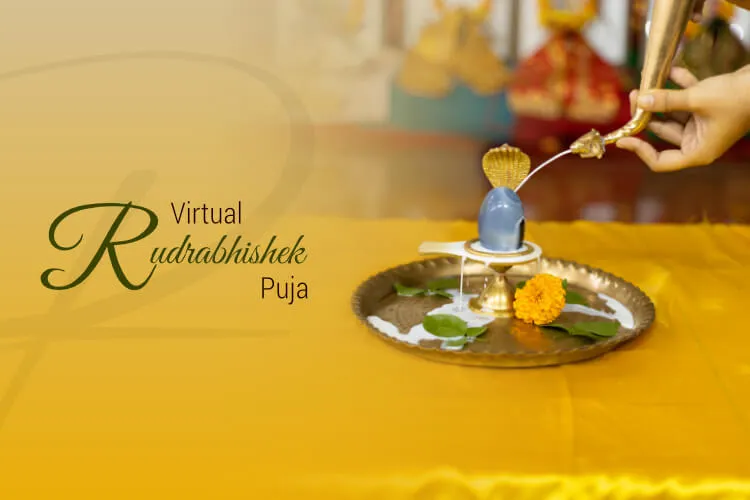 Lord Shiva is worshipped across the world in one or the other form. Known by various names such as Shankar, Mahadev, Bholenath, Rudra and so on, Lord Shiva is also known as a destroyer (of evil). The name Rudra, in the Vedas, is signified as a violent storm and the destroyer of all sorrows. It focuses on the aggressive side of Mahadev over his gentle side.
Lord Shiva as we all know stands for being forgiving and merciless, calm and aggressive, creator and destroyer! One of the mythological significance states that Bholenath is called Rudra because of Rudra Tandav nrithya.
The second mythological story states that Lord Brahma requested Mahadev to create interesting beings as he had created enough ordinary beings and wanted to see something extraordinary. Lord Shiva obliged the request and created 11 immortal beings. They were named as Kapaali, Pingala, Bhima, Virupaksha, Vilohitaa, Ajesha, Shavasana, Shasta, Shambu, Chanda, and Dhruva.
It was the creation of the 11 Rudras that bestowed the name Rudra upon God Shankar.
Rudra is a part of 33 key deities in Veda. The son of Kashyap and Aditi – 12 Aditya – 8 Vastu – 2 Ashvini – 11 Rudra. There are a total of 33 Koti types of devatas in Veda.
It is also said that Lord Rama performed the Rudrabhishek Puja at Rameshwaram before killing Ravana.
---
What is Rudrabhishek Puja?
Rudrabhishekam Puja is an abhishekam for Shiva which is a holy bath of Shivling, worshipped in the form of Lingam, found in temples and at different places across India.
Rudrabhishekam Puja is considered as the most ultimate Puja of Lord Shiva to gain Shankara's blessings as Abhishekam is considered as the favourite of the Lord.
---
When to Perform Rudrabhishek Puja
Routine Rudrabhishek Puja
Rudrabhishek Puja can be performed regularly and for various reasons. Some people even have reservations whether it can be performed in the evenings or not. The answer is yes, the Puja can be performed during the evenings as well. In fact, during Ardra Nakshatra which comes in the month of Thiruvathira (December-January), Abhishekam is performed throughout the night.
Rudrabhishek Puja on Monday
Lord Shiva is worshipped on all days of the week, but Monday is dedicated to Lord Shiva. It is considered beneficial to worship Lord Shiva on Monday to get rid of all the troubles.
Rudrabhishek Puja on Full moon
The mythological story behind the full moon reveals that Chandra, the Moon-god, had married 27 daughters of King Daksha who represented 27 nakshatras in the sky. Though he had married to all 27, he gave special and more attention to Rohini, which had upset his other wives. King Daksha was notified by his daughters, and he warned Chandra Dev several times, but despite repeated warnings, Moon God continued showering attention on Rohini.
Consequently, King Daksha cursed the Moon Lord, and the effects started to appear on the Moon. Chandra gradually shrank in size and started losing his glow. Subsequently, Chandra Dev started worshipping Mahadev religiously, and Lord Shiva blessed Chandra Dev to regain his powers and beauty gradually.
Hence, a full moon appears once in approximately 15 days and performing the Rudrabhishek Puja on Full moon is considered beneficial.
---
Other Virtuous time for the Puja
Other Virtuous time for the Puja
Shravan Month, Shivratri / Pradosh (13th day of Panchanga), and Amavashya are considered the most virtuous for the Puja.
Rudrabhishekam for Birthday
In the cosmos world, on your birthday, the celestial arrangement is aligned with your karmic deeds, and performing Rudrabhishek Puja on this day proves to be beneficial! Performing the Rudrabhishekam Puja on your birthday will remove any upcoming obstacles in the year ahead. It showers peace, prosperity and success all along the year!
Also, here are few other names of Lord Shiva, which you might not be aware of
Rameshwar:- The God of Lord Ram
Gangadhar:- The one who carries Ganges on his tangled hair
Bhola Bhandari:- The easily pleased one
Pannakabhushana:- The one who wears snakes as garland
Umapati:- The Lord of Uma(Parvati)
Suraguru:- The teacher of the gods
Vishveshwara:- The lord of the worlds
Mahadev:- The lord of all gods
Rudra:- The fierce one
Sarveshwara:- Completely powerful
Natraj:- The king of dance
Bhairav:- The fearful one
Maha Kaleshwar:- Great Lord of time
Akshayaguna:- The one with endless qualities
Anantadrishti:- The one with endless vision
Balanetra:- The one with an eye on the forehead
Jatadhar:- The one with tangled hair
Kapalin:- The one who wears garland of skulls
Shiva:- The most auspicious one
Different Ways of Performing Rudrabhishek Puja
Jal Abhishek is a Puja where Lord Shiva rewards with rainfall of wealth
Dudh Abhishek Puja is performed by pouring milk on the Shivling, and Shiva blesses with long life.
Shahad Abhishek rewards the devotees with a happy, free will life, and all misfortunes are eliminated.
Panchamrit Abhishek is performed by devotees when they are looking to accumulate wealth and property.
Ghee Abhishek is performed to get rid of any illness or physical problems.
Dahi Abhishek is for a couple to be blessed with a child.
Want to Know More about Vedic Rudrabhishek Puja Online, Talk to Astrologer and Get First Consultation with 100% Cashback!
---
Major Benefits of Online Rudra Abhishek Puja
Get Rid Of Incurable Diseases:
One of the main benefits of the Puja is if someone is suffering from incurable diseases, the Puja helps in warding off the illness and receives blessing in the form of good health and good energies.
Financial Issues:
Are finances giving you a tough time all along the way, and there is no light to be seen anywhere near?
Well, Rudrabhishekam Puja is the answer to these financial dangers.
Bad Deeds
Sins accumulated because of bad karma, or the bad karma that has been carried from the previous life. Rudrabhishekam Puja helps to mitigate it as well.
---
Success in Career, Business, and Personal Live
Be it any issues related to your career growth, business problems, or even issues with your love life or family life, Rudrabhishekam Puja helps find success and prosperity.
Planetary Doshas
You may face many issues and obstacles in life if there are planetary doshas created in your Kundali / Birth Chart. The planetary combinations will not allow any positive things to happen in your life. Rudrabhishek Puja helps elevate positivity in your life and alleviates all the difficulties.
Victory Over Hidden Enemies:
Rudrabhishekam Puja helps to get over the hidden enemies within yourself such as anxiety, depression, and other mental illnesses.
Ward off Evil Spirits
Nightmares, hallucinations, or any other evil thoughts and spirits can be warded off with the help of Rudrabhishek Puja
Lord Shiva controls all the Nine Planets & Time Phases. This includes the prime villains amongst planets ie. Saturn, Rahu, Ketu and Mars. He also controls the Moon, i.e. the significator of the Mind. Hence by pleasing Lord Shiva, you get a clearer mind, and the troublemaker planets do not bother you anymore
---
Performed by Trained and Experienced Pandits
Rudrabhishek Puja is performed by the most knowledgeable Vedic priests who are well-versed in the Vedic scriptures and are highly experienced in performing Vedic Pujas.
Online Puja is dedicated to the accurate and precise Vedic process, the puja mantras are in Sanskrit, and the entire Puja vidhi is personalised according to your needs and requirements.
No Contact Puja
Perform Customised Rudrabhishekam Puja from the comforts of your home itself, without any physical contact. Panditji will take your Sankalp to align with the Puja for the fulfilment of your purpose or desire.
Stay in touch with your roots and spiritually celebrate your ceremony with the energy and a very powerful aura, so that the results of the Puja is aligned with you and your family's well-being.
Puja Samagri
You don't need to buy Rudrabhishekam Puja samagri separately as the online Rudrabhishekam Puja is inclusive of all Puja samagri, Vedic processes, Sanskrit mantras, hymns, and more.
Perform the online Puja and gain Health, Wealth and Prosperity, and Peace of Mind. Remove career obstacles, get protection from incurable diseases, lessen the influence of bad planetary combinations, and overcome fear and phobias.
---
What Will We Do During Live Rudrabhishekam Puja?
The Personalised Puja will be performed according to Vedic standards and procedures by our renowned Vedic priest who is well-versed in the Vedic scriptures.
A dedicated team of Pandits will be assigned to perform the Puja and the team is headed by a highly experienced "Acharya"- the Head of the Puja to ensure that it is done following the Vedas and is utmost effective.
Virtual participation in live puja performed by our Vedic priests via Google meet helps you to perform puja safely at the comforts of your home.
The entire process of "Rudrabhishekam Puja" is followed diligently, following all the vedic scriptures to spread the power and energy in your house and to your family.
100% authentic, effective and contact-free "Rudrabhishekam Puja". Book Rudrabhishekam Puja online now
---
Complete Guide Of Virtual Rudrabhishekam Puja

Thus, a proper step by step ritual is conducted, right from Mangal & Acharan to transferring the positive energy (Sankalp Purti) and Aashirwad towards the end.
Puja starts with the remembrance of the Lord through chanting powerful mantras.
After that, Sankalp is taken in front of God, where we share the real purpose of performing the puja and pray for its fulfilment throughout the Puja.
We will invite God and positive aura in the puja through Dhyan and allow God to seat on the Aasan.
Aachman is done to God and an oath is given with water and milk. Chandan, Scent, and Abhishek are offered to God for welcoming good fortune.
God is dressed with Nadachadi, Janew, Chandan-Tilak, Kumkum-Tilak, Rice, & Flower.
Loinq_headingrd Shiva is appeased through the fresh fragrance of Abeer, Gulal, Sindur, and Haldi.
The ambience of the room is purified to create a positive aura through Dhup and Deep, followed by offering of Naivedya and Mukhwas to please God.
Shukla Yajurveda Rudrashtadhyayi is performed with milk and water.
Aarti and Pushpanjali will be offered with a hail of Lord Shiva.
All the positive energy created during this path vidhi is transferred to the devotees.
Finally, devotees will seek blessings of Lord Shankara for their wish fulfilment.
Rudrabhishekam Puja can be performed for good health, wealth, and prosperity.
It is recommended for both your mental and physical health. Conducting virtual Puja helps to attain all your dreams and wishes. Along with that, you can seek blessings of Shankara with zero hassles and at the comforts of your home.
Additionally, Puja is performed with high-quality samagri and accurate Vedic processes by renowned Pandit to get desired results. Over and above, through personalized virtual Rudrabhishekam Puja, you can get rid of bad deeds, negative energies, and gain success in all the fields of your life.
---
How to Book Rudrabhishekam Puja
To book for the personalised "Rudrabhishekam Puja" online, you will need to enter the following details :
Your Full Name
Time of Birth
Place of Birth
Sankalp
Take your smartphone, tablet, or laptop and enter these basic details, our team will assign dedicated Pandit ji to perform virtual puja with your Sankalp (purpose fulfilment). Surrender to the Almighty with unshakable faith without casting any aspersions on his divine powers to get showered by his blessings.
Note :- Puja is performed with high-quality samagri and accurate Vedic processes by renowned Pandit to get desired results.
For more Vedic Puja Solutions, Get Puja Consultation Online 
With Ganesha's Grace,
GaneshaSpeaks.com
---
---
Get 100% Cashback On First Consultation