Baisakhi 2023: Vaisakhi Festival Date 2023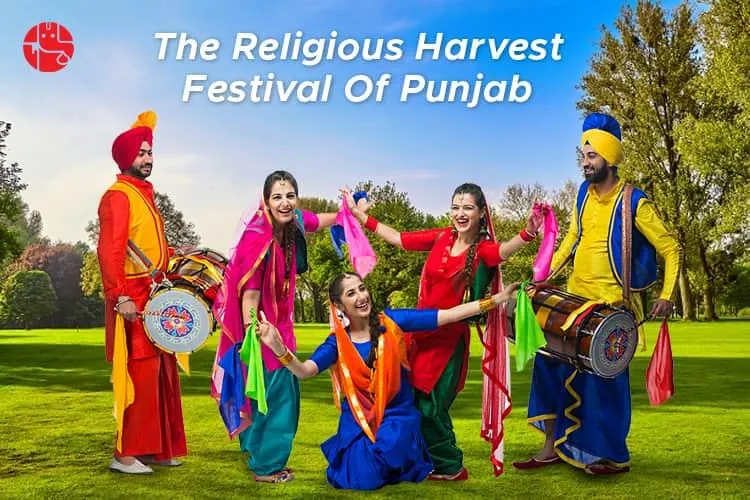 Baisakhi is an ancient harvest festival celebrated in the Punjab region. It is a significant day for Sikhs who celebrate it as the Sikh New Year based on the Hindu solar calendar. It is also referred to as Vaisakhi.
---
Baisakhi 2023 Date & Time
The festival of Baisakhi will be celebrated on Friday, April 14 for the year 2023 in the Vaisakh month. The auspicious moment of the festival will start from 03:12 PM preceding Mesha Sankranti.
---
Baisakhi Meaning and History
Baisakhi is a major Sikh festival that marks the day as the establishment of the Khalsa Panth in 1699 by Shri Guru Gobind Singh. Apart from having a religious importance, this festival is popularly known to be an harvest festival. It marks the time for the harvest of Rabi crops. During this time, farmers along with their families gather in their fields and celebrate by dancing to the beat of the drums around the harvest crops. Baisakhi or Vaisakhi, a word derived from the Sanskrit language, means a month of the Hindu Lunar year corresponding to April-May, regarded in some states as the commencement of the New Year.
---
About Baisakhi Festival & Its Significance
Baisakhi is one of the most important festivals celebrated in various parts of India, especially in the Punjab region. This vibrant festival marks the commencement of the Sikh New Year. It is a time of jubilation for the farmers who along with their family, friends and loved ones celebrate around the harvest crop heaps. They express their gratitude to God for a good harvest and pray for another bountiful one in the next season. Moreover, the religious importance of this commemoration makes Baisakhi more vivacious. As per Sikhism, it is a day when Shri Guru Gobind Singh, the 10th and last guru, placed the foundation stone of the 'Khalsa Panth'.
---
Baisakhi Regional Celebrations
Astrologically, Baisakhi is important as it starts or commences with Mesha Sankranti which coincides with several regional festivals like Pana Sankranti in Odisha, Pohela Boishakh in West Bengal, Bohag Bihu in Assam and Manipur, Vishu in Kerala and Puthandu in Tamilnadu respectively.
Celebrated as Pana Sankranti in Odisha, devotees worship deities of Lord Shiva, Hanuman or Goddess Shakti on this occasion. They bathe in sacred rivers while on pilgrimage. There are social celebrations and a special drink called "Pana", prepared from Mango pulp, is consumed by people on this special day.
In West Bengal it is called Pohela Boishakh. On this day devotees thank the divine forces for the good harvest in the current year and pray and invoke God for a more bountiful one in the coming year. People decorate the courtyard of their houses with colourful 'Rangolis' made with a paste of rice and water called 'Alpona'. Along with Bengal, it is also celebrated in some parts of the state of Tripura.
Bohag Bihu in Assam, as they call it, is celebrated thrice a year which signifies the distinct cycles of farming. People prepare delicacies like Mangsho, Chira and Pitha to mark the occasion.
In Kerala 'Vishu' denotes the commencement of the Malayalam New Year. People celebrate by lighting 'Diyas' and bursting firecrackers. Vishukkani Kazhcha means the auspicious view of the festival at the starting of the day as people buy clothes for Puthukudi (New Year) and distribute alms called Vishukaineetam. They prepare a special item called 'Sadya' on this day which has a mixed taste of salty, sweet, sour and bitter. Furthermore, 'Konna', a ritual arrangement with all necessary items for auspicious Puja rituals, is made on Vishu.
Puthundu or the Tamil New Year also falls on this day and people offer cash, gold and silver jewellery with betel leaves and fruits to God on the night before this auspicious day. It is believed that following these rituals attracts prosperity and happiness for the rest of the year.
The year can bring you enormous profits in business. Remedial Solution For Wealth can make things possible and clear your path to success by removing unnecessary hurdles.
---
Baisakhi Rituals & Celebrations
Baisakhi is celebrated with great joy and pomp. On this day Gurdwaras are beautifully decorated. Devotees wake up early, wear bright new clothes and assemble in the Gurdwara to offer special prayers. After the prayers, a special sweet item called "Kada Prasad' is distributed to all those gathered there. It is a dish prepared out of pure ghee, sugar and wheat flour to be offered as a prasad. Around afternoon a 'Langar' is organised where people from all classes rich or poor are offered free food prepared collectively by the devotees.
Concerning celebrations, Sikhs are considered to be energetic and lively people and any festivity without dancing is incomplete. Young men and women dressed in bright gaudy coloured outfits perform traditional dance forms like the 'Bhangra' and 'Gidda'. Both dance forms involve high energy levels and plenty of jumping. However, 'Gidda' is basically a traditional dance performed only by women who dance their hearts out with joyful spirits, making the environment merry and jubilant.
Being fond of scrumptious food is a natural instinct of the Sikh community who prepare various kinds of delicacies like makki di roti, sarso da saag, paneer tikka, potato vegetable, poori, vegetable pakoras and much more to add to the festivities of the occasion.
To Get Your Personalized Solutions, Talk To An Astrologer Now!
With Ganesha's Grace,
GaneshaSpeaks.com
---
---
Get 100% Cashback On First Consultation