Sun-Jupiter and Moon-Venus: factors for political success and artistic flourish of Vajpayee!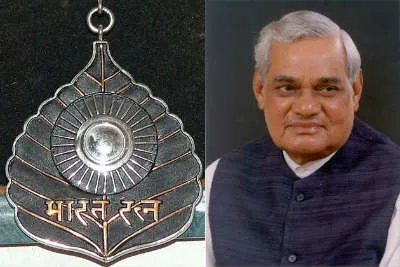 Atal Bihari Vajpayee is a name in Indian Politics, which surely doesn't need much of an introdcution! A ray of hope and inspiration for a lot of budding politicians, a mentor and guide for many, a phenomenal leader of men, a wonderful ruler of hearts, a super-efficient statesman, a great visionary, the pioneer with great forethought, a much loved prime minister and much more, Vajapayee ji shall forever be remembered and regarded for the way he has influenced Indian Politics and for the blazing and splendourous presence that he has had in the Indian political arena! He is one of the founding members and of the Bharatiya Janata Party, which is presently in power at the Centre under the able leadership of Prime Minister Narendra Modi. Vajpayee ji has enjoyed great limelight, fame and attention, be it for his brilliant political strategies or governance policies, be it for his trademark oratory or be it for his magnificent poetic talent! He was conferred the Bharat Ratna on the 25th December, 2014 by the President of India, and this very date, which happens to be the illustrious former Prime Minister's birthday has been announced as the 'Good Governance Day'. Let's check out the planetary configurations that blessed Atal ji to reach such pinnacles of glory! Know what is your zodiac sign/star sign profile which will help you to know about yourself more.
Atal Bihari Vajpayee
Date of Birth: 25th December, 1924
Time of Birth: 04.10
Place of Birth:- Gwalior, Madhya Pradesh
NATAL CHART

---
The Astrological Sketch of the Glorious Stalwart of Indian Politics:
Atal Bihari Vajpayee was born with Scorpio Ascendant and the Lord of the Ascendant Mars is placed in the 5th House in his Natal Chart.
Sun, Mercury and Jupiter placed in 2nd house in Sagittarius sign give him intense focus and very strong determination. Jupiter is in his own house, this makes him a very wise, prudent and noble person.
Jupiter occupying its own sign Sagittarius with Sun and Mercury in 2nd house, The 2nd house of speech has blessed Vajpayee to the extra-ordinary oratory powers. Listening to his speeches is absolute delight.
Sun and Mercury placed in 2nd house gives him popularity, truthfulness, sweet spoken personality and simplicity.
Mars in the 5th house has given him unlimited endurance and stamina which is visible in him.
Rahu occupying the 9th house, which is the strongest in a horoscope, has taken him to political successes during its period from 1984 till 2002. It also made him the Prime Minister of India.
Saturn is very important in his chart. Saturn is exalted and placed in 12th house, Saturn also make a person hard working which is seen in his personality. It also gave him the enormous public response and mass appeal.
Moon and Venus are in his ascendant. He was also a good poet. Moon and Venus makes him a ruler of the hearts and minds of millions of people; he was proud, passionate in his actions, and public leadership and support. He would be skilled at speech and good communication. He was talkative and impressive in speech. This combination also helped him become a captivating and charismatic leader.
All this planetary position He made the most respected leader of India. Atal Bihari Vajpayee is an Indian statesman who was the 10th Prime Minister of India, first for 13 days in 1996 and then from 1998 to 2004. A leader of the Bharatiya Janata Party (BJP), he is the first Prime Minister from outside the Indian National Congress party to serve a full five-year term. On 25 December 2014 the office of President of India announced the Bharat Ratna award, India's highest civilian honour, to Vajpayee. In a special gesture, President of India conferred Bharat Ratna to Atal Bihari Vajpayee in his residence on 27 March 2015. His birthday, 25 December, was declared "Good Governance Day".
Ganesha wishes a great time ahead to Atal Bihari Vajpayee and wishes him a most happy birthday.
With Ganesha's Grace,
Kashyap Rawal
The GaneshaSpeaks Team
---
---
Get 100% Cashback On First Consultation