Ganesh Puja 2023: Date & Its Timing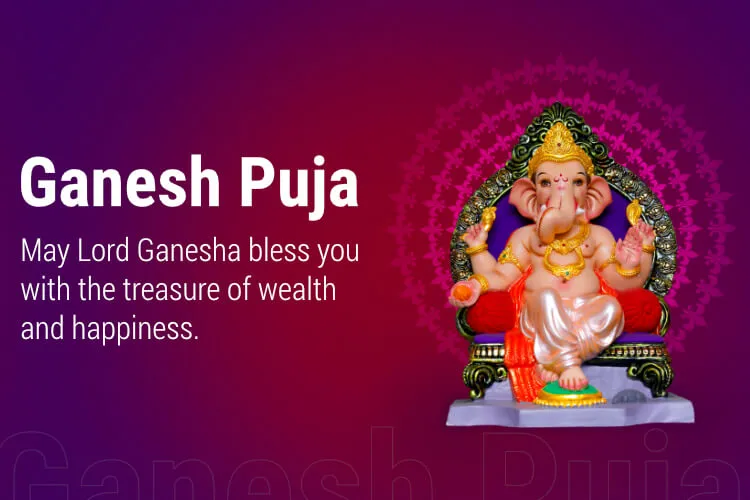 ---
Introduction To Ganesh Puja
The auspicious and optimistic nature of Lord Ganapathi is representative of the beginning of good things to come. (It's possible to have) great fortune, success, favourable conditions, and no resistance to their attainment by performing Ganpati Poojaan. Wouldn't everyone want to see as much of this life as possible? When people have their desires met, everybody will want to realise their talents. Worship of Lord Ganeshaṇeji is needed before all kinds of religious activities, and ceremonies begin. People who worship this Lord would have good health, intelligence, or money. You, too, only by worshipping powerful Ganesh Yantra will experience all these advantages.
---
Ganesh Sthapana 2023
Ganesha Chaturthi's days are celebrated during the year. According to Vedic astrology, Madhyahna Kala is the most auspicious period for…
Ganesha Puja: Tuesday, September 19, 2023
Madhyahna Ganesha Puja Muhurat: 11:01 AM to 01:28 PM
Chaturthi Tithi Begins – 12:39 

PM

 

on

 Sep 18, 2023
Chaturthi Tithi Ends – 01:43 

PM

 

on

 Sep 19, 2023
---
Vinayaka Chavithi Pooja
Hindus in India and abroad celebrate Ganesh Chaturthi with great zeal.
It is a ten-day festival during which devotees pay their respects to Lord Ganesha, also known as 'Vinayaka Chavithi'. Lord Ganesha is worshipped as the God of knowledge, wealth, and good fortune in the region.
Many devotees observe a ten-day fast – some follow the nirjala vrat (waterless fast), while others follow the phalahar vrat. Devotees will rise early for a bath, dress in new clothing, and worship the Lord Ganesha idol with morning and evening aartis, mantras. The Lord Ganesha is presented with sweets and vegetables, which are later distributed as prasad.
On the tenth day of the festival, dubbed Ganesh Visarjan, devotees immerse Lord Ganesha's idol in a river or sea.
Devotees will recite and listen to the Ganesh Chaturthi Vratha Katha and Ganesh aarthi during the Ganesh Chaturthi pooja.
---
History Of Ganesh Chaturthi
According to some people, Ganesh can also be identified as Vinayaka, Heramba, Vinayaka, or Pillay.
Although it has faded somewhat in popularity in recent years, the festival of Ganesh, a giant elephant-headed Hindu god, remains one of the most commonly celebrated events in the world. His blessings are also invoked when people are beginning new businesses or new enterprises, eliminating all the barriers to achievement. The elephant-headed Hindu god Ganeshaṇḍa is said to have protection from natural disasters. Ganesha is also worshipped as the Deity of newcomers.
Thinking about performing Ganesh Puja, but unsure how to go about it accurately? Want to seek blessings of Lord Siddhivinayak with zero hassles and accurate Vedic rituals? Well, you are in the right place. Yaas, look no further and buy online Ganesh Pooja as we got you covered!
For the Indian faith, Ganesha is regarded as the divine son of Shiva and his wife Parvati and is thus seen with an elephant's head on a human body.
---
Easiest Way To Perform Ganpati Puja At Home
Clean the house and ensure that it is tidy and cleaned prior to Ganesh Chaturthi. On Ganesh Chaturthi, rise early and take a holy bath. Ganesh Chaturthi is a joyous and holy festival. Each family member must share the duties and perform the puja in unison to seek his blessings.
There are three methods for preparing Lord Ganesh's puja. Certain individuals make use of a painting, photograph, or idol that they already have in their puja room. Alternatively, you can build an idol using clay or turmeric with the help of family members. Ganesh's new pictures or idols (murtis) can be purchased from shops and pandals. This is the most frequently chosen choice by the majority of households. Each year, people look for a new idol to use during the ten-day festival's prayers and rituals.
Gingelly or coconut oil may be used to light a candle. Light incense sticks and assembles family members in front of the altar.
One can bathe the idol in holy water (if the material of the idol is suitable to permit the water). This can be accomplished with rose water, sandal paste, coconut water, sugar, and panchamrit, among other substances. After the holy wash, wipe the deity with a clean towel. Decorate Ganesh's portrait with sandal paste, vermilion, garments, ornaments, roses, and garlands. Chant Ganesha's mantras and place flowers at the foot of the image/idol.
Ahead of the festival, carry the Ganesh idol at home and cover it with a cloth. On the festival day, thoroughly clean the house, bathe, and then remove the cloth covering the idol. Decorate the region where the lord will be placed.
While chanting the mantra 'Om Ganesha Namah', place the idol on a tiny wooden bench. Maintain a set of ingredients and offerings in front of the idol. Begin the puja by chanting 108 times the Ganesh mantras. Diyas (lamps) and incense sticks are lit, and Ganesh aarti and hymns are sung. To the lord, give flowers and sweets such as modak, ladoos, and pedha.
Offer simple offerings and other dishes like Modak and coconuts during the pujas at home. Put food items such as coconuts, nuts, and other things in a basket and give them to Ganesh.
Perfume the shrine with incense and sing Ganesha songs. Have faith in Lord Ganesh. Send it to friends and relatives. During the Ganesh puja, pray and celebrate until you are ready to hold the idol in your house as a deity. It is known as Visarjan's day when you can conduct the final worship and pursue his return to your house the following year.
---
Complete Guide Of Virtual Ganpati Pooja
---
Benefits Of Performing Ganesh Puja
Brings down all the internal or external roadblocks to zero.
strengthens your overall abilities and ensures your progress in every area of life
This type of worship gives you wisdom, achievement, and plenty of all.
You're also blessed with good health by Ganesha Puja.
---
How is Ganesh Puja Celebrated?
The festival is held for ten days in some parts of India, such as Andhra Pradesh and Maharashtra, and is a very public event. It is also celebrated in homes in other parts of the world, with hymns sung and offerings made to Ganesh. Sweets are a popular offering since Ganesh, according to Hindu mythology, favoured them.
During the Ganesh Chaturthi Chaturthi, clay images are placed in the home, and temporary shrines are constructed on the streets for the celebration of the worshipers to behold. Priests invoke life into the idols as mantras are chanted in a known as 'pramartha', in which devotees vow taking starts.
An extensive number of Ganesh statues will be set up in shrines as a symbol of the blissful enlightenment that results from having seen everything (Sacred Fig). Herbs, such as turmeric, black pepper, and fennel, are said to cure up to 50 illnesses, which include gastric complaints, lower the hunger pangs, and increase digestive fire. As well as doing away with carbon dioxide at night time of the day, it has the added feature of producing oxygen at night. While there are many physical healthy facets to the tree, people want to worship it as a divine healer. Its wholesome qualities make it especially attractive to worshipers.
---
Happy Ganesh Puja
May lord Vighnavinayaka protect you. Eliminate all impediments and lavish you with bounties. I wish you a prosperous and fortunate visit from Lord Ganesh. We wish you a happy Vinayak Chaturthi in the year 2023.
What are the signs for 2023? Consult our expert astrologers to know more about it.
With Ganesha's Grace,
GaneshaSpeaks.com
---
---
Get 100% Cashback On First Consultation