Benefits of Virtual Ganesh Puja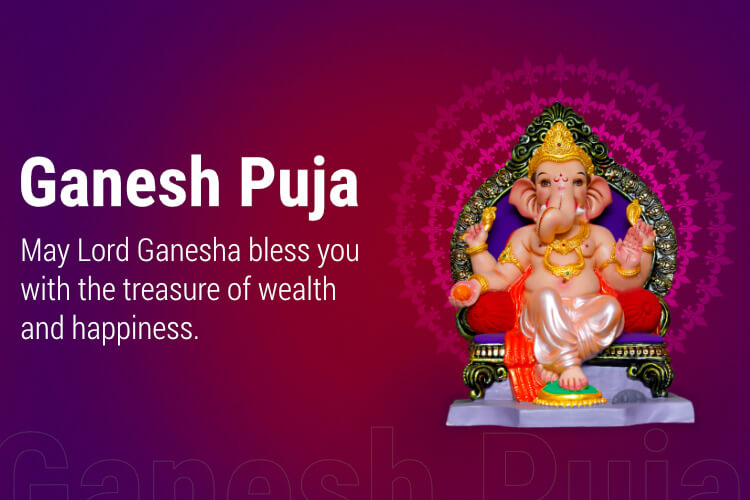 Lord Ganapathi, also known as Vighnaharta, signifies the start of something auspicious and positive. Good luck, favourable opportunities, and zero hurdles on the path of achieving desired goals are certain by performing Ganpati ji Pooja. Who would not like to have all this life? Hundo P, all want to fulfil their desire and taste the fruits of success. So, Lord Ganeshaji is worshipped before initiating every auspicious function. Moreover, worshipping this Lord brings good health, knowledge, wealth, peace, and prosperity to his/her life. You too can gain all these benefits just by worshipping powerful Ganesh Yantra regularly.
When to Perform Ganesh Pooja?
Ganesh Puja for Early Marriage
Shree Ganapati Puja is performed to pave the path for marriage delays due to reasons related to planetary placements in your Janampatri and their corresponding effects on your marriage prospects. Performing Vinayaka Puja with accurate Vedic rituals and mantras can facilitate your marriage by ending any Doshas associated with this connection.
Ganesh Puja for Marriage
All the obstacles are removed by Vighna Vinashak Devta Ganesh, so before starting marriage rituals, Ganapati ji Puja is performed. The whole family worships Lord of all obstacles (Vighnaharta) for a smooth and obstacle-free marriage life of bride and groom. Considered as the harbinger of good fortune, every wedding ceremony involves Ganapathi Pooja.
Ganesh Puja for Education
Widely known for naughtiness and intelligence, Lord Ganesha is worshipped for removing stress in the life of children and bless them with intelligence. In today's world, kids struggle in achieving their goals, desire, and choice of careers. Ganesh pujan by kids or their parents provide them with the strength to face this competitive world and score good marks.
Sankasthi Chaturthi Vrat
Sankasthi Chaturthi means the day that dispels all the difficulties and hurdles in life. It falls every month, the fourth day of Krishna Paksha according to Hindu calendar and also called Anagaraki Chaturthi when it falls on Tuesday. Devotees observe fast on this day to get rid of obstacles in life. Sankasthi Chaturthi Vrat is said to be complete only after performing Vinayaka Puja either in morning or evening time. 
Ganapathi Bappa Puja on Tuesday
Hailed as Mangal Murti, Tuesday is considered as ideal for performing this pooja. It helps to eliminate hindrances on the path of success, happiness, and bestow good health.
New Beginnings of Auspicious Events
House Warming Function
Ganapati Pujan is performed during house warming ceremony with family and friends to make life easy and minimum struggle for family after shifting to a new house. With accurate puja of the Lord Vighnaharta, the family will be protected from misfortune and there will be peace and harmony in the new house.
Office Opening
Performing Ganpati bappa puja before moving into a new office space or during office opening helps to remove all the obstacles, enrich a successful - positive energy environment, and gain all the auspiciousness, wealth, and upliftment in a new business or venture.
Foundation Stone of Land or Property
It is important to keep new land or property free from all issues. Seek blessing of Vighnaharta for winning against adversaries involved in land and property. 
There are many Prayers, Ganesh pooja Mantras in Sanskrit & Aarti in our ancient scriptures, but they should be performed in a righteous way to appease Lord Vinayaka. However, Ganapati Atharvashirsh is the most important and powerful prayer to get the blessings of Lord Ganesha.
Thinking about performing Ganesh Pujan, but unsure how to go about it accurately? Want to seek blessings of Lord Siddhivinayak with zero hassles and accurate Vedic rituals? Well, you are the right place. Yaas, look no further and buy online Ganesh Pooja as we got you covered!
Benefits of Performing Ganesh Puja Online
Perform personalised Ganpathi puja at the comforts of your home with Vedic priests who are well-versed in the Vedic scriptures.

Puja will be performed by the most knowledgeable Sanskrit nobles/scholars.

Panditji will take your Sankalp to align with Puja for the fulfilment of your purpose or desire.

Stay in touch with your roots and spiritually celebrate your ceremony with the Lord of new beginnings without facing the difficulties of preparation and performing Ganapathi Puja at your home. 

You don't need to buy Lord Ganesh Pooja samagri separately. Online Vinayak Pooja is inclusive of all puja samagri, Vedic processes, mantras in Sanskrit, hymns, and more. 

Remove all obstacles and negative vibes around you, get protection from enemies and diseases, gain wisdom, knowledge, name, fame, and success, overcome all financial crises, and resolve all negative planetary influences in just a few clicks. 

Online Puja is dedicated to accurate Ganpati Puja Vidhi with the precise Vedic process, all Ganesh puja mantras in Sanskrit, and other relevant Pooja services, making it personalised according to your needs and requirements. 

To have a complete idea of the benefits to be availed by performing Live Ganapati ji Pooja, get Free consultation before booking or buying Ganesh Pooja Online.
What will we do during Live Ganapati Puja?
Personalised Puja performed according to Vedic standards and procedures by our renowned Vedic priest.

The designated Panditji will perform personalised Siddhivinayak Puja, specially for you (Puja Duration: 3 to 3.5 hours). Also, your Sankalp will be taken in order to align Puja with your purpose and make it personalised.

For generating a considerable amount of positive energy, we use high-quality Puja Samagri.

Virtually participation in live puja performed by our Vedic priests via Google meet helps you to perform puja safely at the comforts of your home.

Shodashopachara Puja is performed with Vedic hymns. It includes sixteen ritual services to worship Lord Vighnaharta. The main aim of this Vedic ritual is to raise your five senses and remove negative energies coming your way. 

Furthermore, necessary puja materials are offered to Lord Gajanan while conducting virtual puja-vidhi. Then, Durva, Sindoor, and other precious ornaments are offered by reciting 108 Ganapati Atharvashirsha. This hymn has the ability to create a protective shield that protects you from distress and negative energies.

For a convenient and transparent Ganapathi Puja with guaranteed punctuality and authenticity,

book Ganesh ji Puja online now

.
Complete Guide Of Virtual Ganpati Pooja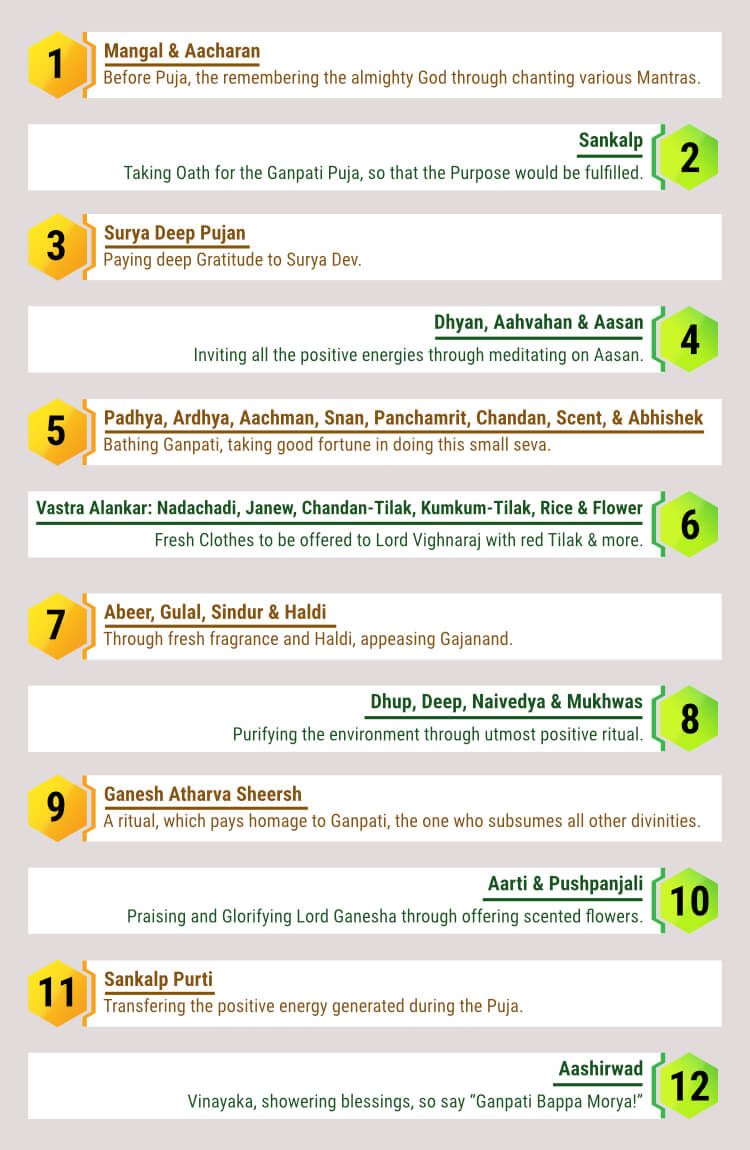 Our devoted team of most knowledgeable Pandits ensure that puja-vidhi is being performed correctly, considering all Vedic rituals, path, and mantras. We try to make sure that the purpose is fulfilled, and therefore, our experts take Sankalp during the Ganpathi Puja. Also, a proper step by step ritual is conducted, right from Mangal & Acharan to transferring the positive energy (Sankalp Purti) towards the end. 
Pooja starts with the remembrance of the Lord through chanting powerful mantras.  

After that, Sankalp is taken in front of God, where we share the real purpose of performing puja and pray for its fulfilment throughout the pooja. 

The puja starts with Surya deep pujan, and devotees will pay deep gratitude to Lord Sun. We will invite God and positive aura in the puja through Dhyan and allow God to seat on the Aasan. 

Aachman is done to God and bath is given with water and panchamrit. Chandan, Scent, and Abhishek are offered to God for welcoming good fortune. 

Ganpathiji is dressed with Nadachadi, Janew, Chandan-Tilak, Kumkum-Tilak, Rice, & Flower.

Lord Gajanand is appeased through the fresh fragrance of Abeer, Gulal, Sindur, and Haldi.

The ambience of the room is purified to create a positive aura through Dhup and Deep, followed by offering of Naivedya and Mukhwas to please God.

Panditji will read Ganesh Atharva Sheersha Path and explain its significance and power to the devotees. In-depth insights will be provided with precise meaning and power of chanting Ganeshji mantra in Sanskrit.

Aarti and Pushpanjali will be offered with a hail of Ganpati Bappa.

All the positive energy created during this path vidhi is transferred to the devotees. 

Finally, devotees will seek blessings of Lord Vighnaharta for their wish fulfilment.
Puja of Lord Vinayaka is inevitable for any auspicious events. It is recommended for the obstacle-free journey of any new beginnings. Conducting virtual Puja helps to attain all your dreams and wishes. Along with that, you can seek blessings of Lord Vinayaka with zero hassles and at the comforts of your home. 
Additionally, pooja can be performed with high-quality samagri and accurate Vedic processes by renowned Pandit to get desired results. Over and above, through personalized virtual Ganesha Puja, one can gain wisdom, fame, name, success and happiness while removing all the obstacles & negative energies.
How to book Ganesh Puja
Enter the following details and perform personalised Ganapati Pooja online
Your Full Name

Time of Birth

Place of Birth

Sankalp
Take your smartphone, tablet, or laptop and enter these basic details, our team will assign dedicated Pandit ji to perform virtual puja with your Sankalp (purpose fulfilment). Surrender to the Almighty with unshakable faith without casting any aspersions on his divine powers to get showered by his blessings.
For more Vedic Puja Solutions, Get Free Puja Consultation Online
With Ganesha's Grace,
The GaneshaSpeaks.com Team