Know the meaning and importance of special rules of Bhadrapada month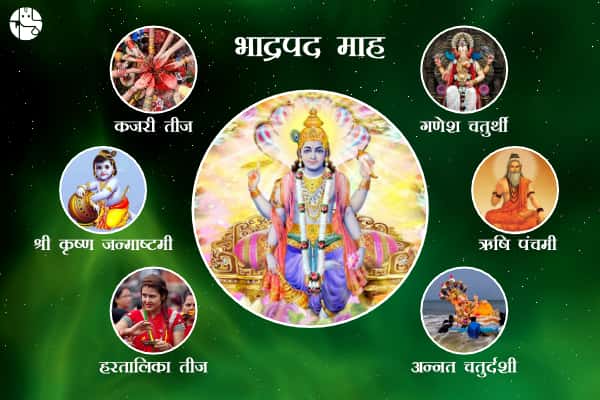 According to the Hindu calendar, Bhadrapada i.e. Bhadau month is going to start from 4th August. Bhadrapada is the second of the four holy months of Chaturmas. According to the beliefs, during these four months, Lord Vishnu leaves the Kshir Sagar and resides in Hades with King Bali. Chaturmas is a time to adopt restraint and discipline in lifestyle from a religious and practical point of view. Many big fasts, festivals and festivals of Hindu religion are celebrated in Bhadrapada month. These include Shri Krishna Janmashtami, Hartalika Teej, Ganeshotsav, Dol Gyaras, Rishi Panchami, and Anant Chaturdashi fasts and festivals. The importance of Bhadrapada month also increases because this month is only for devotion. All other auspicious works remain closed during this period.
Astrological Significance of Bhadrapada Month
In the Hindu calendar, the day, date and month are determined by taking the moon as the basis. Months and their names are decided on the basis of their travels in the moon and constellations. The constellation in which the Moon is on the full moon day is known as the Hindi month. Bhadrapada begins with the end of the month of Sawan. After Sawan, the earth keeps getting wet due to monsoon in Bhadau too. Along with this, construction of house, marriage, engagement and any other auspicious work is prohibited in the month of Bhadra. The month of Bhadau is considered best for devotion, bathing and worship.
After all, how long will it be forced by the hands of fate, by the grace of Shiva, the spoiled work, click here

Bhadrapada begins from the next day after the festival of Rankshabandhan, on the Shukla Purnima day of the month of Shravan. In the year 2020, Bhadra month will start from Tuesday, 4th August and will continue till Bhadra Shukla Purnima. In the year 2020, Bhadra Shukla Purnima is going to come on 2nd September, Wednesday.
Major Festivals and Dates of Bhadrapada Month
August 4, Tuesday – Bhadrapada begins
August 6, Thursday – Kajari Teej
12 August, Wednesday – Shri Krishna Janmashtami
August 18, Tuesday – Darsha Amavasya
21st August, Sunday – Hartalika Teej
August 22, Saturday – Ganesh Chaturthi
August 23, Sunday – Rishi Panchami
29 August, Saturday – Dol Gyaras
September 1, Tuesday – Anant Chaturdashi
September 2, Wednesday – Bhadrapada Purnima
Special rules of Bhadrapada month
Bhadra is a Sanskrit word and it means welfare. In this month, it is called Bhadra month due to the fast coming of Bhadra i.e. giving good results. This month is known for observing restraint, fasting, fasting, rules and loyalty. According to the beliefs, this month is considered best for atonement for one's mistakes. Let us know which rules should be followed in this month and what should be avoided.
Avoid eating raw things in the month of Bhadra.
Avoid eating curd, because eating curd can worsen health.
Consuming jaggery during this time can lead to problems related to the throat.
Lakshmi decreases by eating rice given by someone in the month of Bhadra.
Coconut oil should not be used in food, it reduces the pleasures.
Consumption of sesame oil is also prohibited, it reduces age.
गणेशजी के आशीर्वाद सहित,
गणेशास्पीक्स डाॅट काॅम