All New 2015 Horoscope App by GaneshaSpeaks.com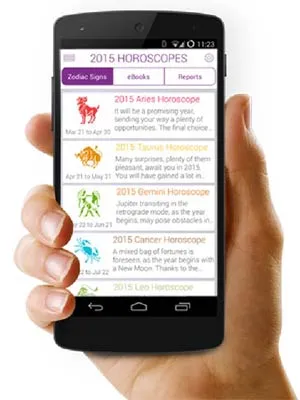 About 2023 Horoscope App
This is an intelligent Horoscope App that will bring you both – a sneak peek in the year 2023 as well as detailed, area-wise, carefully arrived at Zodiac Sign predictions. All this – right at your finger tips! When you download this extremely useful App, you will get –
Your FREE Zodiac Signs-wise 2023 Horoscope – Share it with your loved ones, circulate it among your friends or outline your own plans for the year 2023
Elaborate Free previews of all the GaneshaSpeaks.com's 2023 Annual Predictions Books – Your Zodiac Horoscopes 2023
A window to grab GaneshaSpeaks.com's special, unique, Astrologer-generated, thus 100% Personalised Premium 2023 Reports.
And, other jaw dropping offers – from time to time.
---
Using this App is Easy
Download 2023 Horoscopes App by GaneshaSpeaks.com from your App Store – Free of Cost!
Once you have downloaded the App, right away browse and read your and your loved ones' free 2023 annual predictions, basis the Zodiac Signs.
You can also get your very own 2023 Basic Overview Report for FREE via this App.
You get free exclusive previews of the 2023 Annual Predictions Book, in its multiple versions in both English and Hindi languages (Total of 26 books are available – 13 English books and 13 Hindi books for all as well as each Zodiac Sign). As per your liking, you can easily purchase the specific book that is just related to your concerned Zodiac Sign or the comprehensive book containing predictions for all the 12 Zodiac Signs in English/Hindi languages through In-App purchases.
Glance at the different 2023 Horoscope-based, astrologer generated, Personalised Reports, based on Vedic Astrology, which you can order through this simple App. Confidentiality guaranteed!
This easy to navigate and user-friendly 2023 Zodiac Horoscope App gives you an opportunity to see first hand – the flow of the content and interesting content, articles etc. of GaneshaSpeaks.com's Horoscope books – Your Zodiac Horoscope 2023. These annual prediction Horoscope books have been written to give you weekly, monthly and yearly predictions for the various Zodiac Signs. The unique selling point of these Horoscope books is its simple to understand language, which a lay person can easily read and digest. The book predictions have been designed to touch all the key areas of a person's life, including job and career; love, marriage, sex and children; various relationships, education and health. GaneshaSpeaks.com's Horoscope 2023 book shall help you stay prepared and take corrective action, as and when required. As a bonus, this book contains arresting articles on different countries' and the whole world's future in 2023.
That's not all! With each passing year, the value of periodic predictions declines, however, the static information that you will get for the Zodiac Signs shall make this book worthy of collection! Read the whole book to know what value it can add to your life!
---
---
---
Get 100% Cashback On First Consultation