Significance of Sun-Rahu conjunction in the first house of the horoscope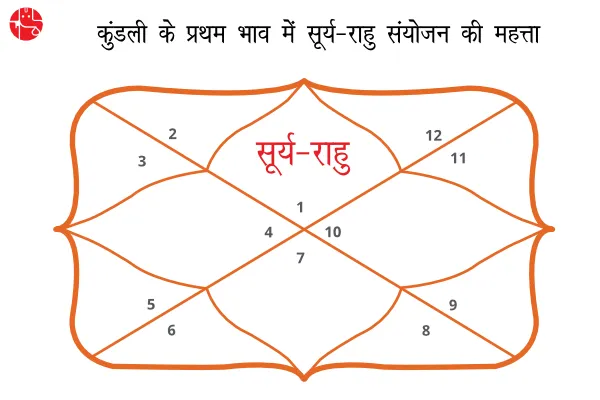 In Vedic astrology, Surya is given the position of power, authority, confidence and father. Sun also represents politics. On the other side is Rahu which is a malefic planet, it is greedy and manipulative. It is also said that Rahu also symbolizes the goals and targets given to a person by creation. It serves the purpose of our worldly existence. That's why when there is Sun-Rahu combination in the first house of the horoscope, the native wishes for power and fame. To accomplish which sometimes they use unfair means and measures.
---
Areas affected due to Sun-Rahu conjunction in 1st house
personal loyalty
social image
communication and expression
Professional Growth and Success
Find Out Free Remedy Suggestion That Can Help To Solve Your Personal Problems
---
Positive symptoms/effects
The Sun-Rahu conjunction in the 1st house provides the native with opportunities for self-expression and leadership. Due to this planetary combination, the natives are likely to be fortunate and lucky. If luck favors them, then they shine royally. Also, a person who has this combination in their horoscope is confident and has a very charismatic personality. The Sun–Rahu conjunction makes the native apt to become a prominent political leader. In fact, if they make a career in politics, they can reach very high. Are you also facing problems in career, then get solutions from our astrologer experts. Click here to get career remedial solutions!
Significance of Sun-Rahu conjunction in the first house of the horoscope – GaneshaSpeaksDue to certain positive effects of Sun-Ketu conjunction in the first house of the horoscope, the native likes to connect intellectually with others, form associations, public behavior and establish and maintain contacts.
What Do The Planets Say About Your Life? Buy The Online Janampatri / Kundli And Get The Answer
---
Negative symptoms/effects
The natives who have Sun-Rahu conjunction in the first house of their horoscope are self-obsessed and selfish. They give more importance to themselves, and have dual personality. Such people are actually something else and pretend to be something else. There are high chances that such natives may exhibit fake and artificial abilities. Which can raise a question mark on their credibility and image in the society. The people with Sun–Rahu combination in the first house are deeply engaged in their own development and expansion. As a result, they lose the ability to judge right from wrong. Due to which their energy can be scattered, and their efforts can be ineffective, and they can also lose their focus. Moreover, they will be able to convert their efforts into financial and monetary dividends, but the//se achievements may cost them their health and moral values. There are occasions in the life of such natives when they You have to change your place of residence. Also, in certain situations, there is a possibility that the male native may lose his property due to association with female. Also, in some difficult circumstances, the native may get separated from his/her life partner. Due to Sun-Rahu conjunction in the first house, there can be many ups and downs in the life of the natives. As a result, the native may go on pilgrimages and religious journeys and gain new strength and education from there. That you too will be able to acquire new powers and strengths this year. Get your 2023 horoscope to know. Click here to get detailed personal horoscope for the year 2023.
In Vedic astrology, both Sun and Rahu are opposing planets. They try to dominate each other, and this conflict between these two celestial bodies creates problems in the lives of the natives. This problem can also be internal. Due to which the person may also suffer from any personality disorder.
---
Conclusion
Due to Sun-Rahu conjunction in the first house, the native is very clear. In which there is a strong feeling of self. Which gives them success in political and related fields. However, their self-pride and massive arrogance can lead them to clash with others in personal and professional life. Therefore, like other natives, they should also try to increase their abilities by removing their weaknesses.
To get your personalized solutions, talk to an expert astrologer now!
With the blessings of Ganesha,
GaneshaSpeaks Team
---
---
Get 100% Cashback On First Consultation