Sun in the third house of the horoscope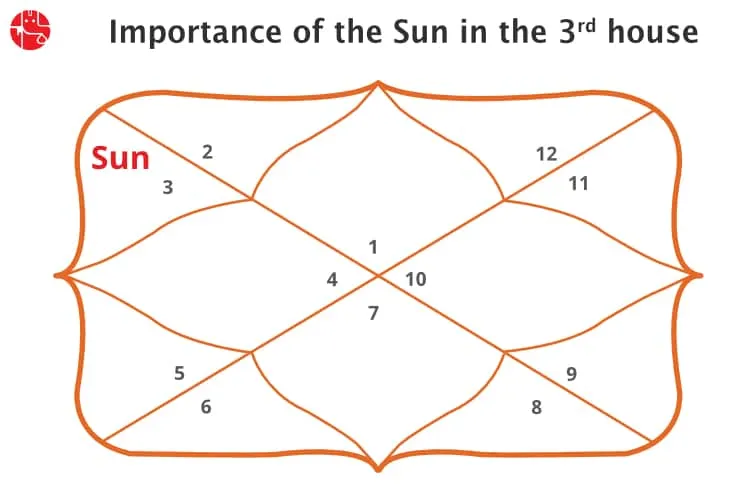 In Vedic astrology, the third house of the horoscope is known as Sahaj Bhava. It fulfills all kinds of rules of communication and correspondence. It is related to how we connect with people and exchange information. This house rules various modes of communication like telephone, media, TV, radio, post, social media, telegraphy, etc. The presence of Sun in this house promotes talkative inclination of a person. The natives of the Sun in the third house of the horoscope like to travel, in which they get satisfaction and fulfillment.
How Will Your Future Turn Out? Get Free Janampatri With Personalise Prediction Report
---
Area affected due to Sun in 3rd house
occupation
attitude towards people
higher education and learning
attitude towards self
Find Out Free Remedy Suggestion That Can Help To Solve Your Personal Problems
---
Positive symptoms/effects
Well, the main feature of the personality of such people is their selflessness. They help everyone. Which is innate, it happens very naturally inside them. Also, they are very close to their family members and friends. They go the extra mile in providing them all possible support and assistance. Sun posited in the 3rd house has a developed mind. They are intellectually very sharp and full of ambition and a high sense of pride. Such people are also endowed with a strong willpower, which makes them self-reliant. It gives them hunger to achieve something in life. Natives with Sun in the 3rd house move forward in life despite all the obstacles and difficulties. They are very clear about what they want and what they believe in. They do not have a bad mind. Their clarity increases their confidence. They are able to achieve whatever they want to achieve. Also, the natives in whose horoscope the Sun is located in the third house give a lot of importance to knowledge and intelligence. He does not believe in only acquiring knowledge but also sharing it with his near and dear ones, friends and well wishers. Natives with Sun in the 3rd house have a strong urge to experiment and learn new things. As they want to learn, they like to travel to different places and see the world from different perspectives. While they love to travel and explore different ideas, they are also easily receptive to new ideas and Don't rely on concepts. They want some evidence before developing faith in any new idea or concept. Only then do they believe in a thing, a person or an event. People with the presence of Sun in the third house are more inclined towards drama and performing arts rather than mathematics and science. Hence, they are more inclined towards the practical aspects of life.
Also read – Valentine's Day Special- Transit of Venus in Pisces, the natural lord of love and married life
---
negative symptoms,effects
There is one important area where they need to be careful. His intellectual intelligence is very good, but he should guard against pride and impatience. They have this trait, they think they are always right. This can create some misunderstandings between them and the people around them. They may not always have very smooth relations with those who are close to them. Natives with presence of Sun in 3rd house are ready to take any trouble to help others. Which some might see as interference. Thus, they should be careful. The best way to help others is to help when it is asked or when necessary. People with Sun in the 3rd house need to be careful while displaying their educational qualifications and intellectual abilities. It should not be presented as a show off. It appears as if they are boasting about their strength. If they don't pay attention on this front, it could damage their reputation. Learn more about your strengths and weaknesses with your personalized horoscope.
What Do The Planets Say About Your Life? Buy The Online Janampatri / Kundli And Get The Answer
---
Conclusion
Since the third house is all about communication. Hence, when the Sun is situated in this house, the person can become quite talkative and outspoken. Sometimes, one may even say something that people may not like. It can also get them in trouble. Thus, they need to be careful in this matter.
For Any Questions, you can Ask an Astrologer, First Consultation with 100% Cashback!
With the blessings of Ganesha,
Ganeshaspeaks team
---
---