Sun and Rahu Conjunction in 1st House/Ascendent : Vedic Astrology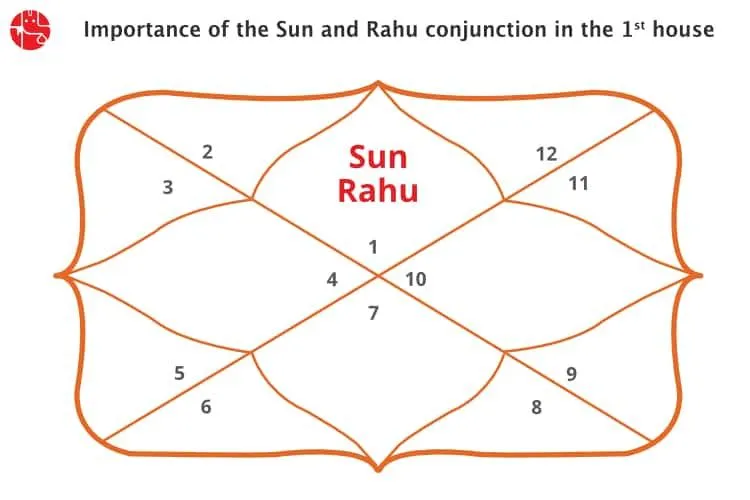 Well, Sun stands for power, authority, self-confidence and father in Indian astrology. Sun is also about politics. On the other hand, Rahu is a malefic planet which is greedy and manipulative. It is called the North Node of the Moon. It is also said that Rahu stands for the goals and targets assigned to an individual by the creation. It caters to the purpose of our Earthly existence. The natives who have Sun and Rahu conjunction in their 1st House will desperately seek power and achievement, and at times they will even adopt wrong means and methods to accomplish the same.
---
The Areas Affected Due to Sun-Rahu Conjunction in the 1st House:
Communicability and expression
Professional growth and success
Self-importance
Social image
---
Positive Traits/Impact:
The conjunction of the Sun and Rahu will endow the native with opportunities of self-expression and leadership. The native of this planetary combination is likely to be lucky and fortunate. If luck shines on them, it will shine royally.
Besides, the person who has this conjunction will be full of confidence and will have a very charismatic personality. The people with Sun Rahu conjunction are well suited to become prominent political leaders. In fact, the native may rise very high if he/she pursues a career in politics.
Some of the positive key points of the Rahu-Sun conjunction in the 1st house are, liking to associate intellectually with others, form associations, public dealings and making and maintaining contacts.
---
Negative Traits/Impact:
The individual who has Sun-Rahu conjunction in the 1st house is likely to be self-obsessed and selfish. He/she will give utmost importance to himself/herself. The individual will have a dual personality. He/she will be something and will pretend to be something else. It is likely that the native may exhibit abilities, that are fake and artificial. This may lessen his/her credibility and image in society.
The natives of Sun and Rahu in 1st house are very much engaged in their own growth and expansion. Consequently, they lose touch with the judgment of right and wrong. This may cause their energy to get scattered, which may make their efforts ineffective, and they may even lose their focus. Besides, they will be able to translate their efforts into rich financial and monetary dividends, but those accomplishments may come at the cost of their own health and moral values.
Also, the native may have to alter his/her place of residence on several occasions. In some situations, it is likely that the male native may lose his wealth owing to his association with women. Besides, in some difficult situations, the native may get separated from his/her life partner. There will be many ups and downs in the life of natives with the Sun and Rahu conjunction in their 1st house. Consequently, the natives may venture out on pilgrimages and religious trips and gather new strength and learning from there.
The two planets Sun and Rahu, are against each other. In their tussle, each will try to dominate the other. And this struggle between the two celestial bodies will create difficulties in the life of the native. This struggle may be internal. The native may even suffer from a personality disorder.
---
Conclusion:
The natives of Sun conjunct Rahu in the 1st house are likely to be quite expressive. They have a strong sense of the self, which can make them do well in politics and related fields. However, their self-preoccupation and the massive ego may bring them at loggerheads with others in personal and professional life. Like all other natives, they too should try to build on their strengths and eliminate their weaknesses.
With Ganesha's Grace,
The GaneshaSpeaks Team
---
---
Get 100% Cashback On First Consultation