2023 Scorpio horoscope - Old Bets Paying off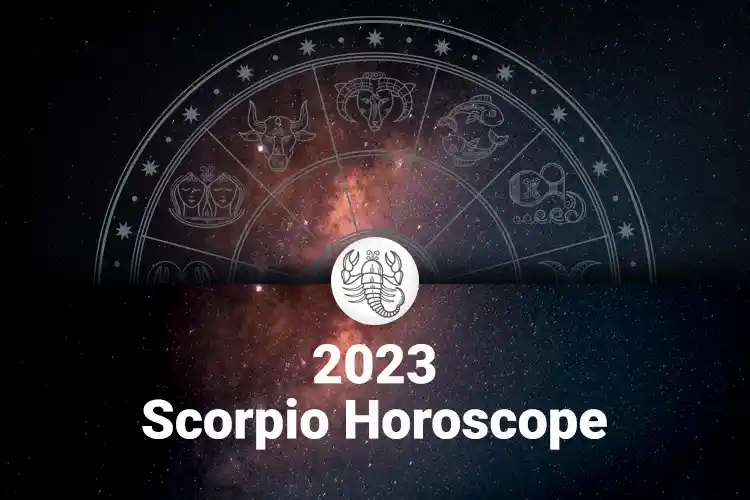 Precautions Needed – Scorpio Horoscope 2023
Cha-Ching- Scorpio Horoscope 2023
The Scorpio natives are blessed with the in-born potential to fight back with challenges. Scorpio forecast 2023 says that the start of the year might be prosperous. Scorpio fortune 2023 may expect some good rewards from your old investments because of the blessing from Jupiter. However, Scorpio Vedic Horoscope 2023 foresees that because of unsupportive Rahu and Ketu you may have to deal with complications. Scorpio Reading 2023 predicts that things will probably start to look good by the mid of February. Zodiac Sign 2023 Scorpio advises you to make purchases or sell out property around February. But Saturn requires you to avoid making unnecessary expenses in the middle of the year. 2023 Astrology Scorpio foresees that if too much expense is made then you might have to face the consequences. Scorpio Reading 2023 observes good earning opportunities and an increase in your wealth around May caused by the blessings from Jupiter. By the end of the year, you might have made major improvements in your wealth due to the easy inflow of money. Scorpio Fortune 2023 suggests it would be favorable for property deals.
Spring in Every Season – Scorpio 2023 Horoscope
2023 Predictions for Scorpio love life may have a sweet beginning this year observing Jupiter and Venus. The astrology of Scorpio suggests that married couples who are in a cordial relationship may have a chance of getting close to each other. Love might be coming your way for the singles around the mid of February predicts Scorpio Vedic Horoscope 2023. Movement on Mars may lead to interactions of natives around March foreseen by Scorpio Sign 2023. However, singles need to pay attention to the Mars movements in July as it might cause some misfortune in their life. Committed people may proceed to take their relationship to the next level as advised by Scorpio forecast 2023. Scorpio Sign 2023 foretells that your love life this year will go smoothly despite little hurdles. Jupiter may help by blessing you with joy and love in the latter parts of the year.

Know your real strengths, health issues, weaknesses, abilities, and talents. Know your Zodiac Signs
Profit or Loss? – Scorpio Fortune 2023
Planetary support is observed to be good in aspects of career Scorpio Sign 2023 at the start of the year. Zodiac Sign 2023 Scorpio foretells that as the year will advance Saturn might cause problems in the workplace. Scorpio Star Sign 2023 tells that by the end of February you might be able to bring major improvements in your career life. Jupiter may present you with good times for the professionals and there is a possibility of great success. Horoscope of Scorpio in 2023 Saturn may be giving you hurdles in your work life around April. Forecast for Scorpio a slow increase in the stability and growth of your profession is observed by the planets after mid-May. Things might finally start to turn around in a positive direction in the latter half of the year. People in business might not pocket a big ticket at the start however 2023 Horoscope of Scorpio may get some good associations and lucrative deals. You might get good news in regards to your ongoing dealings. Scorpio Fortune 2023 you might be presented with many chances to make progress by the year-end.
Uncover all Challenges and Unwanted changes in your Life Graph. Get 2024 Reports
Planets upset with schooling - 2023 Scorpio
Astrology for Scorpio 2023 observes that planetary support might not be present at the beginning of the year in the aspects of education. February foretells that Scorpio Vedic Horoscope 2023 Rahu and Ketu will probably create problems. Scorpio Star sign 2023 April might present you with good opportunities to help you make progress in academics. It may lead to an answer for which you might have been waiting. Scorpio Fortune 2023 Jupiter might help you in expanding your knowledge. The presence of the Stars effect in the Horoscope of Scorpio 2023 might give you a hard time in school in September month. Scorpio Zodiac Sign 2023 you are likely to learn things and gain knowledge that might give you satisfactory and encouraging progress by the year-end.
Conclusion with Feeble Health – Horoscope of Scorpio 2023
Astrology for Scorpio 2023 foretells that it might be a good year in aspects of your health. However, at the beginning Scorpio Reading 2023 stars may not be in favorable positions. Improvement will be observed around mid-February due to the effect of Mars and Jupiter. 2023 Predictions for Scorpio observes that your state of mind probably will be disturbed causing hindrance in your health around May. Saturn's energy may not be favorable hence it is required for you to take enough rest. Scorpio 2023 Forecast observes a gradual improvement but the effect of the Stars will continue and can cause trouble till the end of August. The imbalance in health might affect your metabolism. However, for Scorpio Sign, the 2023 stars effect could turn around the last part of the year, and eventually, you might come back to normal health conditions.
Talk to an Astrologer Now and Get 100% Cashback on your First Recharge
Share Your Problem, Get Solutions