Pisces Horoscope 2023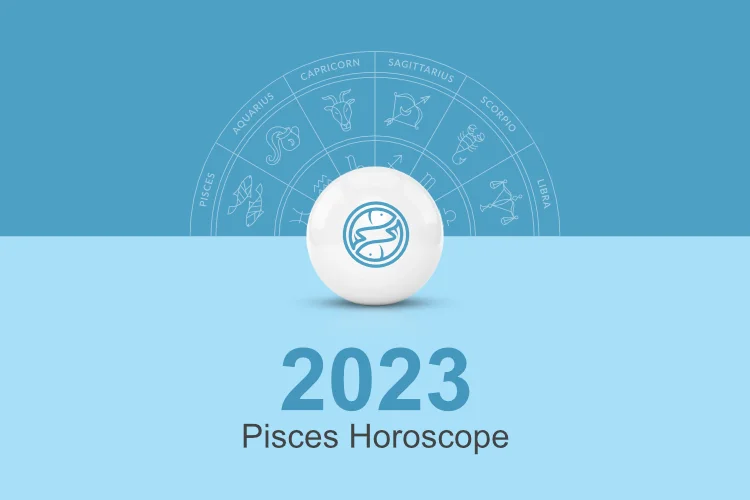 Careful Steps Might Help indicates Yearly Horoscope Pisces 2023
This year is likely to bring some good opportunities to strike some good financial deals as per Pisces 2023 Horoscope. Your financial status might improve gradually from the month of February. However, Pisces 2023 might need to accept new challenges as Saturn does not seem to allow the natives to get the desired success so easily. Due to the blessings of Jupiter, your income might improve and it might also help you to resolve some pending issues regarding your property or other assets as indicated by 2023 Pisces Horoscope. Saturn seems to demand careful steps in regard to financial matters for 2023 Pisces. Jupiter might make you able to put in a long-term strategy for the period ahead around the month of May. During the latter half of year, some new opportunity seems to be on offer for Pisces 2023.
Gratification from All the Spheres
This year is likely to bring some refreshing experiences in your love life. However, Pisces 2023 predictions state that the impact of Saturn might make you see the difference between dreams and reality. In the beginning of this year Venus might activate all social contacts in 2023 for Pisces. The period around the month of February is likely to be very rewarding and you are likely to receive gratification from all spheres of life as per Pisces Horoscope for 2023. Careless approach and self-indulgence are more likely to cause some disruptions for 2023 Pisces, indicates Mars. As the year advances, Jupiter might help you lay a foundation for a more stable relationship.

Progressive Opportunities Next Door
As the year begins, Jupiter might bring some new opportunities for progress in your career as per Pisces Horoscope 2023. If you are in business, it might not be a supportive time for finalizing a deal. Pisces yearly Horoscope 2023 indicates that as the year advances, Mars might make you feel confident and you might be trying to make up for the mistake you committed earlier. Around the year end Jupiter might help you gain a good position. Business people might explore new territories to expand the business indicates Pisces for 2023. Pisces year 2023 might be good to make progress in education. Mercury and Jupiter are going to bless you with full potential around the month of April. You might be rewarded well for your performance as per 2023 Pisces yearly Horoscope.
Know your real strengths, weaknesses, abilities, and talents. Know your Zodiac Signs
Additional Care is Needed For Pisces 2023
As the year advances, the South Node may bring several complicated issues. But most of the part of the latter half of this year might remain favourable for your studies. Yearly Horoscope 2023 for Pisces says that the year might be good for your health but in the beginning your energy might not be up to the mark. As the year advances, Mars might make you feel energetic. From the month of February, you might have strong support of Jupiter. Ailments or disorders might heal quickly. Around the month of April, Saturn might demand you to take proper care of your health. The impact of South Node might make you feel some uneasiness around the month of May. You might require taking additional care of your health during the middle of this year. Due to good support of Jupiter and Venus, pisces in year 2023 indicates that your health might improve from June. The latter half of this year might raise your awareness for health and fitness to quite an extent, says 2023 pisces horoscope predictions. You might have good support from Jupiter to maintain your health at satisfactory levels.
Talk to an Astrologer Now and Get 100% Cashback on your First Recharge
Share Your Problem, Get Solutions