Valmiki Jayanti 2023: A Famous Sage & His Contribution To Sanskrit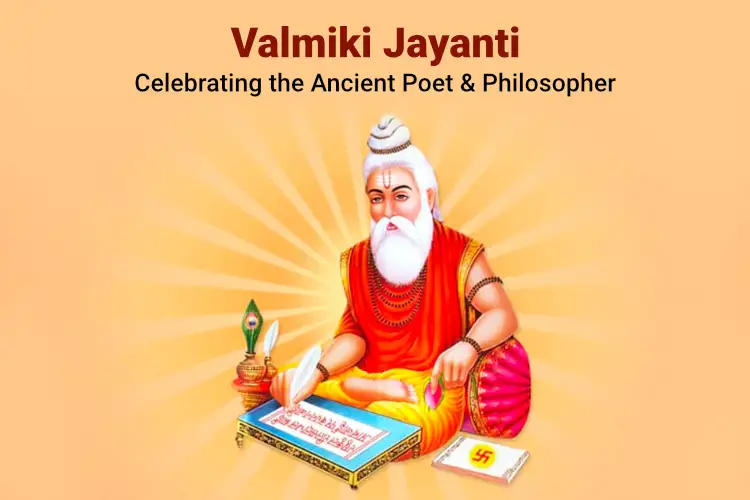 Valmiki Jayanti commemorates the birth anniversary of Maharishi Valmiki, the great author and sage. Maharishi Valmiki is the author of the great Hindu epic Ramayana, as well as the first poet of Sanskrit literature. The Ramayana, which tells the story of Lord Ram, was written in Sanskrit and contains 24,000 verses divided into seven 'Kandas' (cantos). In honour of this revered saint, Valmiki Jayanti is observed. This day is also known as 'Pragat Divas' and is observed with zeal in India's northern regions.
---
Maharishi Valmiki Jayanti Date
According to the Hindu calendar, Maharishi Valmiki birthday falls on the Purnima tithi of the month of Ashwin, i.e Purnima in the month of Ashwin is also celebrated as Sharad Purnima, which corresponds to September-October in the Gregorian calendar. Also referred to as Pragat Diwas, Valmiki Jayanti will be celebrated on Oct 28, 2023.
Purnima Tithi Begins – October 28, 2023 at 04:17 AM
Purnima date ends – October 29, 2023 at 01:53 AM
Know the Auspicious time of the day with detailed Panchang!
---
Importance of Valmiki Jayanti
Valmiki Jayanti has great religious significance in Hinduism because it commemorates Maharishi Valmiki's unparalleled contribution. He wrote some amazing works, including the Ramayana, Mahabharata, and several Puranas. The celebration of Valmiki Jayanti is a tribute to a great saint who overcame his limitations and inspired the masses to fight for social justice through his teachings. He promoted Lord Ram's values and acknowledged Him as a man of penance and benevolence.
---
Maharshi Valmiki Story
According to legend, Maharishi Valmiki met Lord Rama during his exile. After Lord Rama asked Sita to leave the kingdom of Ayodhya, he rescued her and provided her with shelter. She gave birth to the twins, Luv and Kush, in his ashram. The great sage became their teacher when they were young, teaching them the Ramayana, which contains 24,000 verses (shlokas) and seven cantos (kandas).
Another popular belief is that in his early years, Valmiki was a highway dacoit named Ratnakar. He was born to a sage named Prachetasa on the banks of the Ganges in ancient India. Ratnakara was his birth name. As a child, he got lost in the jungles and was found by a hunter, who raised him as his own son. He grew up to be a hunter like his foster father, but he also supplemented his livelihood by being a bandit. He eventually met Maharishi Narada and attempted to rob him. He used to rob and murder people until he met Narad Muni, who converted him into a devout follower of Lord Rama.
After years of meditation, a divine voice declared his penance successful and bestowed the name Valmiki, the one who was born out of ant-hills. For being the first poet of Sanskrit literature, he was later known as Adi Kavi. Since then, Hindu devotees continue to recite his works, particularly the great epic – Ramayana. The birth date and birth time of Maharishi Valmiki are unknown, but as per the beliefs, he lived around 500 BC.
---
Valmiki Jayanti Rituals
People pay their respects to this renowned saint and poet Valmiki Jayanti. Several processions carrying Valmiki's portrait are held in various towns and villages. On this day, Hindu devotees worship him fervently. Prayers are offered to his portrait in many places.
On this day, recitations of the Ramayana are held in Lord Ram temples across India. In India, there are a number of temples dedicated to Maharishi Valmiki. These temples are lavishly decorated with flowers on the occasion of Valmiki Jayanti. Several incense sticks are lit, creating a pure and blissful atmosphere. In these temples, kirtans and bhajan programmes are held. On this day, many devotees visit Lord Rama temples and recite a few verses from the Ramayana in remembrance of Maharishi Valmiki.
On Valmiki Jayanti, free food is distributed to the poor and needy. On this day, doing charity is thought to be extremely rewarding.
Hanuman Puja is also performed in many parts of the region. You too can perform Hanuman Puja along with the recitation of Sunderkand at the comforts of your home.
To perform an accurate Hanuman Puja, Book Online Puja Now.
---
Valmiki Jayanti Celebrations Across India
In the northern parts of India, especially among Hindu devotees, Valmiki Jayanti is celebrated with great zeal. On this day, people participate in large processions known as Shobha Yatras, in which they parade representations of a priest dressed in saffron robes, holding a plume and paper, through the streets of Valmiki territory, accompanied by reverent singing. Devotees offer free food and recite prayers at the sage's temples, which are decorated with flowers and lights.
Members of the Balmiki sect worship Maharishi Valmiki as an avatar of God on this day and all temples dedicated to the Valmiki are honourably decorated with flowers across India. The most famous temple that is said to be 1,300 years old is located in Thiruvanmiyur, Chennai. This temple holds greater significance because Valmiki rested here after finishing the Ramayana, and the temple was built later. The temple is now located on Valmiki Nagar, an East Coast road.
Many devotees also use Rudraksha and wear pearls for spiritual benefits as sages used in the earlier ages for spiritual and physical benefits. It is considered an auspicious day to wear Rudraksha. Get attuned, energised, and 100% authentic Rudraksha online. Avail Online Rudraksha Consultation.
---
Interesting Facts about Maharishi Valmiki: Balmiki Jayanti
On the occasion of Valmiki Jayanti, let's have a sneak peek into some interesting and unknown facts about Maharishi Valmiki:
The first poet of Sanskrit literature is Maharishi Valmiki. Adi Kavi is another name for him.
He is the only person in ancient India who is both – a Sanskrit and Tamil scholar.
In his early years, Maharishi Valmiki was a highway dacoit known as Ratnakar, who used to rob people after killing them.
There is a community named Balmiki. It is a name given to a group of people who worship Valmiki as their ancestor and god. Gujarat, Punjab, and Rajasthan are home to this community.
The Maharishi Valmiki temple in Chennai's Thiruvanmiyur is thought to be over 1300 years old.
The Valmiki temple is under the supervision of another prominent temple called the Marundeeswarar temple which was constructed during the Chola reign. As per the beliefs, sage Valmiki visited the Marundeeswarar temple to worship Lord Shiva following which the region was named Thiruvalmikiyur which gradually changed to Thiruvanmiyur.
Maharishi Valmiki once observed a bird couple in love. At the same time, a hunter shot one bird down with an arrow and the bird died immediately. This incident made Maharishi aggressive and in pain, Maharishi Valmiki utters a shloka, which is considered the first shloka in Sanskrit.
The epic Ramayana he composed has 24507 chapters.
As per Vishnudharmottara Purana, Valmiki is a form of God. He believed in the form of Vishnu. People who want to enhance their knowledge and wisdom should offer prayers to Maharishi Valmiki.
Kush and Luv, Lord Rama's sons, were his first disciples to whom he taught the Ramayana.
---
Happy Valmiki Jayanti
On the auspicious occasion of Pargat Diwas, let us seek the blessings of Maharishi Valmiki to find the purpose of our existence, follow his teachings and do good deeds for a beautiful tomorrow.
We wish you all a very Happy Maharishi Valmiki Jayanti!
Attract Good Luck With YourValmiki Jayanti! Personalised Horoscope On The Auspicious Day Of Valmiki Jayanti! – First Consultation with 100% Cashback! Talk To Expert Astrologer Now!
With Ganesha's Grace,
The GaneshaSpeaks.com Team
Astrologers trained by Shri Bejan Daruwalla.
---
---
Get 100% Cashback On First Consultation