Jagannath Rath Yatra 2023 Rituals and Story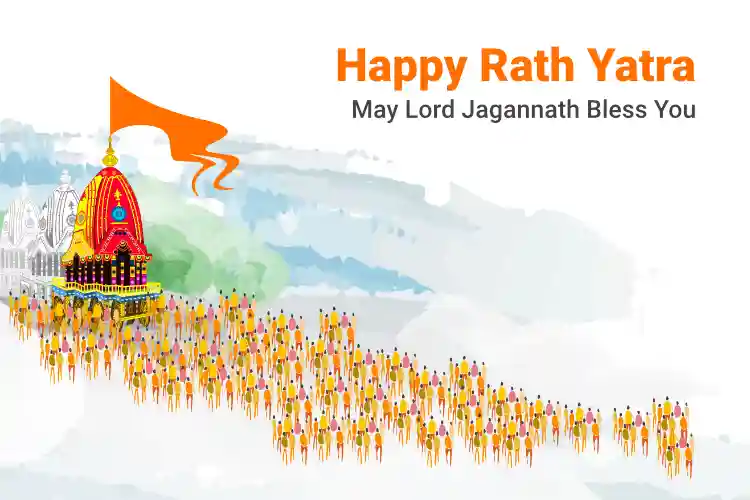 Rath Yatra festival is celebrated every year on the second day of Ashadh Sud as per Hindu calendar. Jagannath RathYatra is primarily celebrated in the city of Puri, Odisha. The Jagannath temple located in Ahmedabad city also organizes the Rath Yatra each year. People from around the world and the country visit to watch the Rath Yatra live. There are huge chariots drawn in order to carry the Lords. The mere sight of this whole celebration is a blessing in itself. This year the Jagannath Rath Yatra in India will be celebrated on June 20, 2023.
---
Rath Yatra 2023 Date
Rath Yatra Date: June 20, 2023, Tuesday
Dwitiya Tithi Begins: 
11:25 

AM

 

on

 Jun 19, 2023
Dwitiya Tithi Ends:
01:07 

PM

 

on

 Jun 20, 2023
Looking for auspicious timings of the day, refer to Panchang! 
---
Jagannath Rath Yatra Legend and Rituals
Jagannath temple falls under one of the four Hindu pilgrimage places famously known as 'Char Dham' pilgrimages. Hindus wish to visit these at least once in their lifetime. Lord Jagannath is worshipped in the temple with his brother Balabhadra and sister Devi Subhadra.
One day prior to Rath Yatra, the Gundicha temple is cleaned by the devotees. The ritual of cleaning the temple is referred to as Gundicha Marjana.
The fourth day after Ratha Yatra, Hera Panchami is celebrated as when Goddess Lakshmi, in search of Lord Jagannath, visits Gundicha temple.
Lord Jagannath rests for eight days in Gundicha temple and then returns to his main abode.  During Bahuda Yatra i.e. the return Yatra, Lord makes a small halt at the Mausi Maa temple in dedication to Goddess Ardhashini.
Just before the muhurat of Devshayani Ekadashi, Lord Jagannath returns to his main abode and goes to sleep for straight four months. Ratha Yatra is also famous as Puri Car festival among foreigners who visit here.
In case you are not aware of all the rituals of this puja, take the help of professional and qualified pandits for gaining the crucial information.
---
The Chariot Festival – Rath Yatra Story
Once in Dwarka, mother Rohini was requested to narrate the episodes or leela of Lord Krishna and Gopis, by the Lord's Queens. But Rohini was hesitant to narrate them. After insisting on her, she agreed. She asked Subhadra to guard the door when she narrated the episodes of Krishna's leela. The Vraj Katha quickly indulged and absorbed Subhadra in it. No sooner than that, Lord Shri Krishna and Balaram reached the doorway. Subhadra stood between the two with her arms wide apart and stopped them from entering. However, Rohini's powerful story-telling engrossed them all at once. At the same time, Narad muni arrived and saw the siblings standing like idols together. To this, he humbly prayed and asked 'Will the three of you grant darshan in this manner forever?'. The Lords granted the blessing and since then, the three of them reside in the Jagannath temple of Puri eternally.
---
Things Which Makes It Interesting
It is the only festival where deities are taken outside of temple to travel to the devotees. It is also the largest chariot procession in the world. Millions of people come to see the "king" sweeping the road with a golden mop and three big 18-wheeled chariots with sibling deities make their way through massive crowds. These massive chariots are mini architectural marvels. They are constructed over 42 days from 4000 pieces of woods by only a family which has hereditary rights of preparation.
---
Our Great Wishes
Jagannath Rath Yatra festival is celebrated with immense devotion and full fervor in Ahmedabad. The 'Khichdi' made of rice and different types of grains and vegetables are offered to the Lord with enthusiasm and joy. May the Lord bless you and fill your lives with happiness and prosperity.
Attract Good Luck With Your Personalised Horoscope On The Auspicious Day Of Rath Yatra! – Talk To Expert Astrologer Now!
With Ganesha's Grace,
The GaneshaSpeaks.com Team
Astrologers trained by Shri Bejan Daruwalla.
---
---
Get 100% Cashback On First Consultation