Gita Jayanti 2023 – Significance Of Gita Jayanti & Its Celebration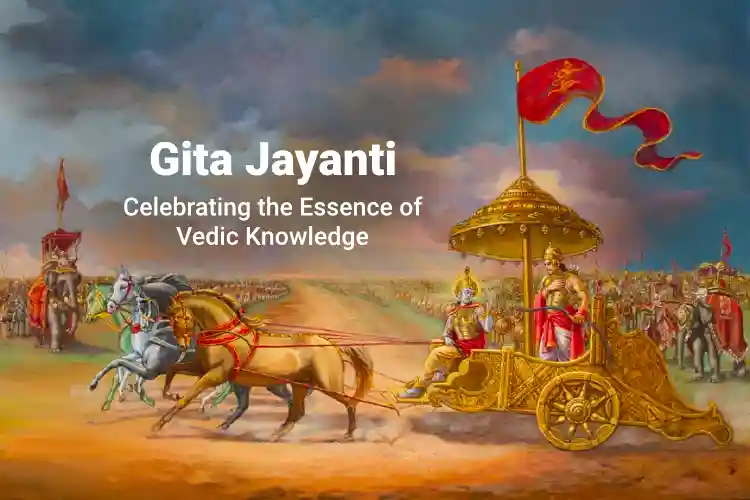 Gita Jayanti 2023 – Date, Importance & Rituals
The Bhagavad Gita is the most sacred and significant Hindu script influencing many people, and Gita Jayanti is Bhagavad Gita's birthday. That's the reason it is known as Bhagavad Gita Jayanti too. This day falls in the month of Shukla Ekadashi. This festival takes place in November or December, according to the English calendar. It's this holy day Lord Krishna sent Arjuna in Kurukshetra the everlasting letter. This day is celebrated by followers of Lord Krishna around the world.
Gita Jayanti is celebrated by reading The Bhagavad Gita and talking about how it has benefited mankind even today with educated priests and scholars. Lord Krishna's followers also fast on Ekadashi, and many songs of dedication are sung as they dance together. Puja is performed, and sweets are distributed, and people wish each other Happy Gita Jayanti. Gita Jayanti's main aim is to remember and incorporate in our everyday lives the words of Gita. It enables people and families to lead both a brave and positive active life.
---
History Behind Bhagavad Gita Jayanti
Gita Jayanti in Dwapara Yuga was that auspicious day when Sri Krishna, the Lord Vishnu Incarnation, asked his friend and companion Arjuna to come back from Kurukshetra's battlefield by giving him the knowledge of Gita. The Hindu community has since regarded Srimad Bhagavad Gita as the most sacred text.
According to Shrimad Bhagavad Gita, Lord Krishna's teachings have given humanity a new path. So on Mokshada Ekadashi day, Gita Jayanti will be celebrated.
---
Gita Jayanti 2023 Date and Timing
Geeta Jayanti: Friday, December 22, 2023
Timings of Geeta Jayanti:
Ekadashi Tithi Begins – December 22, 2023 at 08:16 PM
Ekadashi date ends – December 23, 2023 at 07:11 AM
---
Gita Jayanti Puja Vidhi
According to Shastras, people worship Lord Krishna, Maharishi Ved Vyas, and Shrimad Bhagavad Gita on the day of Mokshada Jayanti and also observe fast. There are some rituals that have been prescribed for observing fast and performing worship. Let us begin with the Puja Vidhi of the auspicious Mokshada Ekadashi Vrat.
A day prior to the Ekadashi fast, i.e. Dashami Tithi, you have to eat just once in the afternoon. And remember to resolve to fast on Dashami by avoiding taking any food at night.
Wake up on Ekadashi's Day before sunrise and resolutely fast with a pious heart.
After firmly resolving to fast on Ekadashi day, worship Lord Krishna and offer him Dhoop, Diya, Naivedya, etc.
On Ekadashi night, you need to observe the practice of worshipping Lord Krishna and Jagran.
Worship and serve the needy or give donations after the Ekadashi Day has passed and before the Muhurat Parana Dwadashi. Once that is over, do Parana or end up quickly by eating.
Feeling stuck or confused about a situation? Consult an Astrologer today and Get Your Answers.
---
Rituals Of Gita Jayanti
This day is celebrated with great enthusiasm by the Temples dedicated to Lord Krishna that includes doing puja with special prayers.
On this day, devotees from various parts of India and abroad would like to go to Kurukshetra and take a bath in the sacred pools.
In addition to a holy bath, Lord Krishna's puja may end with aarti being performed at home.
Since Ekadashi is celebrated, it is vital that devotees who fast on this day eat no grains like rice, wheat or barley.
Many planned celebrations were carried out to teach today's young people the importance of Dharma by explaining Gita on this special day.
---
Things To Remember On Bhagavad Gita Jayanti
On Gita Jayanti, there are certain things you need to remember:
With a pious heart, you need to acknowledge Srimad Bhagavad Gita on Gita Jayanti Day, and also perform LORD Krishna's Darshan.
Pray for intelligence to him afterwards.
Whenever necessary, implement the Shlokas in life to receive their essence. You can get ideas from Shlokas that can easily eradicate numerous problems in your life.
According to belief, worshipping Conch along with Mokshada Ekadashi Vrat on the Gita Jayanti day is also beneficial. The sound of the conch eliminates the harmful vibrations after worship and allows Maa Lakshmi to appear. It is believed that after being satisfied, Lord Vishnu showers his grace.
You can also perform an authentic Vishnu Puja online to get blessings from the Lord.
On this day, it is considered holy to worship the gigantic form of Lord Krishna. Those who do the same will achieve peace, and all their pending works will be successfully resolved.
Whichever family has differences, on the day of Gita Jayanti, the members must start reciting the Path of Gita.
---
Significance Of Mokshada Ekadashi
There was a king called Vaikhanasa, who governed the city of Gokul, according to mythological beliefs. He once dreamed that his dad had suffered in hell after his death, and the king prayed for his improvement. The King was afraid to see his father's awful state.
The king invited learners to his kingdom immediately and asked for his dream secret. The Brahmins recommended that he go to Muni's Ashram, called Parvat and ask him for his father's remedy.
The king went to Muni's Ashram and told him everything about his dream. The Muni responded that his dad was in hell due to his previous life's ill deeds. In this pretext, Mokshada Ekadashi's fast to deliver his father from hell had to be observed by the king.
The king observed fast, devoted himself to due rituals, donated and did everything else as Muni instructed. As a result, his father quickly came to Moksha.
---
Conclusion
Observing Gita Jayanti enables people to improvise their behaviour in the near future properly because of what they read in the Holy Book Of Gita. The influence of Hinduism around the world has also increased. Every ISKCON Temple in the world celebrates this day with rituals and sacrifices offered to God.
The main purpose of celebrating Bhagavad Gita Jayanti is to remember the words of Gita and to implement them in your everyday routine. The teachings of this auspicious book help individuals and families lead a prosperous and courageous life that brings great benefits.
Attract Good Luck With Your Personalised Horoscope On The Auspicious Day Of Gita Jayanti! – Talk To Expert Astrologer Now!
With Ganesha's Grace,
The GaneshaSpeaks.com Team
Astrologers trained by Shri Bejan Daruwalla.

---
---
Get 100% Cashback On First Consultation