Ganga Dussehra Festival – Story, Importance & Major Facts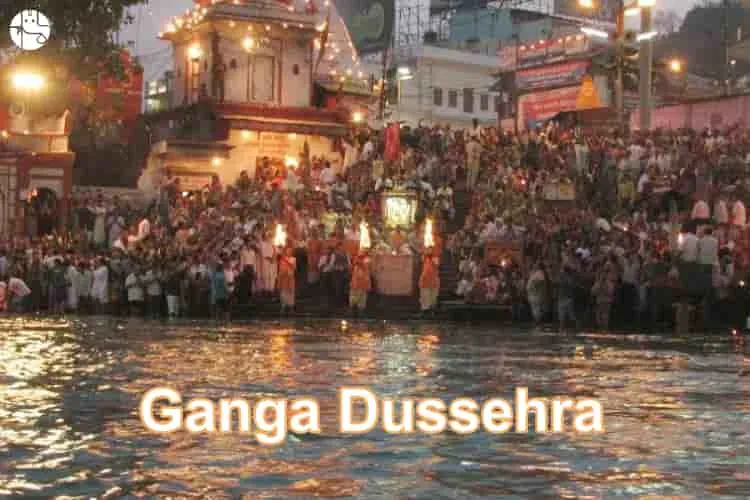 India is a land of festivals. And the festivals here are not just religious in nature but they are linked to life and celebration. Among the myriad of festivals celebrated in this country, Ganga Dussehra holds a lot of importance.
---
Date And Tithi Of Ganga Dussehra Festival
Ganga Dussehra falls on the 10th Day (Dashami Tithi) of Waxing Moon (Shukla Paksha) in the month of Jyeshtha month as per Hindu calendar. So, it usually falls in the month of May or June. In 2023, Ganga Dussehra will fall on 30th May. Ganga Dussehra is also called Gangavataran, which means the 'descent of Ganga'. In most of the years, Ganga Dussehra is celebrated one day before Nirjala Ekadashi.
But sometimes Ganga Dussehra and Nirjala Ekadashi fall on the same day.
---
Important Date and Ganga Avataran Puja Time
Ganga Dussehra 2023 Date: May 30, 2023, Tuesday
Dashami Tithi Begins – 1:49 AM on May 29, 2023
Dashami Tithi Ends – 01:07 PM on May 30, 2023
Hasta Nakshatra Begins – 04:29 AM on May 30, 2023
Hasta Nakshatra Ends – 06:00 AM on May 31, 2023
Vyatipata Yoga Begins – 08:55 PM on May 30, 2023
Vyatipata Yoga Ends – 08:15 PM on May 31, 2023
---
Legend Behind The Celebration
The festival Ganga Dussehra is dedicated to the Goddess Ganga and it is believed that Ganga descended to Earth on this day. She descended to accomplish her mission to free the cursed souls of Bhagirath's ancestors. As per the tradition, before coming to Earth, Goddess Ganga was living in the kamandal of Lord Brahma. When Ganga descended to Earth, she also brought the purity of heaven to Earth.
River Ganga is a gift to humanity due to the great penance of Bhagirath, after which she is also known as Bhagirathi. Bhagirath was the descendant of the Sagara dynasty. He prayed for the Ganga river to descend on the earth and bring life. However, it turned out to be a destructive force. Therefore, Lord Brahma asked Lord Shiva to hold in the locks. As a result, Ganges lost force and became a placid life-living river.
The Ganges is not only the sacred river but also the heart of India. Devotees worship this river for a better fortune. On the day of Ganga Dussehra, thousands of lamps are lit in the flowing river for bringing peace and goodness. Haridwar, Prayag, and Varanasi are the most popular celebration spots of Ganga Dussehra in India. It arises from Gangotri in the snow-clad Himalayas, flows in the hot plains of Uttar Pradesh, Bihar, and meets in the Bay of Bengal. Rivers Ganges meets with Saraswati and Yamuna river in the Allahabad. The confluence of these rivers in Prayag is the holiest spot in India.
---
Regions Where Ganga Avaratan Is Celebrated
The festival of Ganga Dussehra is observed by Hindus mostly in the states of Uttar Pradesh, Uttarakhand, Bihar, and West Bengal, where the river Ganga flows. Haridwar, Varanasi, Garhmukteshwar, Rishikesh, Allahabad now Prayagraj, and Patna are the major locations of the celebrations. Here the devotees gather at the banks of the Ganges and perform aartis (a religious ritual in which a light lamp is moved clockwise circularly in front of a deity as a part of prayer) to the river.
Invoke the blessings of Goddess Ganga and get rid of all the sins by following special personalized rituals based on your birth chart.
---
The Significance Of Ganga Avataran Festival
Dussehra signifies ten auspicious Vedic calculations which show Ganga's power to wash ten sins related to th thoughts, actions, and speech. The ten Vedic calculations include Jyeshtha month, Shukla Paksha, Tenth day, Thursday, Hasta Nakshatra, Siddha Yoga, Gar-Anand Yoga and Moon in Virgo and Sun in Taurus. The offering of prayer allows one to attain salvation. It is a favourable day for purchasing valuable items, new vehicles, or new property. Reciting Ganga Stotra on this day while standing in the Ganges can remove all the sins.
It is believed that taking a dip in the river on this day can bring the devotee to a state of purification and also heal any physical ailments he may have. In Sanskrit, Dasha means ten and Hara means destroy; thus bathing in the river during these ten days is believed to rid the person of the ten sins or, alternatively, the ten lifetimes of sins.
Gain health, wealth, and prosperity by performing personalized Rudrabhishekam Puja on the Ganga Dussehra.
---
Rituals
Most of the devotees visit Prayag, Hrishikesh, Varanasi, and Haridwar for meditation and holy bath. People perform pitru puja for their ancestors. Devotees and priests perform the aarti at the bank of the Ganges during twilight with leaf boats laden with flames and flowers. While worshipping the Ganges, one must have ten of each article such as ten types of flowers,  fruits, or betel leaves. While taking a bath, one must take ten dips.
---
Worship Of Yamuna
On the Ganga Dussehra, the river Yamuna is also worshipped and kite-flying events are organized. Devotees take a holy dip in the Yamuna at places like Mathura, Vrindavan, and Bateshwar, and give offerings of watermelon and cucumber. They distribute drinks such as lassi, sharbat and shikanji.
So, what are you waiting for? This Ganga Dussehra set a journey to your spiritual bliss by performing pujas.
Attract Good Luck With Your Personalised Horoscope On The Auspicious Day Of Ganga Dussehra! – Talk To Expert Astrologer Now!
With Ganesha's Grace,
The GaneshaSpeaks.com Team
Astrologers trained by Shri Bejan Daruwalla.
---
---
---
Get 100% Cashback On First Consultation