The Ganesha Chaturthi Festival 2023: Get Ready For Ganesh Pooja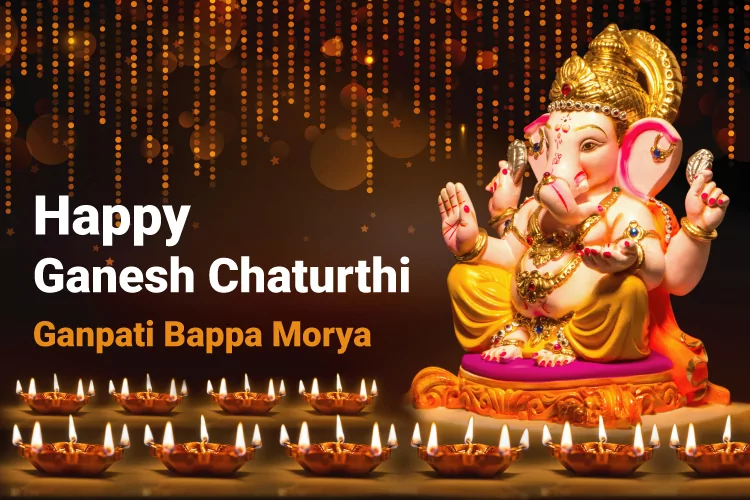 About Ganesh Chaturthi Festival
Ganesha Chaturthi is a 10-days-long Hindu festival celebrated to honour the elephant-headed God Ganesha's birthday. He is the younger son of Lord Shiva and Goddess Parvati.
---
Ganesha Chaturthi 2023 Date
The date of Ganesh Chaturthi falls on the fourth day of the waxing moon period (Shukla Chaturthi) in the Hindu month of Bhadrapada. This is August or September each year. The festival is usually celebrated for 10 days, with the biggest spectacle taking place on the last day called Anant Chaturdashi. In 2023, Ganesh Chaturthi is on September 19.
---
Importance Of Ganesh Chaturthi Festival
Lord Ganesha is one of the most loved and prominent deities in India and he is known as the destroyer of obstacles and harbinger of great wisdom and prosperity. Ganesha is the Lord of arts and sciences and the deva of wisdom. He is honoured at the start of rituals and ceremonies as he's considered the God of beginnings. He's widely and dearly referred to as Ganapati or Vinayaka.
Ganesh Chaturthi is one of the most colourful, popular and widely celebrated festivals in India. Known by 108 different names, Lord Ganesha is the supreme source of knowledge, wisdom and fortune. Ganpati is known to herald auspicious beginnings. The Ganesh Chaturthi festival is celebrated with much energy, enthusiasm and devotion by families at home, public places and temples across northern, western and southern India. This festival marks the birth of Lord Ganesha. Let's get to know more about the Ganesh Chaturthi festival in this article.
---
Story Behind Ganesh Chaturthi Festival
It's important, according to tradition, not to look at the moon during certain times on the day of Ganesh Puja. If a person sees the moon, they'll be cursed with accusations of theft and dishonoured by society unless they chant a certain mantra. Apparently, this came about after Lord Krishna was falsely accused of stealing a valuable jewel. Sage Narada said that Krishna must've seen the moon on Bhadrapada Shukla Chaturthi (the occasion that Ganesh Chaturthi falls on) and was cursed because of it.
---
Ganesh Utsav: Date & Auspicious Timings (Muhurats)
It is advisable to bring home the idol during the shubh, labh or amrit Choghadiya. If you wish to bring home the Ganpati idol for Ganesh Chaturthi on September 19, 2023, please mark the auspicious time frames:
Madhyahna Ganesha Puja Muhurat – 

11:01 AM to 01:28 PM –

Duration – 02 Hours 27 Mins
Chaturthi Tithi Begins – 12:39 PM on Sep 18, 2023

Chaturthi Tithi Ends – 01:43 PM on Sep 19, 2023

Ganesh Visarjan – Thursday, September 28, 2023
---
The Important Ganesh Mantra
वक्रतुंड महाकाय सूर्यकोटी समप्रभ ।
निर्विध्नं कुरु मे देव सर्वकार्येषु सर्वदा ।।
Vvakratunda mahakaya surya koti samaprabha |
Nnirvighnam kurume deva sarva karyeshu sarvada ||
---
The meaning of the verse is as follows:
"O Lord Ganesha, we salute you the supreme. O mighty Lord who possesses a curved trunk and holy divine with mighty physique, whose brightness is like a zillion suns burning together, who bestows bliss to everybody. Hail to the God of a million Gods; help me fight all my problems with faith that you will be there to protect me like you have been guiding me always. My Lord, I have faith in you that you will be protected from all the evil forever."
---
How To Celebrate The Grand Ganesh Utsav Festival?
Install a beautiful idol of Lord Ganesha in the home or in public.
Prana Pratishtha can be performed to invoke the power of the deity into the idol, followed by a 16 step ritual known as Shodashopachara Puja.
Offer flowers and fruits like bananas, mangos, pomegranates or jackfruit in front of Lord Ganesha on Ganesh Chaturthi.
First, fill a kalash with purified water
Mix a piece of betel nut, Re. 1 or 25 paise coins, turmeric powder, perfume oil, 5 paan leaves, coconut.
Mark turmeric powder on coconut and the paan leaves
Over the rice grains, place one betel nut and keep a coin on the betel nut.
Place the Ganpati idol over this preparation as part of Ganesh Chaturthi celebrations.
Recite "Ganpati Bappa Moriya"
The worship begins with the establishment of the idol.
Now spread 5 paan leaves.
Over each of the paan leaves, keep a piece of betel nut each, then put turmeric powder.
Now lift the cover of Ganesh idol on Ganesh Chaturthi day.
Offer Him Mukut, garlands, bracelets, clothes.
Offer 21 Durba grass blades, 21 Modakas, and 21 flowers to Ganesha. The number 21 signifies – the five organs of perception, five organs of action, five vital breaths of air (pranas), five elements, and the mind.
Apply a Tilak of red Sandalwood on His forehead on Ganesh Chaturthi.
Prepare the aarti thaali with diya, incense, and fragrance.
Recite 108 salutations dedicated to Lord Ganesha or read the Ganesha Upanishad.
Sing "Jai Ganesh Jai Ganesh".
Finally, take blessings from Lord Ganesha to fulfil all your desires.
On This Ganesh Utsav, Book Ganesh Puja Online followed by Vidhi & Rituals for COVID Safety!
---
Prohibition Of Moon Sight on this day
It is believed that devotees should not see the moon on Ganesh Chaturthi. Seeing the moon on Ganesh Chaturthi leads to Mithya Dosh or Mithya Kalank means false accusation of stealing something. According to puranic stories, Lord Krishna, falsely accused of stealing the valuable jewellery called Syamantaka. After knowing the condition of Lord Krishna, Sage Narada informed him that he has seen the moon on Bhadrapada Shukla Chaturthi which leads to the cursing of mithya dosha.
Sage Narada informed Lord Krishna that he was cursed by Lord Ganesha with Mithya dosha. Whoever cursed with this dosha will be tainted and dishonoured in the society. Sage Narada suggested Lord Krishna to observe the Ganesh Chaturthi fasting to remove the mithya dosha.
---
Mithya Dosha Prevention Method
The prohibition on sighting of the moon depends on the starting and ending time of chaturthi. Even if somebody sees the moon by mistake, one should chant the following mantra:
सिंहः प्रसेनमवधीत्सिंहो जाम्बवता हतः।
सुकुमारक मारोदीस्तव ह्येष स्यमन्तकः॥
Simhah Prasenamavadhitsimho Jambavata Hatah।
Sukumaraka Marodistava Hyesha Syamantakah॥
Attract Good Luck With Your Personalised Horoscope On The Auspicious Day Of Ganesh Chaturthi! – Talk To Expert Astrologer Now!
With Ganesha's Grace,
The GaneshaSpeaks.com Team
Astrologers trained by Shri Bejan Daruwalla.
---
---
Get 100% Cashback On First Consultation