Happy Dev Diwali 2022: The Festival of Lights on Tripuri Purnima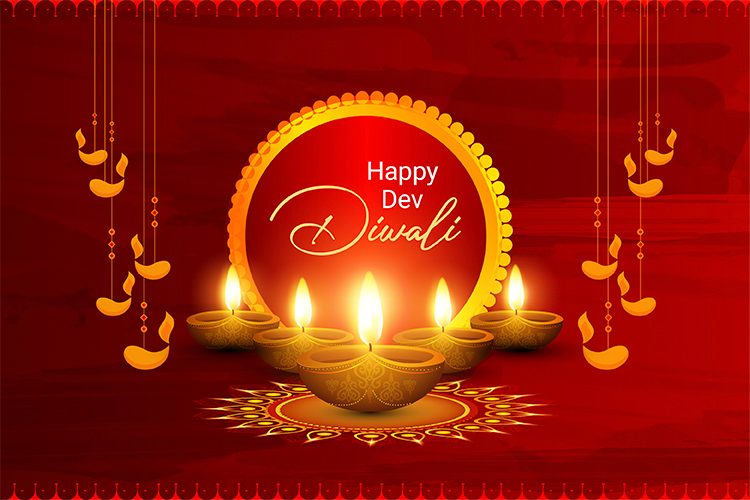 We have celebrated Diwali with immense fervour and are all set to embrace Dev Deepawali. Yaas! This well-known fest is celebrated in the auspicious city, Varanasi, every year. Also known as Dev Diwali, the Utsav is a celebration of Lord Shiva's triumph over Tripurasur, the demon. Hence, this day is also acclaimed as Tripurari Purnima or Tripurotsav and occurs on the tithi of Kartik Purnima. It also coincides with the final day of Ganga Mahotsav that starts on Prabodhini Ekadashi.
2022 Dev Diwali Date And Tithi Time
Dev Deepavali Date: November 7, 2022, Monday
Pradosh Kaal Dev Deepavali Muhurat: 05:14 PM to 07:49 PM
Duration: 02 Hours 35 Mins
Purnima Tithi Begins: 04:15 PM on Nov 7, 2022
Purnima Tithi Ends: 04:31 PM on Nov 8, 2022
The Dev Diwali Story: Why Is Dev Diwali Celebrated?
Apart from the God's descend on the earth on the day of Karthik Purnima, there are many stories behind the celebration of Dev Diwali. The festival is also called Triporuttsav or Tripuri Purnima since it celebrates Lord Shiva's victory over Tripurasur.
Some also believe that it is the birth anniversary of Lord Karthik, the God of War and son of Lord Shiva. This is also believed to be the day when Lord Vishnu got into his first incarnation, 'Matsya'. Such intriguing stories! Well, Varanasi has some special ways to celebrate the festival of Dev Diwali.
Get Blessings of Lord Vishnu delivered to your doorstep, book an online Vishnu Puja.
Importance of Dev Diwali In Varanasi
Varanasi is an ideal religious destinaion for many tourists and religious followers. People from different countries visit this ancient city and spend days here. They come to this holy place to attain spiritual bliss with meditative practices on river Ganga's shores or ghats. They pay multiple visits to the temples in the city. And when the festival of Dev Diwali finally comes, Varanasi appears magnificently as the abode of the Gods! Dev Deepawali simply exhibits the epithet "City of Lights" for Varanasi. To be in Varanasi on the Day of Dev Diwali is truly an experience one must have.
Dev Diwali Pooja Vidhi
The ceremonial events are planned quite elaborately and observed with immense devoutness each year. Below are the rituals followed on this day:
You should offer prayers and flowers to Lord Ganesha to begin with. Then, 21 Brahmins and 41 young girls offer diyas (earthen lamps), also known as 'deepdaan', and chant the Vedic mantras along.
A ritual known as Kartik Snan, which involves taking a dip in the river Ganges. It is believed to remove all the sins of the devotee.
Devotees also organise the event of Akhand Ramayan (reciting the sacred scripture of Ramayan). Everyone is offered food, which is called bhoj.
Besides being a religious occasion that comes after Diwali, the day also witnesses a remembrance of martyrs at the ghats. For this, The Ganges is offered prayers and a powerful Aarti, which is a sight to behold in itself. The same thing also takes place at the nearby Rajendra Prasad Ghat by members of the three armed forces and local police officers. People sing patriotic songs during the event.
A Spectacle Of Lights
The festival of Dev Diwali is a sight for the ages in Varanasi. All the ghats and temples are lit with diyas or earthen lamps. It is a spectacle where everything seems magical, and one feels as if stars have descended to the earth. Gods are believed to visit Varanasi and take a sacred dip in the holy Ganges on this day. All these events make this fest extremely well-known. This is why travellers from all over the world arrive here in huge numbers during this time. The primary event welcomes numerous people who wish to see the picturesque and adorned Aarti performed at night. Lamps are lighted in thousands and placed on the river ghats. The mere sight leaves all eyes enchanted and mesmerised even though the crowd is huge.
Get your personalised 2022 horoscope report and receive valuable insights about the upcoming year for you. Stay ahead of the problems and prevent them with expert guidance!
The Grand Ganga Aarti
This goes without saying that Varanasi is the conqueror in performing Ganga Aarti, and you can spot this grand event yourself on Dev Deepawali! On top of that, the Dashashwamedh ghat is filled with an exuberant crowd. The Ganga Aarti offered on the festival of Dev Diwali is the lengthiest one of the year.
Countless diyas all over the ghats are sure to make you gleam with joy and leave you in awe. The exquisite view simply takes you back to your glorious imaginations on this beautiful evening in Varanasi. People also visit the Assi ghat later in the evening. Other spots such as Reeva ghat, Kedar Ghat, Man Mandir Ghat, and Panch Ganga ghat are also famous for celebrating the Dev Deepawali eve.
Wishing you a Happy Dev Diwali, and may the time ahead bring you happiness and abundance!
Attract Good Luck With Your Personalised Horoscope On The Auspicious Day Of Dev Diwali – Get Your Free Consultation!
With Ganesha's Grace,
The GaneshaSpeaks.com Team
Astrologers trained by Shri Bejan Daruwalla.