Chhath Puja 2021: Auspicious Day To Gain Divine Blessings Of The Lord Sun
10 Nov 2021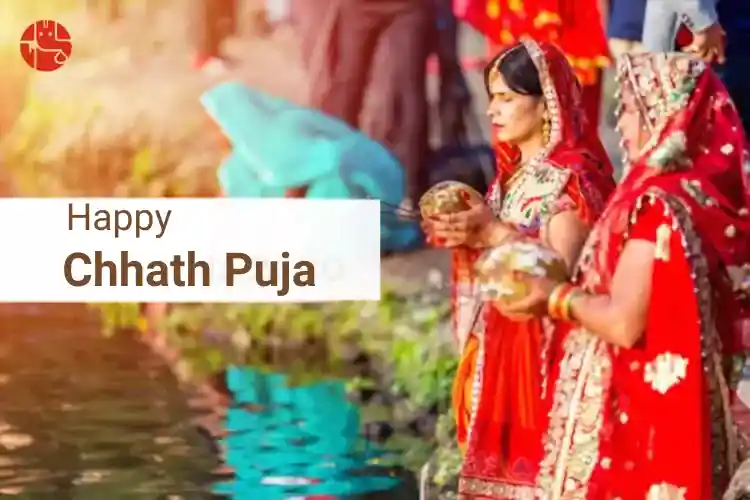 India is a land of festivals and cultural events, which are joyfully and enthusiastically celebrated throughout the year in various parts of the country. Chhath Puja is one of the most important festivals celebrated just a week after Diwali.
Chhath Puja is a festival dedicated to Surya, the Sun God, and his wife Usha, also known as Chhathi Maiya. On this day, people thank Lord Surya, the god of energy and life-force, for sustaining their life on Earth.
Worshippers believe that the Sun is a source of recovery and that it helps in the treatment of various types of sicknesses. This year the festival will be celebrated on November 10, 2021. Read further to understand the essence of the Chhath festival.
Chhath Puja Meaning
The word "Chhath" refers to "sixth." The festival is known as the Chhath Puja because it is held on the sixth day of the Kartikeya month according to the Hindu calendar. It falls in the months of October or November. Chhath Puja celebration lasts four days, making it the second-longest festival after Navratri. Chhath Puja, the most important festival in Bihar and Jharkhand, is celebrated with great zeal and enthusiasm. Thousands of devotees from across the country gather to pray at rivers, ponds, ghats, and other sources of water. The most important Bihar festival draws so many people that officials have to make special arrangements for Chhath Puja. 
Chhath Puja Significance
According to the Hindu custom, worshippers thank Sun God and seek blessings for their progress and well being. People make offerings to both the Sun God and his wife, Chhath Maiya, also known as Usha. However, according to Vedic astrology, Chhathi Maiya or Chhathi Mata preserves and grants longevity to the offspring. Most people follow the ritualistic Chhath vrat, in which they eat only one full vegetarian meal per day. Chhath Puja has gained special importance as a folk festival in recent years. That's why the festival is celebrated with much joy and excitement. It is celebrated just after a week of Diwali.
Chhath Puja 2021: Date And Timings
As per the Hindu calendar, Chhath Puja is observed on the sixth day of the Kartik month. The sunrise and sunset muhurat for the four days is as follows:
Day 1- Chaturthi (Nahay Khay)
Date: November 8, 2021
Sunrise: 6:38 am
Sunset: 5:31 pm
Day 2- Panchami (Lohanda and Kharna)
Date: November 9, 2021
Sunrise: 6:39 am
Sunset: 5:31 pm
Day 3- Shashthi (Chhath Puja, Sandhya Arghya)
Chhath Puja Date:  November 10, 2021
Sunrise on Chhath Puja Day – 06:40 AM
Sunset on Chhath Puja Day – 05:30 PM
Shashthi Tithi Begins – 10:35 AM on Nov 09, 2021
Shashthi Tithi Ends – 08:25 AM on Nov 10, 2021
Day 4- Saptami (Usha Arghya, Parana Day)
Date: November 11, 2021
Sunrise: 6:41 am
Sunset: 5:29 pm
About Chhath Puja Story
The Chhathi Maiya is worshipped during the Chhath festival, which is also stated in the Brahma Vaivarta Purana. According to legend, King Priyavrat, the first son of Manu Swayambhu, was childless. He used to remain depressed as a result of this. Maharishi Kashyap requested that he perform a yajna. He then performed a yajna for a son according to Maharishi's instructions. Queen Malini then gave birth to a son, but the baby was unfortunately born dead. This was really sad for King and other members of the family. Then a craft appeared in the sky, and Shashti Maa was seated on it. The King prayed to Mata, who identified herself as Lord Brahma's Manas daughter, who protects all of the world's children and bestows children's blessings on all childless parents. The Goddess gave life to the child with her hands, which was a blessing for the King. The King, overjoyed by Mata's grace, worshipped her in gratitude. Since then, Chhath Puja has become a worldwide tradition.
Chhath Special Rituals
The following are the rituals that are performed during the four-day Chhath Puja festival celebration time, also known as Surya Shashthi, Chhathi, Dala Chhath, and Prathihar.
Nahaye Khaye, which means "to bath and eat," is the first day of Chhath Puja. Devotees who observe fast take a holy dip in a river, pond, or other water sources on this day. The house and its surrounding areas are washed, and a fully vegetarian meal is prepared and serves as a bhog in the afternoon.
The devotee performs the Nirjala fast during the second day, which is Kharna. As a result, no water is consumed, and a special Prasad made of milk,  jaggery, and rice is prepared later in the evening. This prasad is then provided to the Chhati Maiyya, along with spices, betel leaves, green ginger, and fruits, and distributed amongst relatives and friends.
Chhath Puja Sandhya Arghya falls on the third day. On this day, Arghya is offered to Lord Sun. Use thekua, rice laddoos, and fruits to decorate a soop. Then devotees and their family members will give the Arghya to the Sun God. You should worship Chhathi Mata with the soop and offer the Lord water and milk during this ritual. Listen to the Chhath Vrat Katha and sing devotional songs for Shashthi Devi with others at night.
On the last and fourth days of the Chhath Puja, Usha Arghya is performed, in which the Arghya is offered to the rising Sun. The Vrattis, along with their families, visit the riverbanks on this day and conduct the ritual with great zeal and enthusiasm. They pray for happiness, good health, and prosperity to Chhathi Maiyya and Lord Sun. Fasting natives break their fast by eating Ginger and Jaggery.
Chhath is also the most auspicious day to perform puja for Lord Sun. It helps to strengthen the Sun in your birth chart, amplify its positive impact on you and protect you from its malefic effects. Perform Personalised Vedic Puja to get the divine blessings of Lord Surya and invite good fortune in your life. Avail Free Puja Consultation!
Wrapping Up
All of the rituals associated with the Chhath Puja are focused on nature and its blessings. The simplicity and purity of this festival are what makes this festival special. All of the rituals are done to keep the negativity away and keep body and soul pure. The most distinguishing characteristic of this festival is that, unlike all other major Hindu festivals, no idols are worshipped. 
This festival is a way of paying homage to the Sun, the soul of the world and the eye of the creator. Hence, the Chhath Puja festival is celebrated with great pomp and show. May the Lord Sun and Mata Shashti bless you and your family with all kinds of protection and happiness. Happy Chhath Puja!
Attract Good Luck With Your Personalised Horoscope On The Auspicious Day Of Chhath Puja! – Talk To Expert Astrologer Now!
With Ganesha's Grace,
The GaneshaSpeaks.com Team
Astrologers trained by Shri Bejan Daruwalla.