Nakshatra – Jyeshtha
About Nakshatra:
The Nakshatras in Vedic astrology are lunar constellations and directly manifest its expressions. The Moon changes signs (houses) about every 2.3 days. It takes 28 days to move through the 12 astrology zodiac signs, translating into two weeks of a waxing (bright half) Moon and two weeks of a waning (dark half) Moon. The Moon is related to our intuition, intelligence and our natural emotions. The 28 Nakshatras deal with these ever-changing feelings and emotions based on the Moon's position.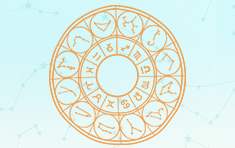 To Find Out Your Rashi Nakshatra, Enter your Birth Details in Online Nakshatra Finder / Calculator to Get Your FREE Nakshatra / Birth Star Report
Jyeshta Nakshatra Astrological Range
(Jyeshta — Ranges from degrees 16:40 – 30 in the Scorpio)
Jyeshta Nakshatra Characteristics
Brilliant analytical abilities, very few friends, but cheerful and virtuous
Jyeshta Nakshatra Meaning: The eldest
Jyeshta Nakshatra Lord: Mercury (Budha)
Jyeshta Nakshatra Body VarahaMihira: Neck
Jyeshta Nakshatra Body Parashara: Upper hips
Jyeshta Nakshatra Symbol: Earring, umbrella, talisman
Jyeshta Nakshatra Deity: Vishnu
Shakti (power to/of…): To rise or conquer, and muster courage in battle
Jyeshta Nakshatra Caste: Sankara
Jyeshta Nakshatra Nature: The Sharp or Dreadful (Tikshna) or hard (Daruna)
Jyeshta Nakshatra Gana: Rakshasa Gana
Jyeshta Nakshatra Rashi / Zodiac: Scorpio Sign
Jyeshta Nakshatra Marriage: Not Auspicious
Jyeshta Nakshatra Translation: Eldest sister, river Ganges
Jyeshta Nakshatra Controlling/Ruling Planet: Mercury (Budha)
Ruling Deity of Mercury: Vishnu
Jyeshta Nakshatra Number: 18
Jyeshta Nakshatra Gender: Female
Jyeshta Nakshatra Names Letter: No, Ya, Yi, Yu
Jyeshta Nakshatra Lucky Letters: N & Y
Jyeshta Nakshatra Lucky Stone: Emerald
Jyeshta Nakshatra Lucky Colour: Cream
Jyeshta Nakshatra Lucky or Favourable Numbers: 5
Jyeshta Nakshatra Common Name: Rattan
Jyeshta Nakshatra Astronomical Name: Antares
Jyeshta Nakshatra Botanical Name: Calammus rotang
Jyeshta Nakshatra Element: Air
Jyeshta Nakshatra Guna: Sattwic
Jyeshta Nakshatra Dosha: Vata
Jyeshta Nakshatra Bird: Brahmani Duck
Jyeshta Nakshatra Yoni/Animal Name: A Male Deer or Hare
Jyeshta Nakshatra Tree: Shalmali (Cotton Tree)
Jyeshta Nakshatra Male Characteristics
The male native of the Jyeshta Nakshatra is very pure-minded and sober. However, as he does not believe in flaunting his qualities, others may not notice these qualities. Besides, he is unable to keep secrets, no matter how privileged may be the information someone is giving him, so it is better not to confide sensitive things to him. They take this open-mindedness to such extents that when they have something to tell someone, they cannot even sleep till the get it off their chests. These natives can be hot-tempered and stubborn, because of which they often face problems in life. Also, he does not take anyone's advice but does only as his conscience bids him.
Jyeshta Nakshatra Male: Profession and Related Areas 
The male native of the Jyeshta Nakshatra leaves his home at a young age, either for education or work. He wishes to earn his living by his own methods and standards. He is a hard and sincere worker, and therefore progress is fast. However, job changes are also very frequent. He will have to struggle a lot till the age of 50 and will settle down only after that. The most troublesome period will be between the ages 18 and 26, during which he will have to face all kinds of problems, and therefore he is also advised to remain cool and calm and tackle things maturely, and wait patiently for better times to come.
Jyeshta Nakshatra Male: Compatibility and Family Life 
The natives of this Nakshatra cannot expect any support from his siblings or mother. His immediate family members generally do not like him, mainly because they like to maintain their own individuality and are independent thinkers. Even his spouse may dominate him, and will never allow any kind of intoxication. On the whole, his conjugal life will be smooth and harmonious. He may be plagued by minor health problems from time to time, but nothing major.
Jyeshta Nakshatra Male: Health and Well-Being 
The male native of the Jyeshta Nakshatra confronts health issues such as cold, stomach problems, asthmatic attacks, dysentery, frequent fevers and pains in hands and shoulders.
Jyeshta Nakshatra Female Characteristics
The female native of the Jyeshta Nakshatra is over-sensitive, can be very jealous, but also loves very deeply. She is brilliant, thoughtful, and intuitive. She is also eager to know the opinions that others have about her. She runs her household activities in a very organised manner.
Jyeshta Nakshatra Female: Profession and Related Areas 
She has average academic qualifications. She is happy by herself at home, basking in the glory of her husband's success. Therefore, it has been observed that most female natives of this Nakshatra are not earning members of the family.
Jyeshta Nakshatra Female: Compatibility and Family Life 
She is usually unable to maintain harmony in the home for whatever reason. It has also been observed that she generally remains childless, and is often harassed by her in-laws. She is extremely careful while interacting with neighbours and relatives because they are the persons who usually poison her life. She finds it very difficult to find mental peace in her life. Get your FREE Match Making Kundli Online or consult the best astrologer online
Jyeshta Nakshatra Female: Health and Well-Being 
The female natives of the Jyeshta Nakshatra do not enjoy very good health. They are prone to uterus problems, prostrate gland enlargement or pain in hands and shoulder.
Jyeshta Nakshatra Prediction 2020:
Mood swings are the order of everyday life. And that is what may happen with you frequently during the year 2020. It is foreseen that during the 2nd quarter of 2020, you are likely to become more argumentative and impatient. You are likely to disagree with others because you will not be willing to understand the complexity of your relationship. However, this mode of behaviour is not conducive to a healthy personality. You have to keep your mind shaped and in a proper state. Only then you will be fit and fine. You should remain calm and avoid unnecessary arguments. There may be some doubts and confusion in your personal life. You may find it difficult to settle down in your relationship. However, you will need to move forward and try to improve your future. You may need to crush your inner weaknesses in order to make your external situations better than what they are.
Jyeshta Nakshatra Padas:
Jyeshta Nakshatra 1st Pada: The first pada of this Jyeshta Nakshatra falls in the Sagittarius Navamsa ruled by Jupiter. Financial interests will keep you occupied. You wish to go in for higher studies. Natives are very generous during this padas.
Jyeshta Nakshatra 2nd Pada: The second pada of this Jyeshta Nakshatra falls in the Capricorn Navamsa ruled by Saturn. This is a responsible phase and you will do what is right, and not what is convenient. A lot of hard work will be required to achieve your goals.
Jyeshta Nakshatra 3rd Pada: The third pada of this Jyeshta Nakshatra falls in the Aquarius Navamsa ruled by Saturn. Here the natives are sensitive to the needs of others, and do everything in their capacity to help them. Be careful of getting trapped in strange sexual encounters.
Jyeshta Nakshatra 4th Pada: The fourth pada of this Jyeshta Nakshatra falls in the Pisces Navamsa ruled by Jupiter. It is easy for you to get carried away by emotions during this phase. The native loves children, and is very interested in exploring the exotic sciences.
List of Nakshatras

Ashwini

Bharani

Krittika

Rohini

Mrigshirsha

Ardra

Punarvasu

Pushya

Mrigshirsha

Ashlesha

Magha

Moola

Purvaphalguni

Uttaraphalguni

Hasta

Chitra

Swati

Vishakha

Anuradha

Jyeshtha

Purvashadha

Uttarashadha

Revati

Shravana

Dhanishtha

Shatbhisha

Abhijit

Poorvabhadrapada

Uttarabhadrapada

Day Guide
Comprises of events likely to happen, hourly guidance & precise timeframes

Life Meter
Know the percentages of different aspects of your physical and mental state

Compatibility
Check out how well will your wavelengths with others match