Pisces Finance Horoscope 2022 - Getting Stretched on All Sides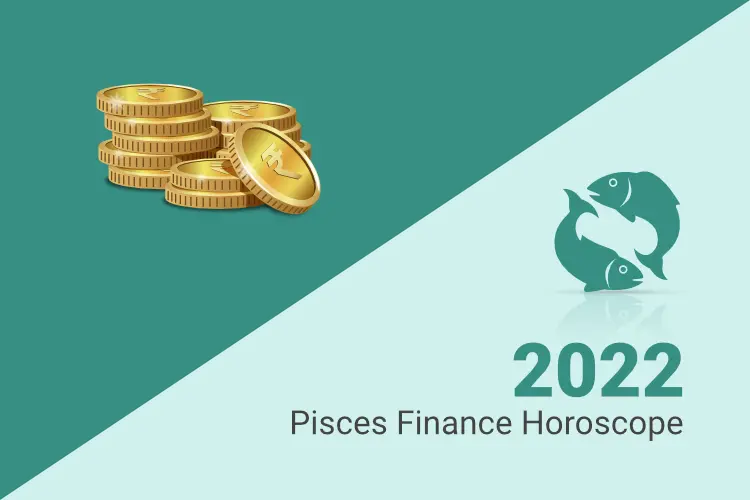 Pisces 2022 finance suggests that this year you may have excess job pressure. This instance can make you a little disturbed. Timely completion of work may affect your earnings and savings for the time being, especially if you are working as a businessman. In case you are a working professional, the stars are telling you to have patience as everything is likely to work out.
Pisces 2022 financial horoscope is suggesting that you may also have to bear some debts and additional expenditures. But if you manage them smartly, you can keep them under control. If there is some sort of plan to invest money, then you can count on this year as it is indicating positive signs for this aspect.
If you were planning to buy any property or a vehicle, the advice is not to get it now as it is not a very auspicious time for that or you might end up with a significant monetary loss. However, the purchase of land or flat looks profitable. To know about your relationships in the year 2022, access your Free Personalized 2022 Report.
Pisces 2022 Financial Horoscope – Taking the Passive Income Route
There's a possibility of wealth accumulation during the year. Side by side, you may also save some amount for your future needs. If you want to invest the money that also provides you good returns, wait till the end of the first quarter. On the plus side, investments done in the past are likely to yield tremendous gains at this time.
Pisces finance horoscope 2022 looks all shiny as you are likely to receive some of the shares of your heritage property during the summertime. Put in your blood and sweat in every penny you earn, which will earn you the required respect. Also, the money that you would earn now might help you make long-term earnings to build an asset.

Pisces Finance Horoscope 2022 – Overview
Your cash flow this year is going to be like the ocean; wide, huge, and that keeps coming in. The stars have been watching you, and they know how hard you've worked, and this year your increment is going to be awarded, says the Pisces Finance Horoscope 2022. Some of you may attain financial gains out of nowhere, and for some, this year will give them their first salary. Access the Free Personalized 2022 Report to know what the stars have in store for you.
Do you know what the best thing is going to be amidst all this? That you get to pamper yourself with a few luxury stuff – spa days, massage therapy, getting your hair and nails done, it's going to be fun! *fangirling* Don't worry. Your economic and financial status is likely to be stable for the most part of the year, and there will be enough funds to fulfil your desires.
There are good chances that you'll get expected support and backing from your parents. Therefore, there is nothing to be stressed about as far as the financial matters are concerned. The money that you would earn in the first half of the year, invest it as it can yield you good returns in the second half of the year.