Cancer Finance Horoscope 2022 - Mixed Results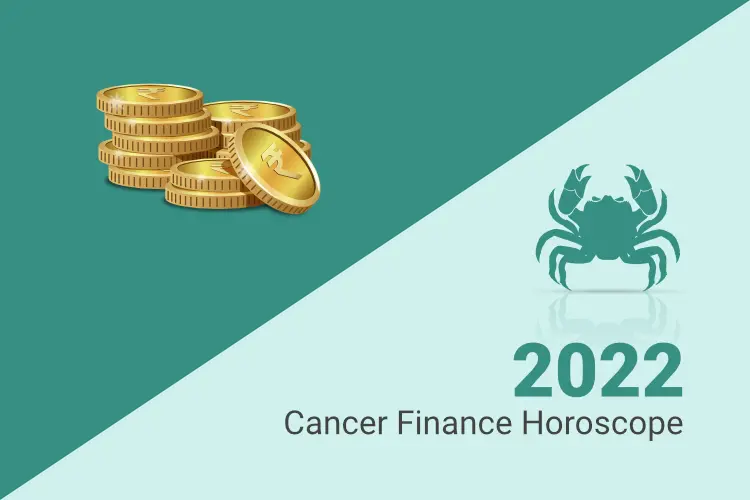 This year might offer mixed results regarding finance and money matters. Therefore, those looking for financial long term solutions are advised to be careful of their commitment.
You must understand all the rules and regulations well what the policy means to you. Then, make long terms and evaluate whether you understand the needs well and make that kind of commitment.
Each individual has different needs, different objectives, and you cannot tailor your plan by comparing it to your friends or colleagues. Hence, make you check if it is the right combination for you and if it'll work in your favour. To know about your relationships in the year 2022, access your Free Personalized 2022 Report.
Materialistic Desires
Earnings may improve through your efforts and hard work, so plan your future accordingly.
The inflow of money may be good, but at the same time, for some of you, your expenses may shoot up during this year.
In order to manage the high expense, it is advised that you create a budget plan and stick to the budget.
Also, try not to splurge money. Avoid spending on luxurious items or items that are not required at present. Instead, keep a tab on your worldly desires.
Cancer Finance Horoscope 2022 – Cycle of Money
Investments done in the past would yield profits, which may also generate revenue this year.
However, do not try to splurge the extra money coming in. Instead, use this money to invest in shares as it is a good time to invest money in share and stock markets.
But only for a long term assignment; anything speculative can turn out to be dangerous this year.
Hence, it may be better to stay away from risks. Instead, try to invest where you are very sure that you would earn profits.
Cancer peeps expecting insurance money through maturity can expect them in the second half of the year. So make sure your papers are well placed this year.
Again, we would suggest that you maintain the cycle of investments and put it back into investment.
Also, those who had lent money in the past may recover your money back from the borrowers.
This way, you can uplift your economic status.

House Renovation
You could spend an extraordinary amount on house renovation and furnishing.
The budget you would make at the start of the year makes sure that you add this to the budget.
Not only may you spend less, but it may also help you plan systematically.
Before you give the quotation for renovation, make sure you do proper market research. Talk to constructors and renovators and decide which one would be the best.
Some of you may even purchase a new house or vehicle to utilise your savings in a better way.
Cancer Finance Horoscope 2022: Overview
Cancer peeps could have an outstanding balance in their personal and financial life this year. Along with the income & expenses, you would also donate some extra money to the needy.
The flow of income through some challenges initially cannot be ruled out. However, you would still see steady progress in your income flow. Access the Free Personalized 2022 Report to know what the stars have in store for you.
Investments done in the past would yield profits, and that would increase your income this year. This is an excellent time to invest money in share and stock markets. Also, most of you are creating good ways to invest your hard-earned money. We applaud you for that.
Maintain the circle of investments this year. Put the profits that you have earned back to assets!
This is indeed a good year for investing money in land, gold, and specific long-term policies.
You can also invest in the business to build your assets. Returns on investment are anticipated in April, July, August, November, and December of 2022. Try to save by cutting down the expenditures and maintain the year in a good balance.
You may find that you gain financially from an unexpected source, and this is one of the best times to start saving, says your yearly horoscope. Keep your eyes and ears open, and continue working hard. The stars may reward you in ways you don't expect!