What Ganesha Says About Jasprit Bumrahs Comeback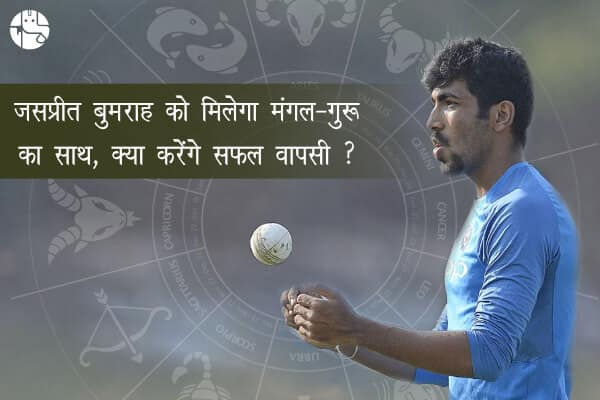 Indian pacer Jasprit Bumrah, who has been in the news for his successful bowling figures since his debut in 2016, is once again in the news. Team India and its fans are getting very angry after the recent defeat in ODIs on the New Zealand tour. Team India could not do much in the first test as well and had to face a humiliating defeat. However, some poor decisions of captain Virat Kohli are also believed to be the reason behind the team's poor performance in ODIs and Tests. But in the New Zealand series, one player's name is being discussed the most, that is Jasprit Bumrah! Bumrah, who once used to hit the wickets of the opposing batsmen with his sharp balls, is currently craving every single wicket. Bumrah, who was ruled out due to a stress fracture in the Test series against Africa in September 2019, had a chance to make a comeback in the T20I series against Sri Lanka in January 2020.
From praise to criticism
A few days after Bumrah's return, Australia toured India, but there too Bumrah could not do much. Currently, Team India's tour of New Zealand is going on, but so far Bumrah has been disappointed with his performance. He has picked up just two wickets in seven ODIs after recovering from injury. In such a situation, questions have started being raised on his performance. However, if we look at his career graph, at one point he has proved to be a match winner for Team India. Looking at his performance last year, he took 62 wickets at an average of 19.24 in 12 Tests in Australia, South Africa, England and West Indies. In such a situation, many questions are arising in people's mind regarding his current performance. We tried to find answers to these questions in Jasprit Bumrah's horoscope and the facts that came before us are quite shocking.
Jasprit bumrah horoscope
Date of Birth – 6 December 1993
Place of Birth – Ahmedabad, Gujarat
time unknown
Planetary positions in a horoscope
Talking about the position of the planets in the Surya Kundli of Jasprit Bumrah, the combination of five planets is seen in his ascendant house. Mercury, Rahu, Venus, Sun and Mars are sitting in the first house in the horoscope. On the other hand, Shani is sitting in the place of happiness and Ketu is sitting in the seventh house, Moon is sitting in the tenth house at the place of karma and Jupiter is sitting in the twelfth house at the place of expenditure.
Why Bumrah continues to fail
In Jasprit Bumrah's Surya Kundli we tried to find the answer to this question, after a thorough study of the Kundli, it is revealed that Mars is the Atmakaraka planet in the Kundli. He is sitting in his own zodiac sign Scorpio. But the transiting Mars is under the influence of Ketu, and that is why Bumrah is facing difficulties in making a successful comeback. Due to the effects of transiting Mars and Ketu, Bumrah is facing difficulties in achieving success in his profession, and he is not able to repeat his old performance. Right now they are not able to take wickets, but that does not mean that they are not performing well. At present, the transiting Mars and Ketu are troubling them, but soon the positive effects of Jupiter may give them benefits.
Successful yoga of return in horoscope
Looking at the planetary positions in Bumrah's Surya Kundli from a larger perspective, it is known that this phase is very short, and his upcoming career is very big. Talking about the fixed period, there is every possibility of improvement in their performance from mid-March 2020. During this time, some positive changes will be seen in their life and they can get the benefit of it in their career as well. If we look at the position of Jupiter in the horoscope, then Jupiter is looking at Saturn from its place. Along with this, the Atmakaraka planet Mars is also going to help Bumrah in achieving his set goals. The positive effects of Jupiter and Mars can enable Bumrah to make a successful comeback during the mentioned time period. Known for his dynamism, Bumrah has all the chances to make a successful comeback in this time period, and can again impress his fans with his performance. With the help of horoscope 2020.
Click Here To Get Your Detailed Annual Horoscope 2020 Now!
A thorough study of Jasprit Bumrah's horoscope reveals that he will also have a strong desire for success and to reach the set goal. The position of the planets in the horoscope suggests, that they may make serious efforts to achieve their goals. According to GaneshaSpeaks, Bumrah not only recognizes his goals in life but can also achieve them with self-efforts. According to his horoscope, the current phase is a bit difficult and difficult, but in the coming times, he has every possibility of making a successful comeback.
This was the reason behind Bumrah's injury
The adverse effects of transiting planets could also be behind Jasprit Bumrah's injury in September 2019. The transiting Mars was passing over the Moon during the period of September 2019. Along with this, the transiting Mars was also affecting the Sun-Mars and Saturn of Bumrah's Sun Kundli. In Bumrah's Surya Kundli, Mars is the Atmakaraka, and Saturn sitting at a happy place is also looking at him. Similarly, Mars sitting in the Ascendant is also looking at Saturn. In Vedic astrology, Mars and Saturn are considered opposite planets. Mars rules the blood in the body, while Saturn represents the bones and joints of the body. Now again coming back to the transit position of September 2019, during that time the transit Mars was passing through the Moon. According to the planetary positions in the Surya Kundli, the transit of Mars in September 2019 has the potential to affect the bones and joints. Looking at the position of the planets, it would not be wrong to say on an astrological basis that due to the negative position of the planets during that time, Bumrah suffered stress fractures and had to face difficulties by being out of the team for a long time. If you are also facing difficulties in life then take the advice of our astrological experts.
Click Here To Talk To An Experienced Astrologer Now!
How will the year 2020 be in terms of health?
Looking at Bumrah's horoscope, it is known that the year 2020 is going to be average for him in terms of health. Since the current transit of Saturn is taking place in the sixth position from the Moon in the Sun Kundli, he is advised to be cautious about his health. Although there is no possibility of any major health problem, according to the position of the planets, they are advised to be aware of minor health problems. With the blessings of Ganesh ji, the team of GaneshaSpeaks wishes Jasprit Bumrah a successful return.
To get your personalized solution, talk to an astrologer now!
With the blessings of Ganeshji,
ganeshspeaks.com