Varuthini Ekadashi 2023 – A Period Of Prayer And Penance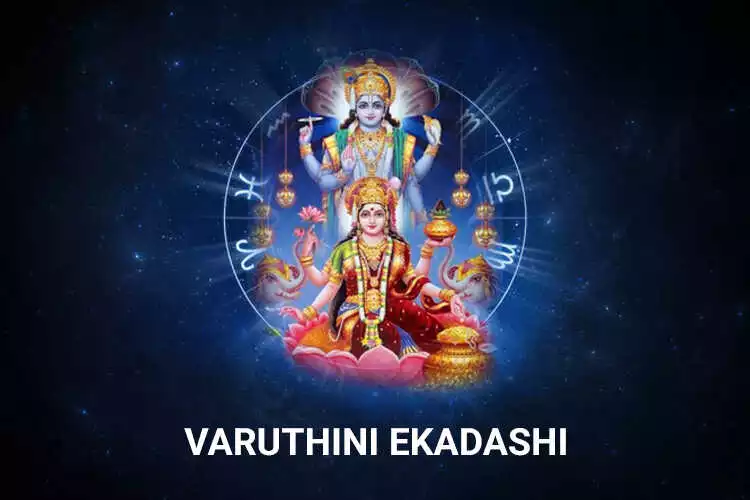 Introduction
Varuthini Ekadashi is also popular as Baruthini Ekadashi. It is an auspicious day where devotees pray and worship the Vaman or Dwarf form (incarnation) of Lord Vishnu. Varuthini means 'protected' and thus there is a religious belief that observing fast and penance on this day helps a person to get himself redeemed from all his past and future sins, and attain Moksha. This day is highly auspicious for women as it is believed that the fasting of Varuthini Ekadashi can bring a happy future.
---
Date And Timings of 2023
Varuthini Ekadashi is observed during Krishna Paksha of Vaishaka month, as per the North Indian Purnima calendar, and Krishna Paksha of Chaitra month, as per the South Indian Amavasya calendar. Despite the difference in months, both North and South Indians observe it on the same day. Varuthini Ekadashi will occur on Sunday, 16th April 2023. Ekadashi Tithi commences from 8:45 PM on 15th April 2023 and ends on 16th April at 06:14 PM. On 17th April 2023, Parana time will range between 05:54 AM to 08:29 AM and the Dwadashi moment will end on the same day that is 17th April at 3:46 PM.
Parana means the breaking of fast. Ekadashi Parana is done after sunrise on the next day of the Ekadashi fast. Observing Parana within the Dwadashi period, which gets over before sunrise, is considered very important as not adhering to the Dwadashi tithi is viewed to be an offence.
---
About Varuthini Ekadashi And Its Significance
Varuthini Ekadashi is significant because it has been mentioned in several Hindu scriptures. It was also narrated by Lord Krishna to Dharamraj Yuthistara in the form of a conversation, as stated in the Bhavishya Purana. It is believed that devotees who observe a fast and strictly adhere to the rules of Varuthini Ekadashi gain redemption from their past and future sins, and evil deeds to succeed in the path of attaining Moksha or salvation. Charity or acts of donation help people in getting divine blessings, not only from deities but also from their deceased ancestors.
---
Varuthini Ekadashi 2023 Story and Importance of Fasting
Varuthini Ekadashi is a festival that has many mythological facts connected with its observance. According to Hindu mythology, Lord Shiva's rage led to the beheading of Lord Brahma's fifth head. Lord Brahma cursed Lord Shiva who resorted to severe fasting and penance to get rid of the curse. It was the day of Varuthini Ekadashi when Lord Shiva fasted and freed himself from the clutches of the curse. Thus, it is believed that devotees who observe fast and perform the Varuthini Ekadashi rituals can get themselves redeemed from their trespasses.
In some cultures, young women observe fast on this day to get suitable grooms. While in Hindu marriage, where 'Kanyadaan' or giving away a daughter's hand for marriage is considered a sacred thing, observing a single day fast during this period is also considered auspicious and equivalent to thousand years of penance.
---
Varuthini Ekadashi Rituals/Puja Vidhi
People devotedly adhere to rituals connected to Varuthini Ekadashi. Here a few noteworthy points that are taken into account on this day:
On this day, devotees wake up early in the morning, bathe and start making necessary preparations for Varuthini Ekadashi puja or rituals.
They offer Dhoop, sandalwood paste, incense sticks, fruits, and flowers to evoke Lord Vishnu.
A 'Satvik' or clean vegetarian meal is consumed during the day. However, some devotees restrict themselves to single meals and manage the day on fruits or juices. While some strictly refrain from eating a single grain or even drinking a drop of water and break their fast only by consuming a full diet the next day.
Donating food to the needy and clothes to Brahmins is an essential part of the fasting period.
People avoid consumption of whole grains or pulses such as chickpeas, rice, lentils, and black gram. It is a custom to not eat in bell metal utensils as well.
Abstaining from liquor and sexual activity is highly recommended. Moreover, people are asked to control their emotions and foster ill feelings for others.
Shaving one's head, involved in gambling, and applying oil to the body should be prevented.
---
Some more facts about Varuthini Ekadashi 2023
It is also called Dwadasi day or Hari-Vasara. This day holds great importance in Hindu mythology. It is believed that King Mandhaata and Dhundhumaar attained Moksha after fasting on Varuthini Ekadashi. According to Indian mythology, Lord Shiva beheaded the avatar of Lord Brahma in which he got the curse. He was freed from the curse by fasting on this Ekadashi.
The day before is known as Dashmi day. People who observe fasting, cannot consume chickpeas, kondo, Urad dal, red lentils, spinach, and honey. On this day, only a single meal is taken. No meal can be taken into a bell metal plate. While observing the fast, one must chant the religious sermons in the praise of Lord Vamana-the incarnation of Lord Vishnu.
If you really want to reap the benefits of any of the Ekdashis, Varuthini Ekadashi is the perfect one. You can achieve many amazing benefits by fasting and following necessary rituals for appeasing the Lord Vishnu. A popular belief is that making donations on this day can allow you to achieve many wonderful aspects of life. It is not necessary that one has to make big donations such as gold, cow, or money. You can make even small donations which are equivalent to the bigger ones.
Worshipping and appeasing Lord Vishnu can reduce physical disabilities and other health issues. By doing the fast Varuthini Ekadashi, a devotee can come out of the cycle of life and death. It means that one can seek salvation and be accepted in the heavenly abode. People can receive knowledge and wisdom as Lord Vishnu enlightens the soul and mind. It is believed that if devotees can follow all the rituals, they will be protected from all the evils.
To Get Your Personalized Solutions, Talk To An Astrologer Now!
With Ganesha's Grace,
GaneshaSpeaks.com
---
---
Get 100% Cashback On First Consultation