Significant Facts About Vallabhacharya Jayanti 2023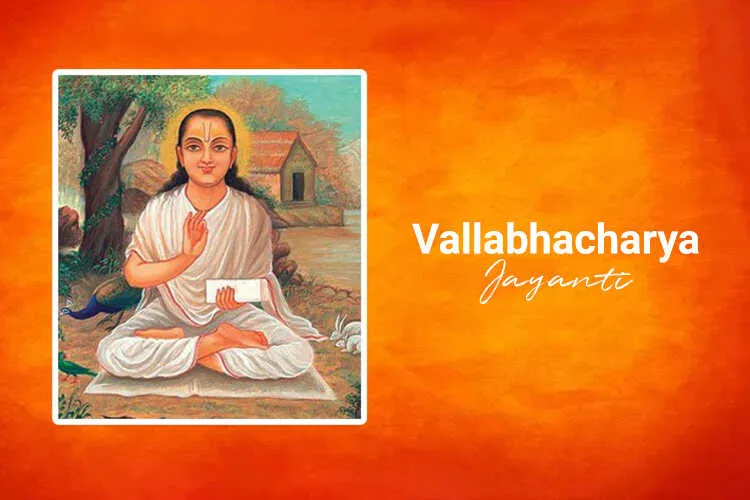 ---
Vallabhacharya Jayanti: Introduction
Shri Vallabhacharya was a renowned Hindu scholar who is considered the pioneers of India's devotional Bhakti movement. He was born in Varanasi into a Telugu Brahmin family in 1479 A.D. As a youngster, he contemplated over the Vedas and Upanishads and believed that anybody could accomplish salvation or Moksha by venerating Lord Krishna. His stern thoughts ended up compelling him to oppose the principle of asceticism and monastic life.
He is also known as Vallabha or Mahaprabhu Vallabhacharya. The main achievement of saint Vallabhacharya is founding the Krishna-centred Pushti sect of Vaishnavism in the Brij region of India. The majority of his writings and composition revolves around Krishna, which includes pranks with his mother Yashoda to his bonding with cow-herding women. You will also find Krishna's divine grace to his winning over demons in the writings of Saint Vallabhacharya.
---
Vallabhacharya Jayanti 2023 Date
Vallabhacharya Jayanti is commended in view of a prevalent belief that on this auspicious day, Lord Krishna had appeared before Shri Vallabhacharya in the form of Shrinathji.
As per the Purnimant Lunar calendar of North India, it is believed that he was born on the Krishna Paksha Ekadashi in the Vaishaka month, while as per the Amanta Lunar calendar, he was born on the Krishna Paksha Ekadashi in the Chaitra month. However, his birth anniversary falls on the same day with a minor difference in the names of the months of each calendar. This day also coincides with Varuthini Ekadashi. This year will celebrate his 544th birthday on Sunday, April 16, 2023
Ekadashi Tithi Begins – On 08:45 PM on Apr 15, 2023
Ekadashi Tithi Ends – On 06:14 PM on Apr 16, 2023
If you want to celebrate this day with the right ritual, connect with our expert astrologer.
---
Mahaprabhu Vallabhacharya Jayanti
Vallabhacharya Jayanti is celebrated as the day of Lord Krishna's appearance to Shri Vallabhacharya in the Shrinathji form. It falls on the Magha Shukla Paksha Pratipada and is one of the most dedicated festivals among Hindus. Lord Krishna is the Supreme God whose blessings make it possible for any human being to attain salvation or Moksha. The worshipping of Lord Shrinathji on this day is a popular culture in the saints belonging to the Vaishnava sect. Therefore, Vallabhacharya Jayanti is celebrated with great devotion and zeal by the devotees of Lord Krishna and Sant Shri Vallabhacharyaji.
If you have set certain life goals, ensure their successful completion by getting a free remedy suggestion report.
---
About Mahaprabhu Vallabhacharya
Shri Vallabhacharya, an ardent devotee of Lord Krishna, propounded the philosophy of Saakar Brahmavad, which means realising Theism or belief in the existence of God who created the Universe. Moreover,' Vallabh' means a 'dear one'.
Shri Vallabhacharya was born in the turbulent times of Hindu-Muslim conflicts in India. His parents forsook him due to his mother's terror and physical strain during the process of fleeing. As a premature baby, he showed no signs of life; his mother abandoned him under a Shami tree but later embraced him as fire surrounded the tree with a heavenly voice, proclaiming the child to be an incarnation of Lord Krishna.
Politically, a hostile period prevailed as there were cruel attacks on culture, traditions, faith and places of religious worship. Survival became a dreadful issue in Indian society during the period. At that moment, seeking guidance from a person with a clear understanding of religion became the need of the hour. Shri Vallabhacharya emerged as a saviour for the people who showed them a practical way to lead a life without fear and hesitance. He guided them to follow the principle of a practical theology of Pushtimarg. Thus, Shri Vallabhacharya came to be known as Maha Prabhu Vallabhacharyaji.
---
Vallabhacharya Story and Significance
The legend associated with Vallabhacharya Jayanti states that while moving towards the North-West part of India, he observed a mysterious phenomenon near Mount Govardhan. He saw a cow shedding milk on a specific spot of the mountain. When Shri Vallabhacharya started digging the place and discovered an idol of Lord Krishna, it is believed that Lord Krishna appeared to him in the form of Shrinathji and hugged him warmly. From that day onwards, followers of Shri Vallabhacharya worship Bala or the juvenile image of Lord Krishna with great devotion.
The day is significant as Varuthini Ekadashi coincides with Vallabhacharya Jayanti, according to the Tamil calendar. The festival is predominantly celebrated in parts of Gujarat, Maharashtra, Chennai, Uttar Pradesh, and Tamilnadu. Furthermore, no specific rituals are followed on this day. Devotees may or may not observe a fast but, they do offer prayers and chant Holy mantras. People celebrate the day with sincere devotion and faith towards Lord Krishna and Shri Vallabhacharya.
Shri Vallabhacharya represented the culmination of philosophical thoughts in the middle ages. The sect established by him is unique in its facets of devotion to Lord Krishna and is enriched with numerous traditions and festivals. Therefore, Shri Vallabhacharyaji has many devout followers not only in India but around the globe.
---
Some More Crucial Facts About Vallabhacharya
Some people consider Vallabharaya as the avatar of Lord Agni- the God of fire. He greatly emphasised Pushti (grace) and Bhakti (devotion). The devotees of Vallabhacharya worship Bala Gopal-young Krishna. His crucial literary work is based on Pushtimarg such as Jaimini Sutra Bhasya, Vyasa Sutra Bhashya, Pushti Pravala Maryada, Bhagavata Tika Subodhini, and Siddhanta Rahasya. He primarily wrote in Sanskrit and Brij language. Most of the followers of Sant Shiromani Shri Vallabhacharya visits Ramghat in Haridwar as it is believed that he meditated there.
---
The tradition to be followed On Vallabhacharya Jayanti
On this day, temples and religious places are decorated with flowers. Devotees do the abhishekam of Lord Krishna early in the morning. After this ritual, the day proceeds with aarti. Priests and devotees sing the devotional song of Lord Krishna. A photo of Lord Krishna is kept on the rath. A jhanki is rotated towards every home amongst the followers of Vallabharaya. Lastly, Prasad is distributed amongst the devotees of Lord Krishna. The day ends with commemorating and praising the mythical workings of Vallabhacharya. Vallabhacharya Jayanti is celebrated with great passion and enthusiasm.
To Get Your Personalized Solutions, Talk To An Astrologer Now!
With Ganesha's Grace,
GaneshaSpeaks.com
---
---
Get 100% Cashback On First Consultation