Celebrating the 162nd birthday of Rabindranath Tagore, the First Asian Nobel Laureate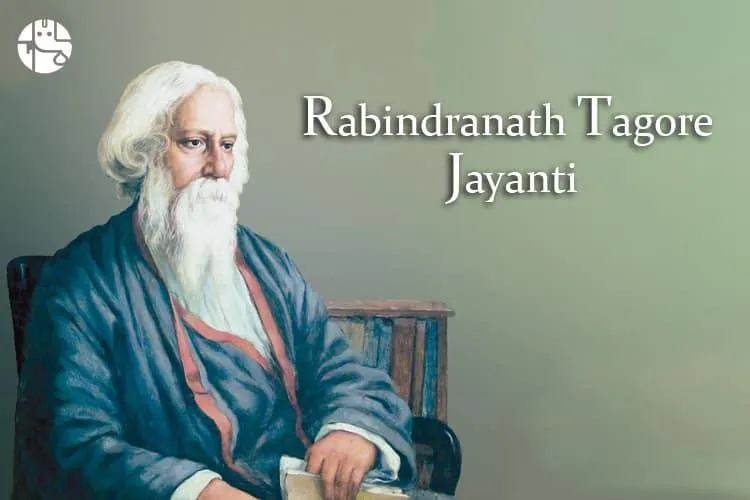 Rabindranath Tagore, a renowned author, poet, painter and dramatist has contributed to the Bengali canon and his expansive works remain relevant even today. Explore some unknown facts related to his life in this article
---
Tagore Jayanti
Rabindranath Tagore was born on the 7th of May. 1861 Calcutta, Bengal Presidency, British India ( present day Kolkata, West Bengal). His birthday is celebrated with great admiration as Tagore Jayanti throughout the globe, especially in West Bengal. It is a cultural festival observed in early May, on the 25th day in the Bengali month of Boishakh.
---
Tagore Jayanti 2023
Tagore Jayanti is a day commemorated to mark the birthday of Guru Rabindranath Tagore ,who doesn't need an introduction for his immense gift of literary works to the world. This year Tagore Jayanti will occur on Tuesday the 9th of May. The day is usually marked by school and college students who rever the great poet by enacting his plays, dramas and organize various cultural programmes in his honor. Most households in West Bengal dance and act to Tagore's songs and plays from dawn till dusk.
---
Rabindranath Tagore Jayanti 2023
Gurudev or Gurudeb as Tagore was fondly called was a man of many talents. People revere this great man by giving a ceremonious reception on Tagore Jayanti. In 2023, the day will be marked with colorful festivities and programmes enacting his famous plays, dramas, songs and poetries in various institutes and theatres. As the day falls on the Pochishe Boishakh day, all cultural activities will be held at Jorasanko Thakurbari, his ancestral home and Rabindra Sadan, a cultural centre. Shanti-Niketan in Birbhum, West Bengal will also host grand festivities to honor its literary founder on his 159th birthday.
---
About Rabindranath Jayanti
Rabindranath Tagore was born as Robindranath Thakur. His pen name was Bhanu Singha Thakur( Bhonita). He was also called Gurudev, Kabiguru and Biswakavi by his sobriquets. Rabindranath Jayanti is a day when people pay respects to India and Asia's first Noble Laureate who left behind a legacy of fine literature works besides ,playing a vital role in active politics during the British reign in India. Dances based on the Rabindra sangeet, recitals and songs form an integral part of events displayed to admire the "Bard of Bengal". Foreigners studying in Vishwa Bharati University founded by Tagore also partake in these activities.
At times, it can be confusing to select the right vocation in life. Get expert feeds from our astrologers who can progressively guide you to select a Suitable Career/Business Field For You as per your birth chart.
---
About Rabindranath Tagore
Born in an affluent Bengali Brahmin family, Rabindranth Tagore did not prefer regular schooling and was tutored at home by his brother. Being a child prodigy, he learned anatomy, geography, history, literature, Sanskrit and English along with swimming, gymnastics and wrestling. He is known to play an active part in Indian politics , besides being a literature ardent. He was the first Non- European to receive the Noble Laureate in 1913 for his notable contribution to World Literature. His acclaimed works include Gitanjali, Kabuliwallah, Post Master, Rabindra Sangeet and last but not the least our National Anthem Jana-Gana-Mana.
Tagore also founded the renowned Vishwa Bharati University in Shantiniketan. Being a Nature-lover, he never believed in confining education to the four walls of a classroom and initiated the idea of class teaching amidst Nature. This practice is carried till date by the students of the University. In the later stages of life, he was critical of the British rule and denounced 'Knighthood', in protest of the heinous massacre at Jallianwala Bagh. He breathed his last on 7th August, 1941 after remaining in comatose for three long years.
How will your future shape? Will you be able to carve a niche for yourself in your current education field or job? Get Your Horoscope Analysis done by our proficient experts who through their accurate predictions will help you re-discover your hidden talents.
---
Few Points About Rabindranath Tagore
Here are few points or facts of Rabindranath Tagore which you may have missed or may be unaware of.
Tagore composed more than 2,000 songs besides a number of poems, stories and dramas.
Tagore was color blind especially to red and green color.
He has not just penned down our National Anthem- Jana-Gana-Mana but also the National Anthem of Bangladesh- Amar-Sonar-Bangla and that of Sri Lanka – Sri-Lanka-Matha.
Tagore was not only the first Asian recipient of the Noble Laureate but also the first Non-European to mark his prominence in literature.
Tagore invested his Noble Prize money to construct the Vishwa Bharati School which has given India precious and distinguished gems like Amartya Sen, Satyajit Ray and Indira Gandhi.
The preface of Tagore's most acclaimed work 'Gitanjali', was written by the well-known 20th century poet, W.B.Yeats.
Tagore's Nobel Prize was stolen from Shanti Niketan and so the Swedish Academy gave him a replica of the same in Gold and Silver.
A documented chart "Note On The Nature Of Reality" is a joint effort of Tagore and Albert Einstein.
Some aspiring quotes from the treasures of Tagore's beautiful collection:
"Clouds come floating into my Life,
No longer to carry rain or usher storm,
But to add color to my sunset sky"
Talk to our expert astrologers for progress in your Love, Career, Fortune, health and Finance. Live life to the fullest and get rid of unwanted tensions.
With Ganesha's Grace,
GaneshaSpeaks.com
---
---
Get 100% Cashback On First Consultation