The Valiant Rajput King – Maharana Pratap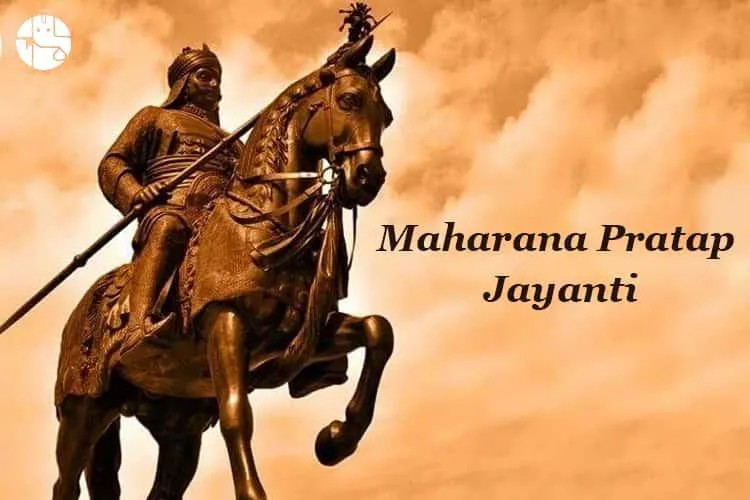 India is a land of great diversity. It has an undeniable glorious past with innumerable kings, rulers and monarchs who with their valor and courageous deeds have got their names engraved in golden words on the front pages of history. Rajasthan has a glorious record dated thousands of years back. It is full of stories of brave men and honorable women whose sacrifices are unmatched and unforgotten till date. Valor, chivalry and compassion are some of the major values of the popular Sisodiya Rajput clan which has many brave stories to its credit. Maharana Pratap, the pride of Mewar, is one of  the leading name of these Rajput kings, under whose leadership the state grew by leaps and bounds. The birth anniversary of this great warrior is celebrated as Maharana Pratap Jayanti.
---
Maharana Pratap Jayanti 2023
Maharana Pratap Jayanti is a regional public holiday observed in the northern states of Haryana, Himachal Pradesh and Rajasthan. It falls on the third day in the Jyeshtha month and takes place in late May or June as per the Western calendar. Maharana Pratap Jayanti will occur in 2023 on Monday, 22nd May.
---
Maharana Pratap Jayanti Date
Maharana Pratap, the ruler of Mewar,  is considered to be the most valiant Hindu king during the Mughal rule. He is remembered for his warfare tactics, undefeated courage and never-dying spirit. To honor his name and fame, his birthday is celebrated each year as Maharana Pratap Jayanti on 25th May.
In 2023, this day will mark the 482nd birthday of the eminent Rajput ruler of the 16th century Maharana Pratap, who courageously fought against the Mughals.
---
When Is Maharana Pratap Jayanti Celebrated
The pride of Mewar, Maharana Pratap was born on the 25th of May, 1540 in Kumbhalgarh. Every year this day is commemorated as the Maharana's birthday, on the third day of the Jyeshtha Shukla paksha phase as a full-fledged festival.
---
Which Date Maharana Pratap Jayanti
Maharana Pratap Jayanti will fall in the given auspicious Tithi.
| | |
| --- | --- |
| Tritiya Tithi Commences | 10:09 PM on May 21, 2023 |
| Tritiya Tithi Ends | 11:18 PM on May 22, 2023 |
A Janampatri is a reflection of your hidden strengths and flaws. Get expert feeds through the Online Janampatri/Kundli Report  and know how you can make the best use of your talents and overcome your shortcomings to reach your desired goals.
---
Importance Of Maharana Pratap Jayanti
Maharana Pratap was born to King Udai Singh and Queen Jaywanta Bai on the 25th of May, 1540 in the Kumbhalgarh fortress of the Rajsamand district near Udaipur, Rajasthan. He had three younger brothers Shakti, Vikram and Jagmal Singh. He was married to Maharani Ajabde Punwar of Bijolia in 1557 and was blessed with a son named Amar Singh. Pratap was coronated  the king of Mewar in 1572 following crucial circumstances after the death of his father. His step-mother Dheerbai was adamant on making her son Jagmal the successor to the throne. However, situations worked in favor of Maharana Pratap who was unanimously selected the king due his just and efficient capabilities.
Are your expenses overshadowing your income? Get the Remedial Solutions For Wealth Report and balance your assets and liabilities with the help of our expertise.
Unfavorable situations added to the Maharana's dilemma as after his coronation, the Mughal king Akbar visited Mewar to chart out a route to Gujarat through the Maharana's territory. Pratap instantly sensed Akbar's bad intentions and flatly refused the emperor's proposal, which led to the battle of Haldighati. Mughal forces outnumbered the Rajput army due to which the former emerged victorious in the battle. Despite losing the battle to the Mughals, Pratap was never captured by his foes and succeeded in escaping to the hills rendering the victory of his enemies fruitless.
The majestic ruler breathed his last on January 19, 1597 at Chavand, which served as his capital, after sustaining fatal injuries from an hunting expedition. Thus, Maharana Pratap Jayanti is the day to honor this brave warrior who believed in self-dignity and maintained the respect for his motherland.
Contact our expert Vedic astrologers to succeed in your Career, Love, Finance, Wealth, Studies and Business fields. Call or email them now to Get Your Personalized Solutions!
With Ganesha's Grace,
The GaneshaSpeaks.com Team
---
---
Get 100% Cashback On First Consultation