Kamika Ekadashi 2023: Kamika Ekadashi Date, Rituals and Story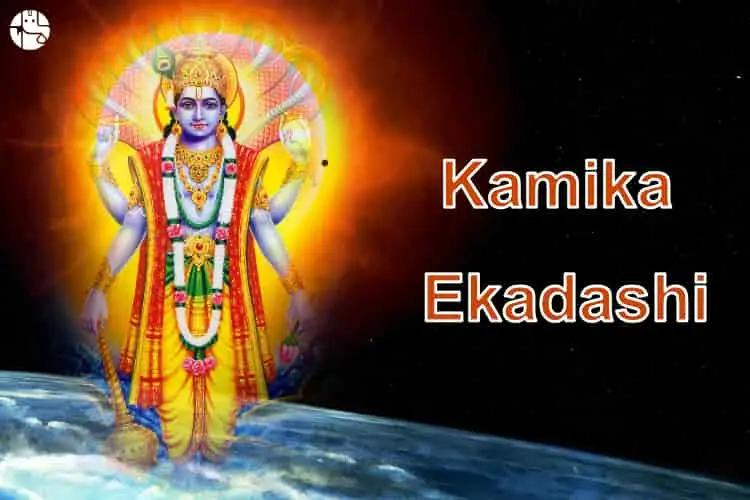 ---
Kamika Ekadashi – Day to attain salvation
Kamika Ekadashi festival is dedicated to worshipping Lord Vishnu and is celebrated with great enthusiasm all over by Hindus, all across the country. It is an auspicious fasting day of Hindus. Kamika Ekadashi is celebrated during Krishna paksha (dark fortnight) of Shravan month. In the English calendar, it corresponds to the months of July-August. This year, Kamika Ekadashi will be celebrated on july 13, 2023. It is believed that this holy Ekadashi pardons all the sins and the person attains 'moksha'.
---
The Main Legend (Story)
An interesting story depicts the glory of Kamika Ekadashi. In ancient times, there was a landlord in a village. Once this landlord fought with a Brahmin and accidentally killed him out of anger. The landlord wanted to repent by being a part of the Brahmin's cremation rituals, but the villagers denied permission. Hence, he was cursed with a Brahmin's killing. Then the landlord approached a saint if he could get rid of the sin. The saint advised him to keep a fast on Kamika Ekadashi and worship Lord Vishnu. The landlord kept a fast in the same way the saints told him. That night, the landlord was sleeping beside the Lord's idol. Lord Vishnu appeared in his dream and relieved him of his sins.
He was finally forgiven by the Lord. It is believed that Kamika Ekadashi story was narrated by Lord Krishna to Yudhishthir. Before this, it was told by Saint Vashishta to King Dilip, who attained salvation. The sacred day even eradicates the sin of killing a Brahmin.
However, one should NOT think that one can kill a Brahmin or other innocent folk and then go unpunished simply by hearing of this Ekadasi. Such knowing commission of sin is punishable.
Whosoever hears these glories of the Kamika Ekadasi with faith becomes free of all sins and returns home, back to Godhead – Vishnu-Loka, Vaikuntha. The one who worships Lord Vishnu on this day receives immense benefits and gets relieved from the sins.
---
Kamika Ekadasi Rituals (Vrat Vidhi)
On the day of Kamika Ekadasi, devotees take a bath early in the morning followed by the prayer dedicated to Lord Vishnu. Panchamrut is offered to Lord Vishnu and worshipped with colourful flowers, Tulsi leaves, fruits, milk and sesame seeds. Feeding a Brahmin and donating him some money, lamps, clothes hold immense importance on the day of Kamika Ekadashi.
They keep Jagaran on Ekadashi night and spend their time in singing bhajans. On Dwadashi which is the next day of the Ekadashi, devotees break their fast.
Devotees worshipping Lord Vishnu on Kamika Ekadashi are blessed, with prosperity and health. On Kamika Ekadashi, Hindus also visit pilgrim centres and take a bath in various Tirth like Ganga, Godavari, Yamuna, Krishna and Kaveri. Kamika Ekadashi also helps one to be relieved from 'Pitru Dosha'.
To know the detailed Kamika Ekadashi Vrat Vidhi, Ask Our Astrologer Now!
---
Important dates and timings for Kamika Ekadashi 2023
| Festivals | Date | Time |
| --- | --- | --- |
| Kamika Ekadashi | Thursday, 13 July 2023 | |
| Ekadashi Starting | Jul 12, 2023 | 05:59 pm |
| Ekadashi Ending | Jul 13, 2023 | 06:24 pm |
| Paran Starting | Jul 14, 2023 | 05:32 am |
| Paran Ending | Jul 14, 2023 | 08:18 am |
| Parana Day Dwadashi End Moment | Jul 14, 2023 | 07:17 pm |
To Get Your Personalized Solutions, Talk To An Astrologer Now!
With Ganesha's Grace,
GaneshaSpeaks.com
---
---
Get 100% Cashback On First Consultation