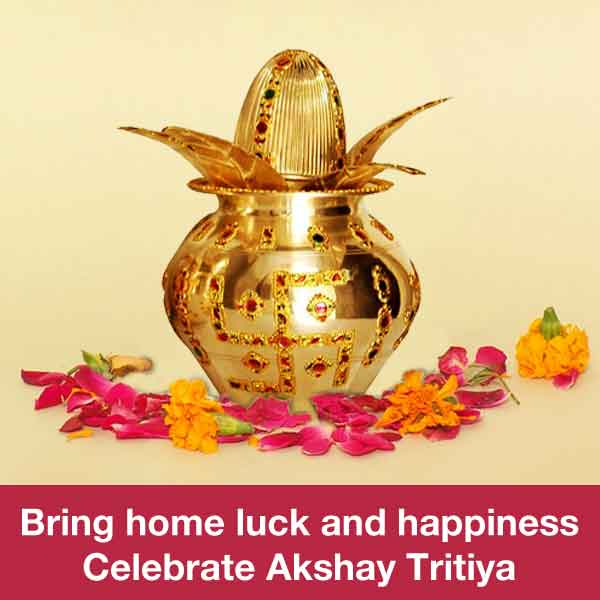 Akshya Tritiya is an auspiscious Vedic occasion – a very sacred Vedic Muhurat – and is thus, associated with ever-lasting harmony, happiness, peace and prosperity. Akshay means eternal, and thus anything that is brought home on this day is said to last forever. Hence, Akshay Tritiya is a day when one can buy anything lucky or auspicious, and it is said to grow and give excellent results.

Since, the gold symbolises wealth, and it is said to be the best symbol of prosperity, people buy gold on Akshay Tritiya, as buying and taking home gold on this day signifies that their prosperity would never diminish.

Significance
Akshya Tritiya, also known as Akha Teej, is celebrated on the Tritiya (third day) of the Vaishakh Shukla Paksha and bears great significance in the Hindu calendar. The word Akshay means imperishable, inexhaustible. This is one of those three and a half pious Tithis in the Hindu calendar on which any auspicious event, be it a wedding, yagya, charity, buying of gold and property or a project, can be initiated without taking into account any other Muhurat. There is no need to refer to the Panchang on Akha Teej, because every minute of this particular day is said to be favourable. It is also believed that good deeds carried out on this day never go wasted.

Hence, one should try to remain calm and happy on this day, do some good deeds, make donations and buy something precious, preferably precious metals. Lucky talismans like Yantras, God idols etc. may also be bought on this day, and insititued at home/ office premises.

Akhshay Tritiya holds high importance in the Hindu mythology as well.
Akshay Tritiya is celebrated as the birthday of Lord Parshuram, the sixth incarnation (avatar) of Lord Vishnu.
Lord Krishna had freed His childhood friend, Sudama, from poverty on Akshya Tritiya.
It is believed to be the day on which Treta Yuga begun.
During the course of their Vanvaas, Pandavas were presented an Akshyapatra, a utensil that would always have some food in it, by Lord Krishna.
It was on this day, Draupadi Cheerharan had happened and Lord Krishna had made her clothes never-ending.
Maharshi Ved Vyaas started to compose Mahabharata, which was penned by Lord Ganesha, on Akshya Tritiya.
Kuber had worshipped Lord Shiva on this day, in Shivapuram, and had gotten back his riches and prosperity.
Legend has it that the holy River Ganga descended on Earth on Akshya Tritiya.
In Orissa (an Indian State), the preparations for building Ratha for Ratha Yatra are initiated on Akshya Tritiya.

The Goddess of Wealth, Goddess Mahalakshmi, and Lord Vishnu are worshipped on this day. You may buy an attuned Shree Yantra, worship it wholeheartedly and improve your financial condition.

Lord Kuber, the Lord of Wealth, is also worshipped on Akshya Tritiya. Offer prayers to an authentic Kuber Yantra to seek the blessings of the Lord of Wealth!

Devotees also offer prayers to Lord Shiva, Parvati and Lord Ganesha and worship them wholeheartedly to seek their divine blessings on this auspicious day. Get a properly made Ganesha Yantra and religiously offer prayers to find success in life.

Many people conduct Jaa, Tap, Havan, Yagya and help the needy on Akshya Tritiya so that they are blessed with imperishable Punya.

Chant Lakshmi Narayan Mantra and worship Lord Vishnu and Goddess Mahalakshmi together on this Akshya Tritiya to increase your wealth and prosperity. You may also worship Meru Prushth Shree Yantra and be blessed by the Goddess Lakshmi.

If you want to sort out problems on the financial front, please avail Wealth Ask 3 Questions at the earliest.

The GaneshaSpeaks Team