Invite Wealth and Prosperity on Akshya Tritiya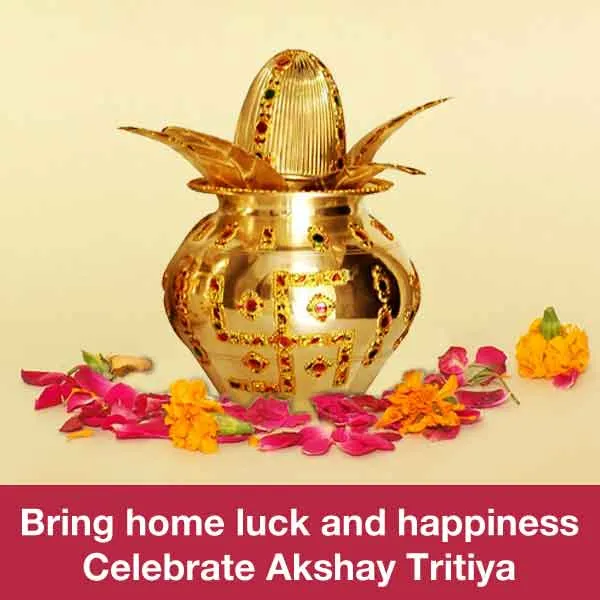 Akshaya Tritiya is an auspicious Vedic occasion – a very sacred Vedic Muhurat – associated with ever-lasting harmony, happiness, peace and prosperity. Akshaya means eternal! So, anything that is brought home on this day is said to last forever. Akshaya Tritiya is a day when one can buy anything lucky or auspicious, and it will forever grow and give excellent results.
The reason why people prefer to buy gold on this day comes from the association of gold with wealth. Gold is a symbol of prosperity which makes people buy gold on Akshay Tritiya. Buying gold on this day signifies that their prosperity would never diminish.
Will you prosper in the year 2023? Know with your Free Personalised 2023 Report!
---
Importance Of Akshaya Tritiya
Akshaya Tritiya, also known as Akha Teej, is celebrated on the Tritiya (third day) of the Vaishakh Shukla Paksha and bears great significance in the Hindu calendar. This year it falls on April 22, 2023. The word Akshay means imperishable, inexhaustible. This is one of the three and a half pious Tithis in the Hindu calendar on which any auspicious event, be it a wedding, yajna, charity, buying of gold and property or a project, can be initiated without taking into account any other Muhurat. It is also believed that good deeds carried out on this day never go wasted.
It is advised to remain calm and happy on this day, do some good deeds, make donations and buy something precious, preferably precious metals; lucky talismans like Yantras, idols among others, may also be bought on this day and instituted at home/office premises.
---
Akshaya Tritiya 2023: Date, Time & Muhurats
This year, Akshaya Tritiya – the festival of wealth will be observed on April 22, 2023, Saturday.
Tritiya Tithi Begins – 07:49 AM on April 22, 2023
Tritiya Tithi Ends – 07:47 AM on April 23, 2023
Akshaya Tritiya Puja Muhurat – 07:49 AM to 12:20 PM (4 Hours 31 Mins)
---
History Of Akshaya Tritiya
According to Hindu mythology, this day marks a lot of significant events.
Akshaya Tritiya is celebrated as the birthday of Lord Parshuram, the sixth incarnation (avatar) of Lord Vishnu.
Lord Krishna had freed His childhood friend, Sudama, from poverty on Akshaya Tritiya.
It is believed to be the day on which Treta Yuga began.
During the course of their Vanvaas, Pandavas were presented an Akshaypatra, a utensil that would always have some food in it, by Lord Krishna.
Maharishi Ved Vyas started to compose Mahabharata, which was penned by Lord Ganesha on Akshaya Tritiya.
Kuber had worshipped Lord Shiva on this day, in Shivapuram, and had gotten back his riches and prosperity.
Legend has it that the holy River Ganga descended on Earth on Akshaya Tritiya.
In Orissa, the preparations for building Ratha for Ratha Yatra are initiated on Akshaya Tritiya.
On this auspicious day of Akshaya Tritiya, get the divine blessings of Lord Kuber, the Lord of Wealth, by installing Kuber Yantra.
---
Rituals For Akshaya Tritiya
Devotees take a sacred bath on the river Ganges on this day.
On this auspicious day, devotees also offer prayers to Lord Shiva, Parvati and Lord Ganesha and worship them wholeheartedly to seek their divine blessings.
Many people also perform spiritual activities like Tap, Havan, Yagya and help the needy on Akshaya Tritiya so that they are blessed with good fortune.
Chant Lakshmi Narayan Mantra and worship Lord Vishnu and Goddess Mahalakshmi together on this day to increase your wealth and prosperity.
---
Wrapping Up
It is not only gold that, if bought on Akshaya Tritiya, brings prosperity. There are many other rituals that, if performed on Akshaya Tritiya, blesses with health, wealth, and prosperity. Consult our Expert Astrologers now to know what others things, if purchased on this auspicious day, helps you bring prosperity into your life.
---
---
Get 100% Cashback On First Consultation