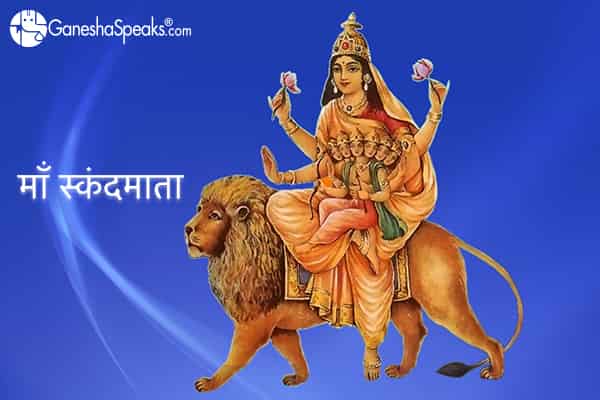 (Image Source: Internet) 
Maa Skandmata Is Shown Carrying Her Infant Child Skanda 
Goddess Skandmata is the fifth avatar, amongst the nine Shakti Roopas. She will be worshipped on the fifth night of Navratri i.e. 13th October 2018. Maa Skandmata is also known as Parvati, Maheshwari and Gauri. She is named Skandamata, as this goddess is the mother of her child Skanda. 
By Pleasing Maa Skandmata, Even A Fool Can Become A Master 
She rides a lion and holds her son Skanda in her lap.  Maa Skandamata has three eyes and four arms. She holds lotus flower in two hands, while the other two hands display defending and granting mudras, respectively. It is said that by pleasing Maa Skandmata, even a fool can become the master of knowledge. You can attract the special grace of Goddess Durga and fill your life with happiness. We have the means for you.
Buy and worship the Meru Prushth Shree Yantra - Golden Plated and see the difference happen in your life
.  
Goddess Skandmata Grants Salvation To Her Unfailing Devotees 
On this 5th day of Navratri 2018, the devotee's mind reaches Visuddha Chakra and stays therein. At this stage, the mind of the worshipper remains extremely calm. All the desires of the devotee will get fulfilled by worshipping the goddess in the form of Maa Skandmata. Besides, it also opens the path of salvation for the devotee. Moreover, as she is the presiding deity of Sun god, Maa Skandmata bestows an extraordinary glow and radiance on her devotees. If you take the the help of Astrology, your stars can shine bright. We have it for you.
Buy the Premium Janampatri Report, get your life analysed and surge ahead
. 
Other Celebrations On This Day:
2018 Saraswati Avahan 
The first day of Saraswati Puja during Navratri Puja is known as Saraswati Avahan. Avahan means invocation of Goddess Saraswati. It falls on the fifth day of Navratri.
Saraswati Avahan Puja Time 
Mula Nakshatra Avahan Muhurat = 15:53 to 18:11
Duration = 2 Hours 18 Mins
The Mantra And Other Facts About Maa Skandamata:
Maa Skandmata Dhyan: Simhaasangata Nityam Padmanchita Karadvaya Shubhdastu Sada Devi Skandamata Yashasvini. 
Skandamata Mantra: Om Hreem Sah Skandamatraye Namah. (Chant it 108 times). 
Colour of the fifth day: Cream colour. 
Prasad of the fifth day: Shrikhand with Kesar Pista. 
Governing Planet: It is believed that the planet Budha is governed by Goddess Skandamata.
With Ganesha's Grace,
Acharya Agastya
Subscribe Our Newsletters