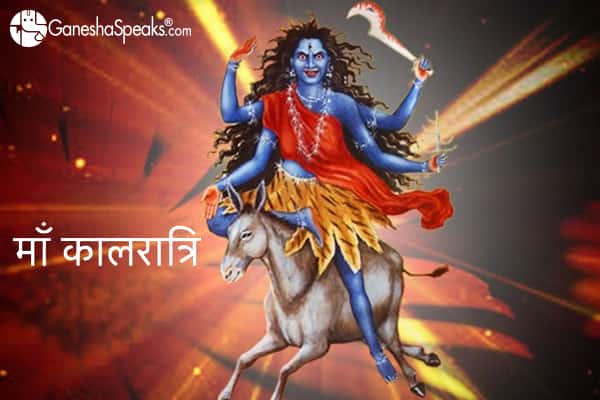 (Image Source: Internet) 
Maa Kaalratri Is The Destroyer Of Darkness And Ignorance 
The seventh avatar or form of Maa Shakti is Goddess Kaalratri.  She will be worshipped on the seventh day of Navratri 2018 or 16th October 2018.  She is also known as the destroyer of darkness and ignorance, as Kaalratri is the enemy of darkness. The looks of Maa Kaalratri are extremely frightening, but the effect of her appearance is always auspicious. For this reason, she is also named as Subhankari i.e. conducive to success. Goddess Kaalratri has a dark coloured skin and her hair is uncombed. A necklace which flashes like a lightning adorns her neck. Maa Kaalratri has three round eyes, that are in the form of cosmic egg, which always emit some rays.  
Flames Appear When Goddess Kaalratri Inhales And Exhales
Fearful flames appear when she inhales or exhales air through her nostrils. Maa Kaalratri uses donkey as her vehicle. The right hand of this goddess is always raised and the gesture indicates that she is granting boons to one and all. The lower right hand of Maa Kaalratri is in the pose of dispelling fears of her devotees. Whereas, her left upper hand holds a thorn-like weapon made of iron, and in the lower left hand Maa Kaalratri holds a dagger. The form of Goddess Kaalratri is scary. But her love is pure and infinite. You have the option to better your business prospects by winning the grace of this Goddess.
Buy the Vyapar Vrudhhi Yantra Golden Plated and worship it
. 
Devotees Can Win All The Siddhis By Worshipping Maa Kaalratri
Worshippers of this goddess are not afraid of fire, water, wild animals, enemies and darkness. Maa Kaalratri destroys the Danavas, Daityas, Rakshasas, Bhoots, Prets, and all other evil spirits. On the 7th day of Navratra, the mind of the worshipper reaches Sahasrara Chakra. For such devotees, the door of all Siddhis of the universe starts opening. On this day, all the sins of the worshipper are washed out. Moreover, all the hurdles on the path of the worshipper are completely destroyed by Maa Kaalratri. There are plenty of problems in life. The grace of God and handling the planets in a proper manner can lessen the problems in life. Are you facing hurdles in career due to planet Jupiter? You can get them removed.
Buy the Jupiter Transit Report For Career
.
The Mantra And Other Facts About Maa Kaalratri:
Maa Kaalratri  Dhyan: Ekveni Japakarnapura Nagna Kharasthita Lamboshthi Karnikakarni Tailabhyakt Sharirini Vaampaadollsalloh Latakanthakabhushana Vardhan Murdhdhwaja Krushna Kalaratrirbhayankari. 
Maa Kaalratri Mantra: Om Kaalratri Deviye Namah.  (Chant it 108 times). 
Colour of the seventh day:   Sky Blue or Grey colour. 
Prasad of the seventh day:  Vada made from urad dal. Also offer Madhupaak, i.e. mixture of curd and honey.
Governing Planet:  It is believed that the planet Shani is governed by Goddess Kalaratri.  
With Ganesha's Grace,
Acharya Agastya
Subscribe Our Newsletters