Alia Bhatt & Ranbir Kapoor Marriage Astrology: What Future Holds?
Published on April 9, 2022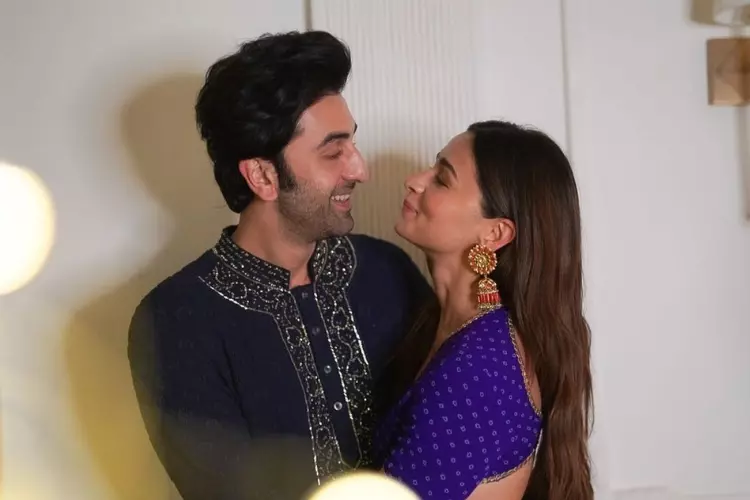 After dating for more than four years, Ranbir and Alia are finally getting married, and it is happening soon! If Alia Bhatt's uncle Robin Bhatt is believed, Alia Bhatt and Ranbir Kapoor's Marriage will take place on April 14, with Alia's mehndi on April 13! Here's our astrological analysis of Alia Bhatt and Ranbir Kapoor's wedding, which will take place at Ranbir's home, Vastu.
If you have someone special in your life, you can understand your astrological compatibility with them with your Free Love Horoscope Report!
Now without further ado, let's see what the stars predict about Alia and Ranbir's marriage.
Ranbir Kapoor Alia Bhatt Married Life Predictions
Everybody is eager to know how Alia Bhatt and Ranbir Kapoor's compatibility stands the test of time. To understand what they will bring to each other's lives, it is time to analyse their birth charts.
In both Alia Bhatt and Ranbir Kapoor's horoscope, Venus, the planet of love, is situated opposite each other. Because of this placement, they both seek relationships full of love and depth. A strong karmic bond of the marriage can be observed in this relationship.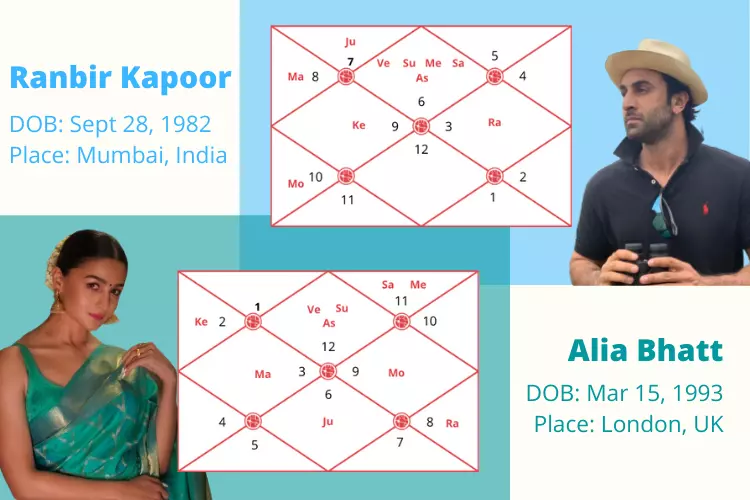 Analysing the placement of planets in both their chart, marital strength seems above average. Both Alia and Ranbir are likely to enjoy the same bond they share with each other's family members, too. Even financially, things are looking promising for both the actors.
One thing to remember is that Ranbir Kapoor is currently passing through the last phase of Sade Sati, which comes with its own set of emotional conflicts and mental disturbances in life. Therefore, he needs to be careful about them! You can also find out if you are under the influence of Sade Sati or not with your Free Sade Sati Report.
So what does the future hold for Ranbir and Alia as per astrology? Well, the upcoming three years are likely to remain a little sensitive. They may need to find that sweet spot between personal and professional life. Their Natal Moons sit in a semi-sextile aspect (Alia's moon is in the Sagittarius, whereas Ranbir's moon is in Capricorn). This can bring conflicts in the long run due to their 'self-driven' mentality.
Career Predictions of Alia Bhatt After Marriage
The time after marriage looks to be good for Alia's career. She is likely to be full of ambitions and has a clear objective for her career. She may succeed in creating a lasting impression on others. She is likely to get a major break in large-scale projects. Good news for the folks who love to see her in various advertisements, too, as she may land many promotional contracts after marriage.
As the time passes, it is likely to be a good time for new contracts and opportunities. However, some of the future projects can also turn out to flop if she isn't careful about choosing the right project.
Are all the talks of Alia Bhatt and Ranbir Kapoor's marriage getting you excited about yours? Find out how many gunas match between you and your partner with your Free Kundali Matchmaking.
What Do Stars Plan for Ranbir?
The marriage may bring a lot of expansion and growth to Ranbir Kapoor's career. He is likely to plan his future intelligently and find more clarity in his strategies.
After 2025, the influence of Saturn can prove to be lucky for him. Something unexpected may come his way. However, this time can also test his patience. During this period, he is likely to remain optimistic and confident. And at the same time, he may understand his limits to avoid overcommitting. A well-planned life with thoughts neatly organised awaits Ranbir Kapoor after marriage.