Will Chennai Express match the expectation? Not really, says Ganesha
After creating magic in the 2007 Bollywood magnum opus Om Shanti Om, Shahrukh Khan and Deepika Padukone are back in action as the lead pair in the forthcoming Chennai Express. The awaited and aggressively promoted film is due for an Eid release on 9th August 2013. There has not been a major, star-studded Hindi release in quite a few weeks, especially if you discount the inspiring Bhaag Milkha Bhaag! Plus, this would be Deepika's next after the 2013 big-hit Yeh Jawaani Hai Deewani. Thus, naturally there are huge expectations from this action-comedy. Besides, being slated for release for the usual domestic and international markets, it is also all poised to release in non-traditional international markets such as Peru, Morocco, France and Israel amongst others. And, that's not all! Even before its release, Chennai Express has had its share of controversies, with Maharashtra Navnirman Sena (MSN) threatening to stall its release, as the movie distributors had demanded prime slots in single screen cinemas, thereby perceived to dislodge popular Marathi films.As they say – all publicity is good publicity – Will this extra impetus add to the film's business? Also, what lies ahead for this film? Will Chennai Express live up to all the hype surrounding it? Will the film manage to cross the 100 crore mark? And, most importantly, will this film resurrect King Khan's career? Ganesha finds out…
'Chennai Express' Release time chart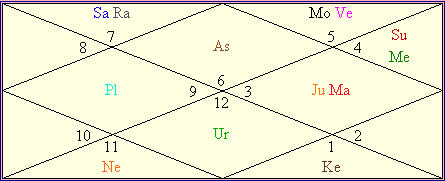 Astrological observations
Ganesha observes that the film Chennai Express is going to release with the Virgo Ascendant and Moon in Leo, Purvaphalguni constellation.
Jupiter and Mars are placed in the 10th House of its release chart.
Jupiter is in the Anyo Anya Uchcha Yoga, because it is posited in Gemini – the Sign ruled by Mercury. And, Mercury is placed in Jupiter's Sign of exaltation. Same way, Mars is getting debilitated by an exchange, because it is placed in Mercury's Sign and Mercury is in Mars' Sign of debilitation.
Saturn and Rahu are placed in the House of finances.
Sun being the 12th House's Lord is placed with Mercury – the Lord of the Ascendant and the 11th House.
Astrological predictions
Considering all the factors mentioned above, Ganesha feels that the film Chennai Express shall receive a warm welcome at the box office.
The advance-booking score would be very high.
The film's first day's business and the first weekend's business in India and in the overseas markets shall be good.
However, this does not imply that Chennai Express will become a very big hit. Yes, this film looks set to bag good money in the first weekend, especially in the absence of any knock-out competitors.
However, as soon as it crosses Monday, we may see a notable decrease in the film's business, and by end of the first week, the business may come down remarkably.
Despite this, this movie's business abroad may continue to be good, feels Ganesha.
Overall, although this is a very big release, astrologically speaking – Chennai Express doesn't have a great potential to be a big blockbuster.
Still, Ganesha wishes loads of luck to this endeavour.
With Ganesha's Grace,
The GaneshaSpeaks Team