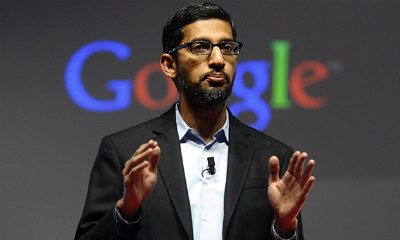 Ganesha's peek into the future of Google's-man-who-gets-things-done shows bright sparks of geniuses that will help him achieve all that he sets out to do, much like his past. Like life, there would be troubles, but then, for Pichai, the road to CEO wasn't exactly a cake walk. His planets foretell a tale yet to be narrated. Read on....
Who does not know Sundar Pichai! Right from his two room apartment, to his middle class beginnings to his meteoric rise, every kid or aspiring techie would have his stats by heart, by now. And, recently Sundar fueled many a Silicon Valley dreams, as he was announced the CEO of Google.
Ganesha offers insights into Sundar's future, which are largely positive, much in sync with his past. He also does a deep dive in the inspirational techie's Solar Horoscope to say what spectacular planetary positions helped him rise to the top....
Date of Birth :- 12th July, 1972
Time of Birth :- Not Known
Place of Birth :- Chennai, Tamil Nadu, India
SOLAR CHART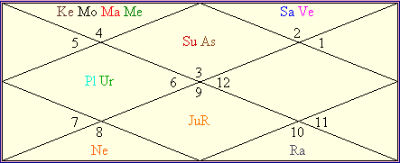 [Sundar Pichai's astro analysis and predictions are based on his Solar Horoscope (Surya Kundli), which was created basis his Birth date and place, as his Birth time is not available.]
Astrological Readings
A Stellium of Moon, Mars, Mercury and Ketu is placed in the Zodiac Sign Ketu in Pichai's Chart.
Moon's conjunction with Mars in Cancer gifts Pichai the determination or doggedness, he is likely to posses for such a role. This conjunction shall also give him dedication, confidence, ambition and leadership skills.
Moon's conjunction with Mercury in Cancer, further, gifts him a sound logic and an ability to tackle various issues with a stable state of mind.
The very same planetary combination of Moon-Mars-Mercury bestows Pichai with a visionary personality and superb imagination./ innovativeness.
The Opposition aspect getting created between Venus and Neptune in Pichai's Chart gives him the ability to stand out from the crowd, by the ways of his ideas and imagination.
Astrological Predictions
Buoyed by the transit of Jupiter, the new Google CEO will be able to make realistic decisions in the near future, feels Ganesha. His plans will largely be practical, implementable and overall positive.
Ganesha also predicts that Sundar shall be able to overcome his competitors by introducing full-proof, innovative, workable and effective items, products and systems for Google, as its lead in-charge.
This would be possible, thanks to the positive effect of Jupiter transiting through Leo, aspecting Sundar's own Jupiter till 11th August, 2016. In his Solar Horoscope, Jupiter is Natally the Lord of the House of Success/Profession, which is a very favourable aspect, destined to help Mr. Pichai all through his career.
Planet-wise...
The ongoing transit of Jupiter through Leo will be positive and favourable for Sundar Pichai, as the CEO of Google.
Fortunately, he will gain more confidence and his acumen will get sharper even more, post 11th August 2016, once Jupiter starts its transit through Virgo. This transit will be even more fruitful for him.
The only minor hiccup, he would need to guard against shall be the current transit of Saturn till January 2017. Since the transiting Saturn (through Scorpio) is currently aspecting his Natal Saturn, which is the Lord of his Fortune House, things may be tough for him, till this transit operates.
Also, the transiting Saturn has been aspecting Sundar's Natal Venus, which is the Lord of his House of Performance. Both the planets are posited in the 12th House in Pichai's Chart.
Plus, the malefic Rahu is posited in the 8th House in his Solar Chart.
Non-Sundar Times, in between....
Ganesha, however, also feels that Sundar may experience certain struggles and hardships. Mr. Pichai will need to take care of his health. He may struggle with his performance. His fortune will play an important part in his stint as the Google CEO. Ganesha feels that his path may be a bit tough, but that's a given at such a position. Isn't it?
However, for someone who came with no baggage, the road was never easier. Ganesha offers his blessings helping Sundar take the tough road, and wishes he overcomes the hurdles and comes out successful. Of course for this success, Sundar will have to systematize his activities without becoming over-confident.
Some of his pet programs or policies may get delayed, but will be completed later. Ganesha reaffirms that patience will be a virtue for him, thus.
Sundar Strengths
Sundar will have to use his business techniques and capabilities of solving troubles wisely to prove his mettle. Overall, it is likely that Sundar will be able to strengthen Google's existing business relations. His acumen will help him forge new relations for the Google group.
Google Troubles...
Ganesha feels that Sundar will have to evaluate the system of controlling the business problems faced mostly from the external bodies, sources, companies, competitors and technologies.
Sundar Times Ahead?
Now, looking at his overall career Chart, Ganesha finds that Sundar Pichai, would progress well in the coming times, apart from facing certain obstacles, due to the adversities coerced by the transit of Saturn. Things shall get better for him for after August, 2016 and further after January, 2017 till late 2017.
Sundar's in-depth past and present experience in Google shall help him make innovative systems implementable, for which he may have been facing hindrances earlier. He will gain mastery in other aspects too, which will help him improve his company's international relations.
To be wary against...
Another tough period will start for him, post 18th August, 2017, when Rahu will be transiting through Cancer, over the Stellium of planets in Pichai's Chart in 2nd House. At this time, Ketu will be transiting through Capricorn, over Sundar's Natal Rahu, posited in his 8th House.
Ganesha forewarns that during this challenging phase, Sundar will have to be even more careful in maintaining professional as well as personal relations, his own health, Google's internal management problems, and also while taking decisions on crucial matters. In this time, he may have to face stressful situations, and his well-being will need careful guarding. Of course, the operating transit of Jupiter at that time will play an important role in protecting him.
Ganesha wishes a great time ahead to Sundar Pichai.
With Ganesha's Grace
Rantidev Upadhyay and Kashyap Rawal