Venus In Sagittarius: What To Expect From The Artist's Transit Through The Sign Of The Optimist?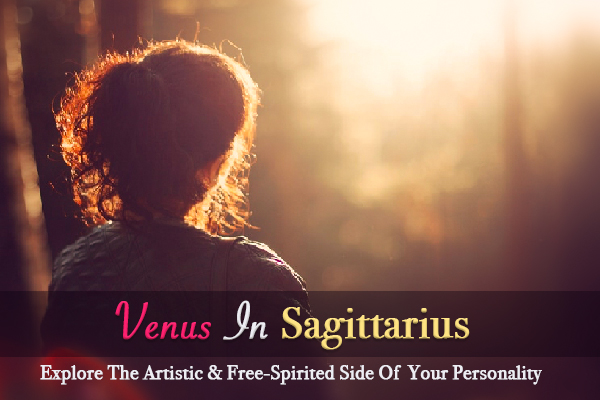 Aries
Ganesha's Astro-snippet for the Rams:
"Explore the 'social networker' within you and enjoy the new surge of finances."
Ariens, you can't ask for anything better! A key planet transiting through the House of fortune is likely to bring a lot positive news for you. Financially, you will
remain lucky
! You may come across new earning opportunities in this period. If any of your family members, relatives, or friends live abroad, it's the right time to connect with them. Business travel will be fortunate as the meeting or discussion with your boss or partners will let you accomplish important projects. Long distance travels, mostly fruitful, especially with your spouse or business partner seem to be in the offing for you.
Taurus
Ganesha's Astro-snippet for the Bulls:
"Just boost your self-confidence and your partner will fall in love"
Take very good care of your health, Taurians. It would be better to get a normal check-up done, so that you will be able to nip any problem in the bud. Do not worry about your finances as there may be sudden gains and even problems related to
inheritance
are likely to get sorted out. You tend will to enjoy privacy as usual and may develop an interest in occult and mysticism, foresees Ganesha. Good news is that sexual passions may run high and you may be able to enjoy great pleasures. This is a good time for newly married couples.
Gemini
Ganesha's Astro-snippet for the Twins:
"Make the best use of this period to enhance the partnership/s sphere – be it business or romantic."
Ganesha says that you are likely to be at your
romantic
as well as charming best during the upcoming days. Relations with your spouse as well as business associates are likely to improve. This will be a very good time for businessmen as interactions with clients will be very pleasant and new avenues would open. Those unmarried and wanting to tie the knot may get a suitable match and the desire to go for love marriage would be higher. Ganesha is waving the green flag for you to get down on your knee and propose to that someone special. Irrespective of your gender, you are likely to spend a lot to woo your female friends.
Cancer
Ganesha's Astro-snippet for the Crabs:
"This phase will be all about enjoying your daily routine."
By the blessings of planet Venus, you are likely to enjoy a
comfortable phase
and you will be able to go about your routine in happy and joyful manner. You will see things working out smoothly and this will give you happiness. You are likely to indulge in shopping, spend on luxuries and invest in beautifying your living space. Arts, entertainment or fun-filled activities will become an important part of your personal routine now.
Leo
Ganesha's Astro-snippet for the Lions:
"Creativity will take centrestage."
Leo lions, you are in for a creatively enriching phase and if you have been nurturing artistic ambitions, then, you may find some breakthrough in this phase. Fun with creativity will be the highlight during this phase. You will get the opportunity to be a part of a refreshing and entertaining event or program. Ganesha says that the time is ripe for
love
– yes, go ahead and express yourself, there are high chances of success.
Virgo
Ganesha's Astro-snippet for the Virgos:
"This time will all about fulfilling your inner desires."
You are likely to pour all your efforts, energies, and expenses in arts and creativity. You will feel like an interior designer. Really! It's a good time to renovate your home, suggests Ganesha. If you have been planning to give your living space a makeover or a get your vehicles repaired, then this is the time. Know how to invite greater wealth by
asking a question
.
Libra
Ganesha's Astro-snippet for the Scales:
"Enjoy the magical bond with your siblings."
Dear Libran charmers, listen to "I just wanna feel this moment" by Christina Aguilera as it will perfectly explain the mood you are going to be in. You will be creatively more expressive during this period. There will be an improvement in the relationships with your
siblings
. There are high chances of short-distance fun trips.
Scorpio
Ganesha's Astro-snippet for the Scorpions:
"Foreign associations are likely to enhance your fortune."
There will be handsome gains on account of your spouse or you can even expect some special presents or gifts from your loved one. This is the best time to bond with your close ones and maintain a develop a harmonious relationship with family members. There is some more good news for you – calls from your acquaintances abroad are on the cards. Your
business partner
will play an instrumental role in bagging some profitable deals. If your business has operations in foreign territories, then you can expect some good profits.
Sagittarius
Ganesha's Astro-snippet for the Archers:
"Time to get a makeover."
During this period, you will be able to attract people of the opposite sex and you will be able enjoy some pleasant interactions with them. This is really a great time to
rediscover yourself
and spruce up your appearance, suggests Ganesha. You can go for a complete makeover or develop a new fashion sense. This will be a period to cater your innermost desires and to indulge. Venus will also make you spend on new apparel or cosmetic products.
Capricorn
Ganesha's Astro-snippet for the Goats:
"Happy long distance travels in the offing."
During this phase, you will not mind spending on luxuries and expensive products, as the only thing that will matter to you is enjoyment. There is a possibility of setting out on a long distance travel or even foreign trip related to your work. Those wanting to go abroad for studies will get a
breakthrough
. There are chances of you coming across someone interesting in the upcoming days.
Aquarius
Ganesha's Astro-snippet for the Water bearers:
"Foreign collaboration and smart investments in expensive projects will enhance your social reputation and prestige."
Foreign trips may enhance your fortune, foresees Ganesha. Plus, foreign collaborations, whether it is a joint venture or a strategic alliance, will benefit you intellectually as well as financially. You will be recognized as an influential person through this foreign partnership. Ganesha advises that this is going to be the ideal phase to spend for your long desired dreams. If you have been planning to buy a new house or property than you can go ahead in this phase. Just
ask a question
to our expert astrologer and change your fortune.
Pisces
Ganesha's Astro-snippet for the Fishes:
"Your relations with seniors will get enhanced."
You should be grateful to Venus, Pisceans as there will be a boost in your relationship with superiors and father. Short distance travels related to job or business with your boss will bring a smile on your face. You will not only please
your seniors
this time but also be able to develop new dimensions to your work or business. This will be a good time for those in creative fields.
With Ganesha's Grace,