Traditions Of Eating Khichdi On Makar Sankranti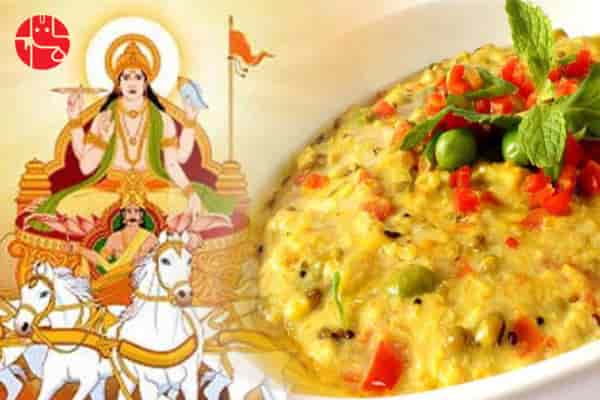 Know why there is a tradition of eating khichdi on Makar Sankranti
Makar Sankranti has great importance in Hinduism. The days start getting longer as the sun sets in the north. Donating sesame on this day has religious significance, so eating khichdi also has a different significance. This is the reason that in some places, especially in Bihar and Uttar Pradesh, Makar Sankranti is also known as 'Khichdi'. Here we will know what is the importance of Khichdi on the day of Makar Sankranti.
Khichdi your form many
Makar Sankranti is known as Khichdi in many places and Khichdi is eaten on this day.
In Kerala, Andhra Pradesh and Karnataka it is called Sankranti. Pongal in Tamil Nadu is celebrated as Lohri in Punjab and Haryana.
In Assam, there is an old tradition of eating khichdi on the day of Makar Sankranti in Bihar, Jharkhand and West Bengal in the form of Bihu.
Baba Gorakhnath started the tradition of Khichdi
It is believed that Baba Gorakhnath had the tradition of making khichdi on Makar Sankranti. It is believed that the Nath Yogis could not get time to cook due to constant conflict with Khilji. Because of this, these yogis often went hungry. Seeing the condition of the yogis, Baba Gorakhnath advised to eat cooked pulses, rice and vegetables together. Just this delicious dish is ready. It was also very simple to make. Later, when the yogi was successful in driving away Khilji, he made this important food on Makar Sankranti and offered it, it is said that since then such a tradition started.
astrological significance of khichdi
There is a mythological belief of Khichdi on the day of Makar Sankranti. Khichdi is specially eaten on this day.
Khichdi has been given the name of digestible food in Ayurveda. It is also like medicine for health. Sometimes doctors advise patients to eat khichdi.
In Ayurveda, rice is considered as the form of Moon. In the scriptures, rice has been considered as the symbol of Moon and black urad dal as the symbol of Shani. Similarly, turmeric is considered a symbol of Jupiter and salt as a symbol of Venus. Apart from these, green vegetables are related to Mercury. The heat of Khichdi connects the person with Mars and the Sun. Eating khichdi in this way strengthens all the major planets. It is believed that eating khichdi of new food on the day of Makar Sankranti brings health throughout the year.
With the blessings of Ganeshji,
ganeshspeaks.com