Great combination of Mars, Jupiter and Ketu, problems will increase for Libra, do these measures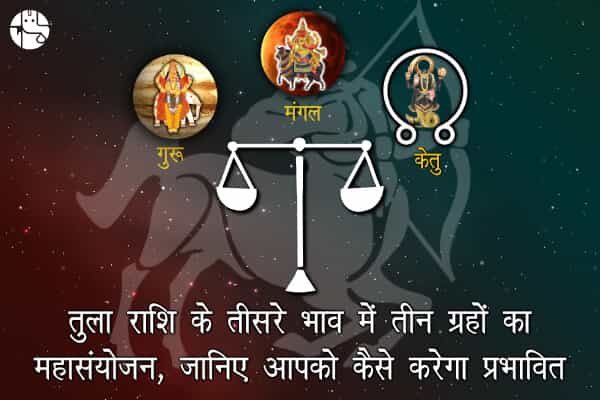 The planets moving in the twelve known zodiac signs in the universe sometimes converge in a single zodiac under certain circumstances. In astrology, such a special coincidence is considered very important and effective. When a planet is in conjunction with another planet, the combined effects of both affect that zodiac sign and other signs of the zodiac. This special circumstance of traveling with other planets in the same zodiac while revolving on its periphery in the solar system works to affect many important areas of the life of the native. The position of these planets in the horoscope, that is, in which house of the horoscope these planets are being combined, and with which planets the planets are doing yoga, also has special significance. During this period, if there are smaller and less dominant planets with strong planets, and if there is a combination of equally strong and dominant planets, then the effect is calculated differently.
As soon as Mars transits in Sagittarius on 8th February, the adjustment of Jupiter, Ketu and Mars in Sagittarius is going to start. The Mahasanjan, which is being prepared on 8 February 2020, is going to be effective till 22 March. During this time, many types of favorable or unfavorable effects will be seen on all the zodiac signs of this zodiac. The team of experienced astrologers from GaneshaSpeaks has studied the effects of the conjunction of Jupiter, Mars, and Ketu in Sagittarius on all the zodiac signs. For the time being, we are going to assess its effects on the Moon sign Libra Kundli. Air element sign is Libra, male cognition of Shudravarna, bipedal, Divabali, Prolonged, Shirrodaya, short delivery is odd. Libra is a variable nature sign and is ruled by Venus.
Career
The great conjunction of Mars, Jupiter and Ketu is happening in the third house of the Moon sign Libra. The third house of the horoscope is known as Parakram Sthan, and the conjunction of Mars, Jupiter and Ketu is going to happen in this house. The third house of the horoscope is related to courage, patience, might, friend, younger brother, short stay, transport, brokerage and important changes. From a career point of view, this great combination will have a favorable effect on Libra. During this you can successfully complete your tasks. However, during this time you should try to bring innovation and creativity along with improving your performance to make a positive impression on your superiors and higher officials. During this time, extra efforts may be required to get maximum results in the field of career.
Business
The combination of Mars, Jupiter and Ketu being prepared in the third house of Libra horoscope is going to affect your business as well. During this, you should present your ideas in front of people with patience. During this, you should try to understand their point of view while respecting the views of others. Understanding other people's views and perspectives can be beneficial and beneficial for you in many ways during this period. So be ready, be careful and be alert, come to a decision only after understanding things with patience.
Love Affair
Due to the combination of Mars, Jupiter and Ketu, a mixed effect will be seen on the love relations of Libra natives. During this, in some cases, there may be a rift with the partner, keep your voice low during the debate, otherwise the matter may even reach to a quarrel. During this time, adopting a practical approach about your relationship is going to be very beneficial for you. Try to spend more time with your partner during this time period, and try to make them feel special, this is likely to increase the love and trust in your relationship.
Personal and Matrimonial
The third house of the horoscope is known as the mighty house, it is related to the person's effort. With the combination of Mars, Jupiter and Ketu in the third house, you may have to face many emotional problems in your domestic and married life. During this time your emotional side is going to go through a very delicate situation. During this period you will feel emotionally uncomfortable, you will try to isolate yourself from others. During this time your intense desire will motivate you to get marital happiness, love and affection. Under the influence of Mars, Jupiter and Ketu, you should adopt a more serious and patient attitude towards your marital and domestic life.
Health
During the adjustment of Mars, Jupiter and Ketu, you are advised to be careful and alert in terms of health. During this, if proper precautions are not taken, then some basic problems may have to be faced in relation to health. During this time, you are going to put your energy in various fruitful works, but this hard work does not seem to yield proper results. You can feel mentally and physically tired due to doing many tasks at the same time. During the adjustment of Mars, Jupiter and Ketu, you have to take care of your eating and sleeping time, and try to carry out your tasks with patience.
To get your personalized solution, talk to an astrologer expert now!
With the blessings of Ganeshji,
Ganeshspeaks.com