The great combination of three planets being formed in the fourth house of Virgo horoscope will affect important areas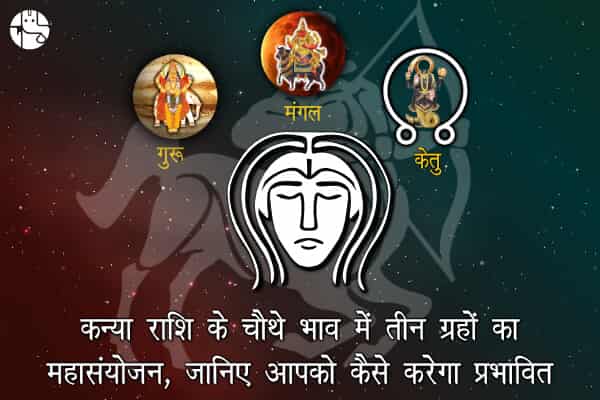 The zodiac change or planetary transit of the constantly moving planets is a continuous process. The change or excursion of these planets is called transit position. By studying this position in the horoscope on the basis of the Moon sign, the effects of these planets on the person can be assessed. Sometimes due to some special circumstance, two or more planets in a horoscope get together in one place or house. In astrologer such a situation is called Mahayuti or combination of planets. When there is a Mahayuti or conjunction of planets in a horoscope, then that particular circumstance is seen to have a deep and uncertain effect on the life of the native.
At present, one such Mahayuti is going on in Sagittarius, but with the entry of Mars in Sagittarius on 8th February 2020, the number of planets in the ongoing Mahayuti in Sagittarius will become three. The team of experienced astrologers from GaneshaSpeaks has studied the effects of the conjunction of Jupiter, Mars, and Ketu in Sagittarius on all the zodiac signs. For the time being we are going to assess its effects on Virgo. The zodiac sign of the earth element is female cognition, biped, divination, long, head, short birth sign. Virgo is a dual sign and its lord is Mercury. The combination of Ketu and Jupiter being prepared in Sagittarius is going to be converted into a great combination with the arrival of Mars. This great combination of three planets is going to happen in the fourth house of the Moon sign Virgo. The fourth house of the horoscope, being a place of happiness, is related to mother, happiness, house, vehicle, land, craving, longing, ambition and immovable property.
Career
The adjustment of three strong and dominant planets in the happy place of the horoscope is going to have a negative effect on your career or professional life. During this time, you will have to make some innovative and serious efforts to move forward on the path of progress in job or professional life. During this great conjunction of three planets, you need to be careful while taking precautions, because during this time your enemies can create difficulties in your path. You may also become a victim of slander or extravagance during this Mahasanjan.
Business
During the conjuncture of Ketu, Jupiter and Mars being prepared in the fourth house of Virgo horoscope, very adverse effects will be seen on your business business. During which the adjustment of these three dominant planets is taking place at the happiness place of the girl's horoscope, along with this, both Mars and Jupiter will be giving special sight to the Karma place of the horoscope. The place of karma is related to business, business. During this time you may have to face tough competition in business. You may also have to cut your profits to get ahead of your competitors. During this time you may feel that despite your hard work, you are unable to get the desired results.
Love Affair
The Mahasanjan of Mars, Jupiter and Ketu is happening in the fourth house of the Virgo horoscope. There is no favorable effect of the great combination on the love relationship of Virgo people. On the horoscope, it appears that you have an idealistic approach in matters of relationships. Despite this, it is advisable to avoid some unpleasant conflicts during this period. Do not try to impose your views on your partner during this time. During this time period, you need to make sincere and sincere efforts to make your relationships stress free.
Personal and Married life
During the conjunction of Mars, Jupiter and Ketu, you will see radical changes in your behavior. During this time, when someone's point of view is completely different from yours in marital or personal life, you may get disappointed, and this will be very clearly visible in your day to day behaviour. Try to remain calm during this time, because if you do not do this then you are not going to fit into the larger social circle.
Health
The effects of Mars, Jupiter and Ketu being adjusted in the fourth house of the horoscope are going to give you suitable energy for physical labor. During this, you should try to complete such tasks, which require physical labor to do. During this time, confidence and positive energy will help you in completing the pending tasks which you have been postponing for a long time.
To get your personalized solution, talk to an astrologer expert now!
With the blessings of Ganeshji,
Ganeshspeaks.com