Worship our bachelor second incarnation on Day Two Navratri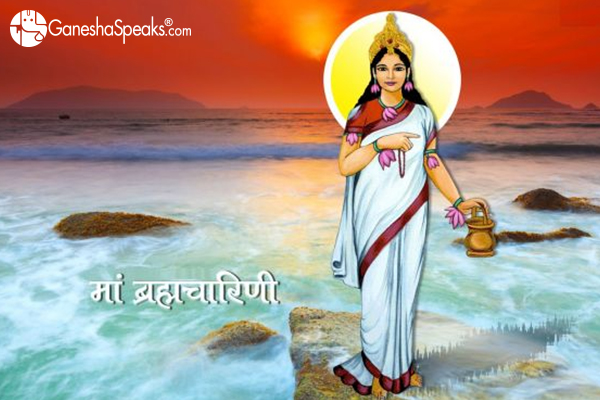 On the second day of Navratri festival, there is a law for the worship of Mother Brahmacharini. This year i.e. in 2023, she will be worshiped on March 23, 2023 in Chaitra Navratri and on 16th October 2023 in Shardiya Navratri. Maa Brahmacharini is a Bhagwati who behaves like ascetics. Brahma means penance and Charini means one who conducts. On the second day of Navratri, special worship of the mother should be done while observing the fast of celibacy.
The mother holds a rosary of chanting in one hand and a kamandal on the other day. Their clothes are like that of ascetics.
Kamandal and garland are adorned in the hands of Mother Brahmacharini.
There is a chanting rosary in the right hand of the mother and a kamandal in the left hand and it is believed that by worshiping and doing sadhna of Mother Brahmacharini, Kundalini Shakti is awakened. According to Hindu belief, Mother Brahmacharini is the daughter of Parvatraj Himalaya and Maina, who, on the behest of Lord Narada, did such a severe penance of Lord Shankar, due to which Brahma ji gave her the desired boon, due to which she became the wife of Lord Shiva. Maa Brahmacharini is capable of giving innumerable benefits to her devotees. To get the blessings of Mother Brahmacharini, buy Shree Yantra today.
It is believed in astrology that people whose moon is weak, they should worship Mother Brahmacharini. It is very beneficial for the students and ascetics to do the sadhna of Mother Brahmacharini. It is said that the mother was born as a daughter in the house of the Himalayan king. She did severe penance to get Lord Shankar as her husband. After thousands of years of severe penance, he got Lord Shankar in the form of his husband. The gods also praised this form of the mother and said that no one would have ever done such severe penance.
Blessings come by meditating on the chakra
On the second day of Navratri, the devotee should sit in a meditative position and focus his mind towards the Swadhisthana Chakra. A worshiper meditating on this chakra gets the desired object apart from the affection and blessings of Goddess Brahmacharini. This incarnation of the Goddess in the form of Maa Brahmacharini provides innumerable benefits to the devotee. By worshiping them, success and victory can be achieved.
Maa Brahmacharini Worship Method
Goddess Brahmacharini ji should be worshiped in this way. First of all, the deities and ganas and yoginis whom you have invited in the Kalash. Worship him with flowers, akshat, roli, sandalwood. Give them a bath with milk, curd, sugar, ghee and honey. Whatever prasad is offered to the deity. After prasad, offer Achaman and then paan, betel nut and do circumambulation of them. After worshiping the Kalash deity, worship Navagraha, Dashdikpal, city deity, village deity, in the same way. After all this worship Maa Brahmacharini. Bath the mother with Panchamrit. Offer clothes etc. Mother likes red flowers very much. Lastly, apologize.
You can chant this mantra
Or Goddess Sarvabhuteshu Maa Brahmacharini Rupen Sanstha.
Namasthasai Namasthasai Namasthasai Namo Namah.
Padmabhayam Akshamala Kamandlu by doing Dadhana.
Devi Prasidatu May Brahmacharinyanuttama.
Mantra – Om Brahma Brahmacharinyai Namah. Chant this mantra 108 times.
second day's color
Chaitra Navratri – Yellow
Sharadiya Navratri – Red
Second day's prasad – butter without sugar and salt
Also read about Maa Chandraghanta
Talk to astrologer for quick solution.