Is the crack on Jagannath Mandir Aruna Stambha inauspicious?
Published on September 6, 2022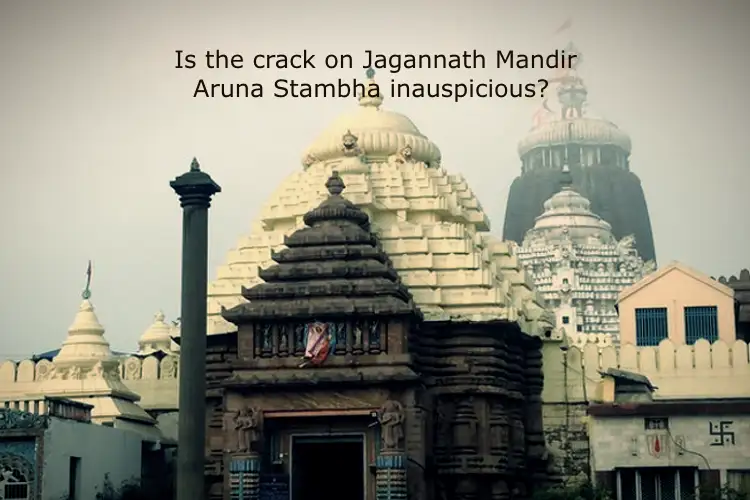 The iconic Aruna Stambha, a 16-sided 10 m tall monolithic chlorite stone pillar of Odhisa's Jagannath Temple, has developed cracks, much to the worry and anxiety of temple administration, devotees, and astrologers. While others are worried about the structure, GaneshaSpeaks predicts untoward incidents for the state and its chief minister.
The Pillar
Worshipped with great reverence by devotees of Lord Jagannath, the pillar with an idol of Aruna, the charioteer of Lord Surya, is about twenty feet away from the Singhdwara (Lion Gateway) of the Jagannath Temple in Puri. Historically, the pillar has been a significant landmark of Puri with pilgrims and devotees unfailingly worshipping it before proceeding toward the main temple complex. Top of the Stambha has Aruna with folded hands, praying to the Sun. History has it that the Aruna Stambha was brought from the Konark temple during the reign of Bhoi king Dibyasingha Deva II by the Maratha guru 'Brahmachari Gosain' and erected in front of Singhadwara. 
The Crack & Concern
Although the Archaeological Survey of India (ASI) has sprung into action to fill the crack and repair the structure, the incident is symbolic and points towards an untoward incident, GaneshaSpeaks predicts.  
The crack on the Stambha in the seaside town could bring bad news for Odhisha and/or its chief minister Naveen Patnaik.
The horoscope of Naveen Patnaik (DOB 16.10.1946, Cuttack) indicates that with sun sign Virgo and moon sign Gemini, he could experience poor health in near future. The man at the helm of affairs for more than two decades is predicted to be in poor health till January 2023. GaneshaSpeak predicts that the state could experience major devastation owing to a severe cyclonic storm during the lunar eclipse around November 8, 2022.
Talk to an Astrologer Now, First Consultation with 100% Cashback!