Effects of the Venus transit in Scorpio on Capricorn Individuals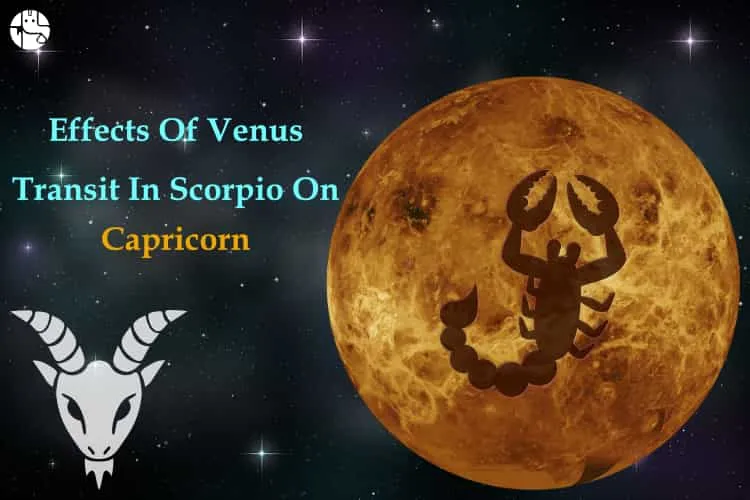 Venus, the planet of romance is transiting in a passionate sign, Scorpio on October 28, 2019. The transit of Venus in Scorpio is a time when individuals get close and deep in their personal relationships. Scorpio sign can't hold superficial things so the transit would urge individuals to take an honest look during the period. Honesty and closeness in relationships would be the major goals of this planetary transit.
The planet is transiting to the eleventh house in your birth chart of Janampatri. The house is the significator of gains, wealth, prosperity, the fulfillment of desires, friends, wishes, expectations and elder siblings. The transit will give beneficial results to Capricorn individuals in the workplace and personal life. Your long-awaited dreams and wishes would be fulfilled.
---
Effects of Venus Transit in Scorpio on Capricorn individuals
The transitory motion of the planet would bless you with the fulfillment of long-awaited wishes. For everything you have been dreaming about till now, this is the right period where the dreams will come true. You would be happy and satisfied during this period due to the fulfillment of your desires.
Your pending work would be accomplished. You would be highly focused and put effort into your work. Your sincerity and focus would help you to complete the current tasks as well as pending tasks if any.
The concentration and focus on work would give you profitable results. You can expect a promotion or salary hike during this period. Your sincere efforts, innovative ideas, dedication and effectiveness in work would impress senior officials. Your seniors and superiors would reward and recognize your sincere efforts and dedication towards the work.
Your communication and presentation skills would enhance during the transit period. Your innovative ideas and effective presentation would impress the client and they would sign a deal with you. New deals due to effective communication would be beneficial for business growth and expansion.
The sources of income are likely to increase. You are likely to earn income unexpectedly. Your funds would rise due to the sudden flow of income from new sources.
You would enjoy a cordial and harmonious relationship with your spouse. Your partner would understand you and support you during this period. There is hardly a chance of arguments and disputes between you and your partner. If there are any it would be for short term and will not create bitterness in the relationship.
(Also Read: Effects of the Sun transit in Libra on Capricorn Individuals)
You would travel for leisure and recreation. You would spend more money on leisure and comforts of life. You would spend quality time with your partner. You may plan a dinner or go for a long drive to some romantic and serene place.
You would be in a romantic mood and love would be in the air for you and your partner. You may plan a trip to your favorite destination with family for refreshment and leisure. The quality time you spend with your wife would strengthen your personal relationships and increase understanding between you and your partner.
The planet is transiting in an eleventh house which is a significator of siblings. The transit foresees cordial relationships with the siblings. There are feeble chances of arguments and disputes with siblings. Your siblings are likely to support you during the transitory motion of the planet.
The transitory motion of the planet would bless you with good health. No major health ailments are foreseen during this transit period.
The transit is a blessing for you and gives favorable results in major areas of life.
To Get Your Personalized Solutions, Talk To An Astrologer Now!
With Ganesha's Grace,
GaneshaSpeaks.com
---
---
Get 100% Cashback On First Consultation