Akshaya Tritiya 2023: About the tricks, muhurta and date of Akshaya Tritiya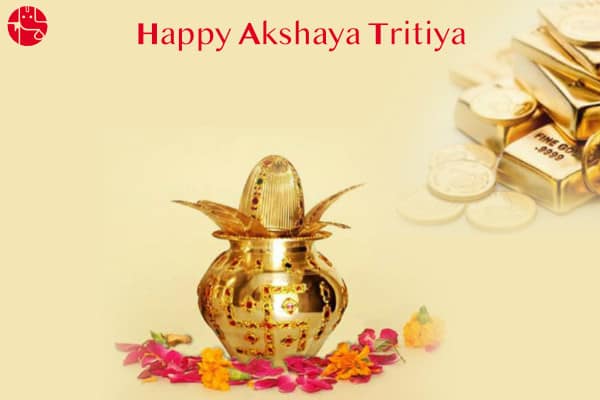 (Buy Shriyantra on this Akshaya Tritiya and fill life with happiness, CLICK HERE)
Vaishakh month has similar importance. The Tritiya Tithi of Shukla Paksha of this month is considered very auspicious and fortunate. This date is known as Akshaya Tritiya. This is an auspicious time. On this day you can do any auspicious work without any thought. This year i.e. in the year 2023, the festival of Akshaya Tritiya will be celebrated across the country on Saturday 22nd of April. The special thing is that on this day, after a decade, a special combination of four planets is also being formed, which can be beneficial for you.
You can contact our astrologers to know about the effect of planets according to your horoscope and to improve it.
Beliefs related to Akshaya Tritiya
Many beliefs, and stories are also associated with Akshaya Tritiya. It is also celebrated as Lord Parshuram Jayanti. Not only this, apart from Parashurama, the sixth incarnation of Lord Vishnu, the male and Narayan avatars of Vishnu are also believed to be on this day. Not only this, the belief of the beginning of Treta Yuga is also associated with this date. It is believed that by fasting and donating bath on this date one gets infinite results. The fruit of this fast is neither diminished nor destroyed, hence it is called Akshaya Tritiya. The deeds done on this day become renewable. Only good deeds should be done on this day.
Special combination of planets being made on Akshaya Tritiya
The special thing is that this year i.e. in 2023, a wonderful coincidence of Akshaya Tritiya is happening. This is happening after a decade. Earlier in the year 2003, such a combination of 5 planets was made and now in the year 2023, such a combination will happen once again, when the combination of 4 planets will be together. Overall, their impact on human life will be better. However, the effects of the planets may vary according to your horoscope.
You can contact our astrologers to know about the effect of planets according to your horoscope and to improve it.
Ttricks of Akshaya tritiya
On the day of Akshaya Tritiya, people try many tricks and remedies to get money etc. Here we are telling some remedies,
There is a law to buy gold and silver things on Akshaya Tritiya. You also want blessings, on this day, bring Lakshmi's feet of gold or silver and keep it in the house and worship it regularly.
On the day of Akshaya Tritiya, keeping 11 cowries in a red cloth and keeping them in the place of worship attracts Goddess Lakshmi. Like Goddess Lakshmi, cows have also originated from the ocean.
Worshiping Goddess Lakshmi with saffron and turmeric on the day of Akshaya Tritiya removes financial problems.
On the day of Akshaya Tritiya, by installing a single coconut at the place of worship of the house, the grace of Goddess Lakshmi is obtained.
On this day, water urn, fan, stand, umbrella, sattu, cucumber, cantaloupe, fruits, sugar, ghee etc. should be donated to Brahmins for the happiness and blessings of ancestors.
On this day cow, land, sesame, gold, ghee, clothes, cereals, jaggery, silver, salt, honey and girl are the importance of twelve daklikan.
A donation given to a servant gives one-fourth of the fruit.
Daughter donation is the most important of all these donations, that is why on this day people organize a special marriage ceremony.
Akshaya Tritiya festival date and time 2023
Saturday, 22 April
Akshaya Tritiya Puja Muhurta – 07:49 AM to 12:20 PM
Duration – 4 Hours 31 Mins
Tritiya Tithi Starts – 22nd April 2023 from 07:49 AM
Tritiya Tithi Ends – 23rd April 2023 from 07:47 AM
Auspicious time to buy gold
On 22nd April – 07:49 AM to 05:48 AM 23rd April (21 Hours 59 Mins)
Morning Muhurat 

(Shubha)

 – 
07:49 AM

to 

09:04 AM
Afternoon Muhurat 

(Chara, Labha, Amrita)

 – 
12:20 PM

to 05

:13 PM
Evening Muhurat 

(Labha)

–
06
:51 PM

to 

08:13 PM
Night Muhurat 

(Shubha, Amrita, Chara)

 –
09
:35 PM

to 

01:42 AM, Apr 23
Early Morning Muhurat 

(Labha)

 –
Apr 23
04:26 AM

to 

05:48 AM, Apr 23
With the blessings of Ganeshji,
ganeshspeaks.com