Chanda Kochhar's resignation and ICICI Bank shares: Astrologer's assessment
Chanda Kochhar, who was implicated in the Videocon case, finally resigned as the CEO of ICICI. Sandeep Bakshi has been made the new CMD of the bank in place of Chanda Kochhar. Shares of ICICI Bank have gained almost 5 percent as soon as the news of Chanda Kochhar's resignation broke. This made the buyers very happy in the stock market. If we look at the signs of the planets, then this event was predicted long ago.
Challenging for ICICI
If we look at the horoscope of ICICI Bank, then the planetary positions there indicate challenging times for the company. It is important for a bank that Mercury is situated in a good place in its horoscope. Not only this, apart from Mercury, Jupiter, the ruler of finance, also needs to be very strong. Mercury is in conjunction with the negative planet Rahu in ICICI Bank's horoscope. Jupiter is in debilitated Capricorn. However, Venus is located quite well and as a result, the company is handling the challenges well. Had Mercury been strong, the bank would not have seen such ups and downs. In the coming days, the bank will have to work hard to establish its trust, but Rahu will also show its effect. There is no need for investors to get excited right now.
ICICI Bank Horoscope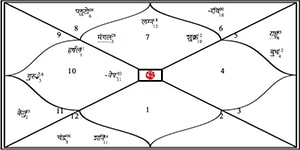 ICICI Bank Share Graph

Good luck ahead for Chanda Kochhar
Chanda Kochhar was born in Jodhpur, Rajasthan. If we look at the Sun chart of their birth, then Mars-Ketu is currently moving in transit from above Saturn-Guru and Ketu of birth. Right now the conditions are not favorable for Chanda Kochhar. But in the coming days, the planets of Chanda Kochhar will be strong. She can come out of the dispute without any pressure. Ganeshji says that it is not right for investors to rely too much on the jump in ICICI's stock due to the exit of Chanda Kochhar. ICICI stock should be monitored in the coming days, a hasty decision is not good. It will take time for investors to build their faith in the new CMD Sandeep Bakshi. Be patient, don't be hasty.
(If you need an astrologer solution for any kind of problem, then contact us)
With the blessings of Ganeshji,
Acharya Dharmadhikari
Ganeshspeaks.com