Scorpio Wealth and Property Horoscope 2023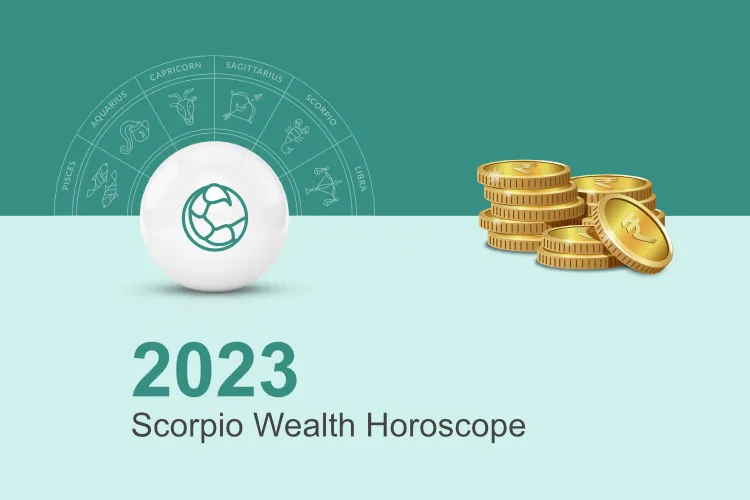 Scorpio Wealth and Property horoscope 2023: An Overview
Scorpio property horoscope 2023 suggests that the natives under Scorpio zodiac sign are likely to have a good year in 2023 while considering the property and wealth. You may have a good continuity in your prosperity but more family celebrations may end up spending more. So it is advisable to know your spendings and savings. Jupiter transit helps to gain wealth. You may buy vehicles, apartments and so on. Lets see how you are going to live in 2023 when considering your financial status.
Scorpio Wealth and Property horoscope 2023 – Get good financial support!
Scorpio wealth horoscope 2023 suggests that you are going to enjoy your wealth abundantly. You may get good returns from your business investments and this is due to the Jupiter transit. But there may be some planets with wrong alignments that may affect your wealth badly. Thus, it is advisable to get good advice from a professional during the first few months of 2023. Some deals are likely to be delayed and go wrong against your wish. Some property matters may not happen like you desire at least till the first quarter of 2023. How is your wealth and prosperity in 2022? Do you want to know which zodiac signs will be rich in 2022?
Scorpio Wealth and Property horoscope 2023: What Can You Expect in the First half?
Scorpio Property and Wealth Horoscope suggests that it is better to avoid the property dealing during the first half of 2023. The months from February till June may be somewhat favorable if you want to buy or sell any property. The Jupiter transit brings good opportunities and wealth status. You may also invest in any property dealings to boost your wealth. But to the bad situation, the Saturn transit may give some alterations in your property dealings during April. This may interrupt your plans and if you get good advice the situation is likely to change. 2023 may give you some tricky moments due to the Mercury transit and you should be very careful during this time. It is better to stay away from strangers when you are discussing your land dealings. This cautious time period may be till May. Do you want a complete solution for your financial issues?
Scorpio Wealth and Property horoscope 2023: What is in for you in the second half?
वृश्चिक संपत्ति और धन राशिफल सलाह देता है कि शनि का गोचर संपत्ति और धन के मामलों पर विचार करते समय सख्त अनुशासन की मांग करता है। प्रॉपर्टी या वाहन खरीदने के बारे में इस समय दोबारा विचार करें तो बेहतर होगा। जुलाई के महीने में गुरु का गोचर धन में वृद्धि कर सकता है। आप सूर्य की चाल से आने वाली सभी चुनौतियों का सामना करने के लिए ऊर्जावान हो सकते हैं। लेकिन जैसे-जैसे साल आगे बढ़ता है, मंगल आपको महत्वाकांक्षी बनाता है। अगर आप बिना किसी सलाह के जमीन से जुड़े किसी मामले में निवेश कर रहे हैं तो आप मुसीबत में फंस सकते हैं। बृहस्पति अगस्त के दौरान आपको धन प्रदान करता है। पिछले कुछ महीनों के दौरान, आपकी इच्छा के अनुसार आपकी संपत्ति और संपत्ति की स्थिति में निश्चित रूप से वृद्धि हो सकती है।

Scorpio Wealth and Property horoscope 2023 : Good for buying property
Scorpio property horoscope 2023 suggests that you may get good wealth with your efforts. This means that your plan is likely to have good results and you may not face any challenges throughout the year except for some months. The profits may increase in all dealings. You may get ancestral property as well.
In a nutshell, 2023 is likely to be a year of wealth and prosperity if you plan right. So, do not make false promises and lose your wealth.
Share Your Problem, Get Solutions