Health Horoscope 2023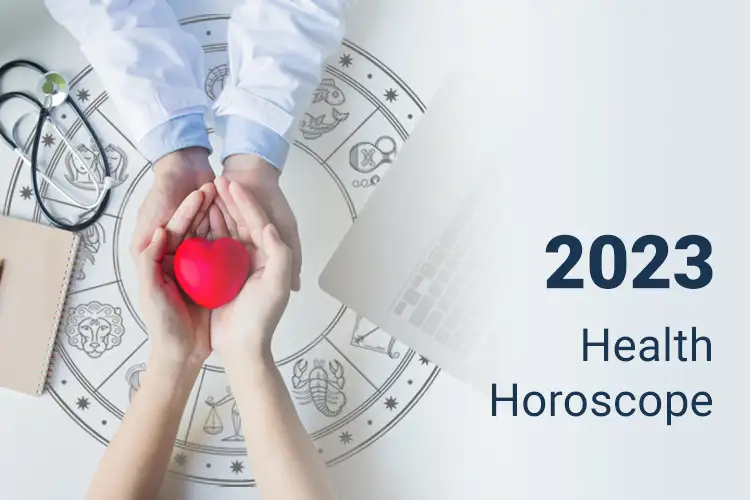 Aries Health Horoscope 2023
Are you an Aries native who wants to hear about your health in 2023? You have good energy, stamina and a positive attitude towards everythings. So, if there are any challenging health issues, it may be due to the workload and pressure. You may achieve life goals if you are in good health. Aries health horoscope 2023 suggests that you should consume a good and healthy diet, follow proper sleep routine and workouts. You may have strong influence from Saturn and Rahu and it demands a good lifestyle which may help you stay away from the ill effects. Let's check how your health is affected in 2023 based on your planetary alignments.
Taurus Health Horoscope 2023
Who doesn't want to be in good health? What is the use of knowing about health in prior? It's nothing but the guidance you get from astrologers helps you to follow certain tips that help you to be healthy and fit. Taurus health horoscope 2023 suggests that you may get good immunity against many infectious diseases in 2023. So do not worry much about your health. But the only thing is that Jupiter has influence on making you fat due to improper diet and lifestyle. Also, Rahu transit makes you stressed more and it is suggested to avoid such crappy situations. If your schedule is not proper, it makes you stressed more. Let's dig more into 2023 health horoscopes for Taurus natives.
Gemini Health Horoscope 2023
Gemini natives are generally leaders in anything that task they do throughout everyday life. Their great uniqueness to take up the difficulties is appreciable. Gemini health horoscope 2023 recommends many tips for you to be in sound health. The planetary movements may impact you especially from Sun, Mercury, Rahu and Ketu. But being in a good routine is good for all the Gemini natives next year. Let's see how your health will be in 2023.

Cancer Health Horoscope 2023
Cancer natives are those who are energetic always and get excited even for small things. They never see how they are feeling inside physically and mentally. They live for others as well. Do you have any idea how your health will be in 2023? Cancer natives are likely to enjoy average health conditions in 2023. There are no issues that may cause serious illness. But all those Cancer natives are requested to take care of your health in a special way by taking proper rest at times. If you do so, your immunity will be good and you may not have to worry about any illness that comes your way. Pray to Mars to bless with good health in 2023. Let's see in detail what is in for you in 2023 while considering your health.
Leo Health Horoscope 2023
Are you a Leo native who loves hearing about your health in 2023? Then, this is the right spot. Leo health horoscope 2023 says that you may enjoy good health in 2023 as all the planets are going to be in a favorable position. You may likely improve the energy levels day by day. But the planets also suggest that you should never skip workouts or daily meals. Otherwise you end up in low energy and thereby ill health. It is recommended to consume more fruits and vegetables and take a good rest in 2023. The moments of depression can be easily managed if you have the guts to face it through a proper lifestyle.
Virgo Health Horoscope 2023
Are you a Virgo who loves to hear about your health in 2023? Then, you must read about the planetary positions and the health horoscope. Virgo health horoscope 2023 suggests that Virgo may enjoy good health due to Jupiter transit during this time. You may be in a good mood to deal with all your confusions this time easily. Your professional life may improve due to your health. Let's check in detail how the transit of planets affects Virgo natives in 2023 while considering their health.
Libra Health Horoscope 2023
Health is very important to everyone. If health is fine then we are safe in all ways. 2023 has good planetary support to make you healthy and fit. You may feel happiness during the first few months. The year also suggests that this happiness may change if you do not take any precautionary measures to safeguard your health. The transit of Saturn may give some difficulties and thus it recommended that your mind must be steady always without assorting to wrong ways.
Scorpio Health Horoscope 2023
Scorpio health horoscope 2023 recommends that you are probably going to get eased from sicknesses you had in previous years. You may have a bad immunity but with your good lifestyle, the situation may improve. Your mind may be upset, so it is vital to deal with your mental state particularly during some months in 2023. This helps you to deal with challenges that come your way mentally and physically.
The Moon makes you tired sometimes so be careful and have a consultation with a good doctor. If you have any chronic illness, 2023 is the year to improve healthwise. You should not stress about your professional life, but it is important you should be careful about colleagues who backstab you. Lets see the Scorpio health horoscope 2023.
Sagittarius Health Horoscope 2023
Are you a Sagittarius native? If so, you have come to the right place to know more about Sagittarius Health Horoscope 2023. The horoscope suggests that you may be in moderate health situations as you get the influence of the moon which may bring some troubles at times. You may have to spend more on your health and this may increase your worries and anxiety too. During the first three months in 2023 where Saturn transits from the 3rd to 4th house of Pisces, your health is likely to be in a better state. Jupiter transit brings some good health and does not stay away from a good health routine that makes you healthy throughout the year.
Capricorn Health Horoscope 2023
Are you a Capriconian who loves to hear what is in your health horoscope for 2023? Then, this article is for you. 2023 is likely to provide you with auspicious days from a health point of view. You may get positive results if you are not prone to any chronic illnesses. You may not be well aware of good health due to other social engagements and may not be able to follow proper lifestyle and routine. Without a plan for your work, your health may go down. So it is better to consume healthy food to avoid unwanted illnesses. Do proper planning during your work as unplanned works may affect your health badly. Don't be anxious or worried over anything for your financial issues or problems at work. Let's checkout more details on Capricorn Health Horoscope 2023.
Aquarius Health Horoscope 2023
Are you Aquarius natives looking forward to a Health Horoscope in 2023? Horoscope suggests that this would be a period of moderate health for Aquarius individuals. Saturn in your house could achieve seasonal medical problems for you. If you have any chronic health issues, take care of your health this year. Achieve discipline in your eating routine, office work and mental worries. Track down all available resources to work on your way of life from an inspirational outlook. Try not to let tensions and stresses get to your mental state. A wide range of issues in profession and money could make you. Get into routine checkup and attain preventive techniques to guarantee your health and be happy always.
Pisces Health Horoscope 2023
Are you Pisces natives who are looking for a health horoscope in 2023? Then, you have come to the right place. The planets may not be in a proper alignment and so your health may be. Jupiter would cause seasonal medical problems for the natives, especially during the last few months of the year. Saturn transit is also likely to cause health issues during the year 2023. Natives of Pisces may experience ill effects of unfavorable planets and thus it may result in headaches or migraine issues and some of you could come down with irresistible infections as the year advances. Be cautious and take care of your health properly in 2023.
Share Your Problem, Get Solutions
Check Articles For Other Areas Of Life as well: