Marriage Horoscope 2023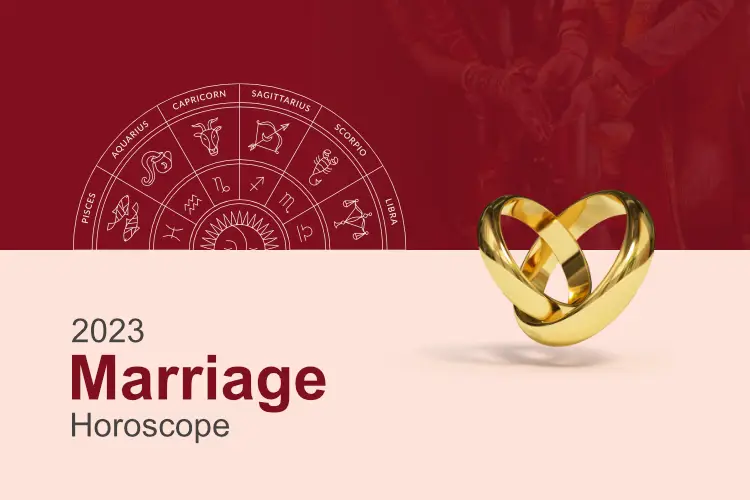 Aries Marriage Horoscope 2023
A wedding is the most expected and cherished event in everyone's life. This astrological chart thoroughly evaluates all houses to provide responses to the questions such as "when will you marry?" and "who would you choose as your groom and bride?
Aries who are expecting to marry their long-time partner will have the blessings of Jupiter and Rahu. Aries marriage horoscope 2023, indicates the sign of happy married life. Jupiter will assist you in fulfilling your wishes towards personal and family life as well.
Taurus Marriage Horoscope 2023
Taurus marriage horoscope 2023 shows good signs in the astrological chart of the individuals. Bachelors and singles who are planning to get married will get a partner for a lifetime and this could be possible with the help of Saun and Venus.
Both the planets are in stable positions in the horoscope and this would be the perfect time to settle into a new life. The year will bring lots of happy moments with your partner. You will enjoy a strong bond with your spouse.
Gemini Marriage Horoscope 2023
Gemini 2023 marriage horoscope has lots to reveal about Gemini individuals. The year 2023 is the right time to get hitched for individuals who are planning to move ahead in their relationship. For individuals who are into courtship, marriage is also a possibility. Though your family and friends will support you whatever you decide for your future.
Cancer Marriage Horoscope 2023
The year 2023 would be a typical kind of year for married couples as predicted by Cancer 2023 marriage horoscope. Relationships are probably going to change at the beginning of the year. There might be conflicts in your marriage as a result of Saturn's placement in the seventh house of your horoscope. There will be animosity and strife in the connection, which may cause strain on the mind.
Leo Marriage Horoscope 2023
Leo, known to be a self-centered and attention-seeking member of the astrological family, is a devoted and conscientious partner. Leo people who are dependable and caring give a lot of attention, care and protection to their partners.
Like other fire signs, Leos also display rebellious tendencies, although they tend to reserve these qualities for close friends and family. Let's check out Leo marriage horoscope 2023 and find out what to anticipate and what to ignore during the year ahead.
Virgo Marriage Horoscope 2023
The perfectionist Virgo works hard when in a relationship. They are ready to give 100% of their efforts as long as they feel the need. But before jumping into a relationship, Virgo people take their time in making sure that their time and effort is worth the investment. Always on its guard, the sign usually tries to resolve any issues in the relationship, if any. Will these perfectionists also have a perfect marriage? Let's know through Virgo marriage horoscope 2023.
Libra Marriage Horoscope 2023
The most compassionate of all the zodiac signs, Librans will worship their life partner with passion and care. However, they are also attention seekers and you will need to worship them equally as they are because of their balanced nature. There are many fans of Libra people, but there is only one special person in their eyes. They don't like to play games when in a relationship. Even with their easygoing attitude, Libras are very circumspect when it comes to relationships. Let us see what is in store for these balanced and harmonious creatures while analyzing the Libra Ascendant Horoscope 2023.
Scorpio Marriage Horoscope 2023
A relationship with a Scorpio gives one the experience of both hell and heaven in one. Scorpios will accept your inner demons and beauty, will try to understand you, and will help you find solutions to the problems. Scorpios are super loyal and protective of their partner. They in return expect the same from their partner. They are easily jealous so it takes them time to trust and open up to someone. Let's get an insight on the Scorpio Marriage Horoscope 2023 to understand better.

Sagittarius Marriage Horoscope 2023
As the year begins, the stars are aligned in favour of Sagittarians and they are generously blessing the affairs of love and relationship. Sagittarius Marriage Horoscope 2023 suggests that married couples may start planning for children around the middle of January. However, the stars indicate that due to some significant disagreements with the elders, family affairs may not work smoothly around the middle of February.
Capricorn Marriage Horoscope 2023
Capricorn Marriage Horoscope 2023 suggests that the cumulative impact of Venus and Mars at the beginning of the year will provide stability and passion. Your relationships with your family are presumably going to be positive. Jupiter's influence could bring you good fortune in your social life. Your popularity with your current pals is likely to increase, and you could make new social connections as well.
Aquarius Marriage Horoscope 2023
The planets' movement this year predicts that a couple could arrange a fantastic destination together. Newlyweds may also consider having a good time together to continue their marriage.
According to the Aquarius marriage horoscope for 2023, Venus will bring you warmth and a plethora of sensuous experiences as the year 2023 starts in earnest.
Pisces Marriage Horoscope 2023
As the year begins, Venus will activate all your social contacts. You may feel refreshed and motivated to bring love and charm to your relationship. But, the impact of the Nodes around the middle of January can be detrimental for married couples. There can be some heated arguments, and that might disturb their relationship.
Share Your Problem, Get Solutions
Check Articles For Other Areas Of Life as well: