Cancer Finance Horoscope 2023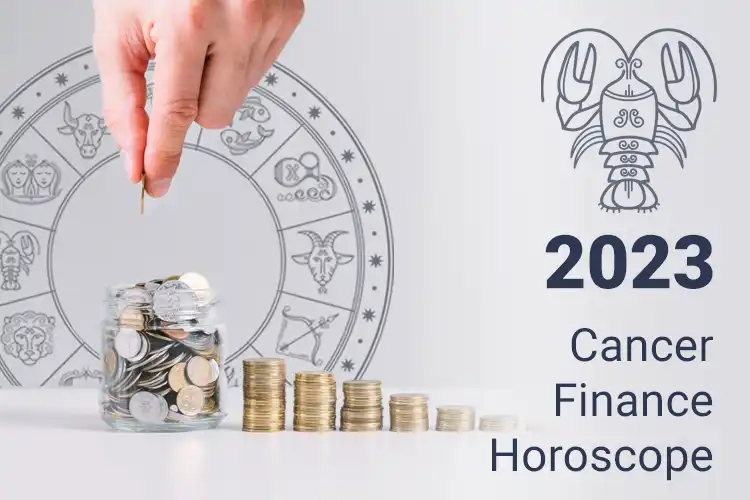 The Money Matters Most
Saturn can delay achieving expected financial gains in the first quarter. Families and properties may bring you financial gain, but you have to be patient and make each step with patience and with all verification. It is possible for some of you to acquire foreign property or land. While Mars can give you financial expenses, it can also give you financial gain from traveling related to your job, business, and publishing. Business owners who deal with machinery or manufacturing can expect a boost in financial and business growth. Just try and go with the flow and make sure you do not over-commit.
Making a Mint or Living on the Breadline
Despite the challenges in the initial few months of the year, financially the year is likely to be rewarding. Those who are earning through their family business can see some downtrend in the flow of money this year. And those dealing in foreign currency or having earnings through foreign export are likely to see some challenges in the initial few months. Be careful as you may experience a delay in receiving payments from foreign sources. The good news is not flashing for Aries employees waiting for increment and promotion. There are almost negligible chances until the middle of the year. Do the best you can when you explore more avenues to earn. Also, you will improve your savings. However, a steady rise in income is possible during the second half. But with the rise in income, your expenditure is likely to increase too. Yes, we know you are displeased with this sudden rise, and that too for unforeseen reasons.
Make Investments & Create a Second Source
The positions of Mars and Saturn suggest you need to have patience when dealing with your client in the first quarter, as well as to be very attentive when talking to your seniors and boss. Aggression or disagreement can pose some uncertain challenges. A Saturn or Mars movement indicates legal work or tax-related expenditures. Travel and vehicles can result in unplanned expenditures along with expenses on repairing vehicles and electric equipment. Despite having a regular income, unexpected expenditures will occur. You will also have to provide financial assistance to your in-laws in the first quarter.

During the second quarter, there may be financial expenses for foreign travel and small celebrations. Some of you might get expensive gifts or spend a lot of money on expensive gifts. It is possible for people who work in the music, arts, or beauty industry to get new projects in their hands that may lead to some expenses in the beginning, but that can result in good returns, so plan your budgets properly so that you don't run into any financial troubles.
Expenses Reduced Are Savings Made
As Saturn and Rahu indicate, don't be hasty while taking a financial decision from new or unknown people this year. Expert advice can give you the right direction. As indicated by the movements of Mars and Mercury, you will be able to earn money from traveling this year. Expenses related to religion and travel to foreign lands may be incurred. The planet Saturn will require some financial planning and expert advice for things to go according to your plan. During the second quarter, your business may incur some unplanned expenditures due to the Mars movement. Talk to your business partner politely so that you can get the best advice from them as well. There is a possibility that you might feel the need to learn occult science that can provide financial expenses based on Saturn and other planetary alignments.
Share Your Problem, Get Solutions